HOT SPRINGS -- Before American Pharoah began to dig magic from the sand and clay of Oaklawn Park's racetrack, no one could have known a statue of the horse would be unveiled later in front of the track's main entrance.
It happened Thursday, between the traffic along Central Avenue and Oaklawn's main building. Officials and more than 100 race fans gathered in a gray mist to see track President Louis Cella uncover sculptor James Peniston's full-scale, full-stride statue of American Pharoah, a perfect duplicate -- down to its bulging muscles and veins -- of the 3-year-old colt as he carried himself and jockey Victor Espinoza in the winter and spring of 2015 toward Triple Crown glory.
Even after American Pharoah won the Rebel Stakes and Arkansas Derby -- Oaklawn's most significant Kentucky Derby preps races -- outcomes that might warrant the commission of a bronze statue the exact size of a horse would not have been imagined.
Daydreams are a different matter, and they are rampant among horsemen and their followers this time of year. Routes toward them begin at Oaklawn Park today, the first of 57 scheduled days of live racing for the 2018 season.
The first race is scheduled for a 12:35 p.m. start.
"Everyone who has a horse at Oaklawn today prays they have an American Pharoah," Cella said. "Because of the time of season that we run, when it's early, it's what makes our meet so special, because an American Pharoah might come out of the woodwork, but you just don't know in January."
Horsemen can only hope.
"A lot of horses have hung around the barns at Oaklawn, and nobody knew who they were before they went on to become champions," trainer Ron Moquett said. "Everybody's paying attention, and we're all hoping, but you never know where he's at. He may be back there right now, and nobody knows yet, just like before."
Try as they might, no one can reliably predict the future for thoroughbreds. The only matters racing patrons and handicappers know of for certain is that stars will emerge from the horses in Oaklawn's barns, and that notable achievers from last season are here in abundance. Those include 3-year-olds noted for their 2-year-old campaigns last summer and fall, most with connections filled with hope for Triple Crown appearances, specifically for a chance at Churchill Downs' Kentucky Derby on May 5. They also include many of Oaklawn's star performers from seasons past.
For instance, 6-year-old Far Right, who ran a distant second to American Pharoah in the 2015 Arkansas Derby, is entered in today's feature -- the $125,000 Fifth Season Stakes -- a 1 1/16th-mile race for 4-years-old and up scheduled for 3:49 p.m.
Owned by Robert LaPenta and Little Rock's Harry Rosenblum, Far Right, by Notional, is trained by Wayne Catalano. As a 3-year-old, while targeted toward the Triple Crown, he was trained by Moquett, who recalled Friday his refrain from 2015.
"The only thing between us and winning the Arkansas Derby was American Pharoah," Moquett said. "But as it turned out, that was nothing to hang our heads about. A lot of very good horses ran second to him that year."
Untrapped also is entered. By Trappe Shot, and a maternal grandson of Giant's Causeway, Untrapped was trained by Steve Asmussen to victory in Remington Park's 2017 Grade III Oklahoma Derby. He finished sixth in last season's Arkansas Derby and 12th in the Kentucky Derby.
Dazzling Gem, a 5-year-old owned by Little Rock car dealer Steve Landers, was two points short on the 2016 Road to the Kentucky Derby points list for a possible shot at the Derby. He is set to start from the ninth post in the Fifth Season's expected 12-horse field.
Filly and mare standouts include 5-year-olds Terra Promessa and Streamline, who battled each other throughout Oaklawn's 2017 season. They are entered to meet again in Saturday's feature, the $125,000 Pippin Stakes for fillies and mares, 4 years old and up racing 1 1/16 miles.
Terra Promessa, by Curlin, won the Pippin last season for Asmussen. Streamline, an Illinois bred by Straight Line, finished third in that race for trainer Brian Williamson but returned to win Oaklawn's Grade II Azeri Stakes.
Williamson has enlisted Hall of Fame jockey Gary Stevens, a newcomer among Oaklawn's regular riders this season, to ride Streamline in the Pippin.
"She's going to go another year here, so we'll see what happens," Williamson said. "And we got Gary Stevens, and he knows a thing or two about fillies and mares, that's for sure."
Among the 3-year-olds at Oaklawn, only Sporting Chance, a Tiznow colt guided by Hall of Fame trainer D. Wayne Lukas, is a Grade I winner. Sporting Chance won the Grade I Hopeful Stakes, Saratoga Race Course's juvenile championship, on Sept. 4. A bone chip was surgically removed from a knee shortly thereafter, but Lukas said Sporting Chance is fully recovered and prepared for a push toward the Kentucky Derby.
"He's a really nice horse," said Lukas, who has trained four Kentucky Derby winners. "There's no question about it. At this time of the year, you have 3-year-olds and you're wondering if they can run. This one we know can run. Once you win a Grade I, you pretty much have established that you can run. If I can get him back in top form, he's going to be a factor."
Lukas will not enter Sporting Chance in the Smarty Jones Stakes, Oaklawn's first race on the Road to the Kentucky Derby points list, scheduled for Monday. He said he will consider other Road to the Derby races for Sporting Chance's first 3-year-old start, including Oaklawn's Southwest and Rebel Stakes.
"When he gets ready, he'll kind of tell us, and we'll look at the Southwest, the Rebel, and we'll look at stakes over in Louisiana if we have to, but I don't want to move him if I can help it," Lukas said. "I'd like to run him here."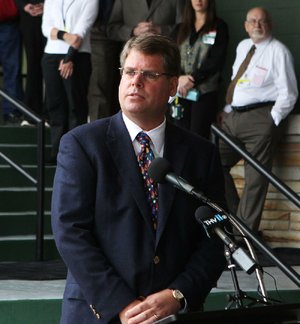 Photo by Richard Rasmussen
Oaklawn Park President Louis Cella speaks during the unveiling of a statue of American Pharoah, the 2015 Triple Crown winner, at the track in Hot Springs on Thursday.
At a glance
WHAT First of 57 scheduled days of live thoroughbred racing at Oaklawn Park in Hot Springs. The season continues through April 14, the date for the $1 million Arkansas Derby.
FORECAST Mostly sunny with a high of 42 degrees, winds at 10 to 15 mph
ADMISSION Free
2018 schedule
JANUARY
OPENING WEEKEND Friday-Monday REST OF MONTH Thursday-Sunday
FEBRUARY
WEEKLY SCHEDULE Thursday-Sunday SPECIAL DAY Monday, Feb. 19
MARCH
WEEKLY SCHEDULE Thursday-Sunday
APRIL
FIRST WEEK Wednesday-Sunday FINAL WEEK Wednesday-Saturday NOTE No racing on April 1 (Easter)
POST TIMES
12:35 p.m. Today
1:30 p.m. Wednesday, Thursday, Friday and Sunday
1 p.m. Sunday, Feb. 4
1 p.m. Monday, Jan. 15 and Monday, Feb. 19
1 p.m. every Saturday except April 14
12:30 p.m. April 14
Sports on 01/12/2018