WASHINGTON -- Members of the Arkansas congressional delegation say the nation, with President Donald Trump at the helm, has taken a turn for the better, but there's still plenty of work to be done.
In interviews, they listed some of the issues they hope to tackle in 2018.
"I think the biggest priority is the farm bill," said U.S. Sen. John Boozman, a Republican from Rogers who serves on the Senate Agriculture Committee.
The current farm bill, which passed early in 2014, expires Sept. 30.
It addresses everything from crop insurance and commodity subsidies to soil erosion and food stamps.
It envisioned spending of nearly $1 trillion over a 10-year period.
In the Natural State, agriculture is a cornerstone of the economy, Boozman said.
"When you get out in rural America, rural Arkansas, it's probably 95 percent of their economy, so it's important that we get the safety nets in place so that we continue to have the cheapest, safest food supply of any place in the world."
Boozman also wants to see an infrastructure package approved this year. During his 2016 presidential campaign, Trump promised to improve the nation's roads, bridges and airports.
U.S. Sen. Tom Cotton wants legislation that overhauls the immigration system, adopting a model that favors highly skilled applicants and that sharply curtails the number of people admitted to the U.S.
A bill drafted by Cotton and Sen. David Perdue, R-Ga., is backed by the White House. Last week, the Republican from Dardanelle met with Trump and other lawmakers to discuss possible changes.
"Hopefully we'll be able to get a compromise agreement between the Democrats and the Republicans and the president," Cotton said.
The lawmaker also wants to see increased spending on defense and national security.
"I had an amendment back in September that would have eliminated these spending caps altogether on both defense and domestic spending and allowed us to move forward with a sensible approach to budgeting," he said.
Democrats opposed the measure, he noted.
U.S. Rep. Steve Womack, who officially gained the chairmanship of the House Budget Committee last week, said much of his time this year will be spent on fiscal matters.
"My attention will be dedicated in large measure towards the functions of the House Budget Committee," predicted the Republican from Rogers.
As a member of the House Appropriations Committee, he said he'll also be focused on "[appropriating] the money necessary to fund government, keep it operational, not have any lapses and address the needs of our country in a timely way."
If the House takes up an infrastructure bill, Womack said he'll advocate for the people of Northwest Arkansas, including funding to complete Interstate 49 projects and additional money for the Bella Vista bypass.
U.S. Rep. Rick Crawford wants infrastructure legislation to include funding for the future Interstate 57. The existing highway stretches from Chicago to Sikeston, Mo. Supporters hope the road eventually will go all the way to North Little Rock.
"I feel like, if we can get that done, we'll take a lot of the pressure off I-40," he said, referring to the busy east-west corridor that links Little Rock and Memphis.
As a member of the House Agriculture Committee, the Republican from Jonesboro will be focusing on the farm bill. He wants it to include provisions that encourage veterans and young adults to become farmers.
In addition, he plans to push to remove barriers that prevent rice farmers from doing business in Cuba.
He'll also be pushing for legislation to help recent graduates. Crawford favors a 401(k) style program that enables people to pay off student loans with pretax dollars.
"The earlier you are in your career, the more important it is that you don't get saddled with a long-term debt obligation," he said.
U.S. Rep. Bruce Westerman said he plans to keep pushing for legislation overhauling management practices in the nation's forests.
His bill, the Resilient Federal Forests Act, easily passed the House in November. The House passed a previous version of the legislation in 2015.
Among other things, it would speed up the regulatory approval process in many instances and make it harder for environmentalists to derail government forestry plans.
It also would make it easier for the U.S. Forest Service to obtain additional funds when firefighting costs are abnormally high.
"We're working very diligently," he said. "We're in active dialogue with senators and leadership and all that, so I think it's got as good a chance as it ever has to end up finding a pathway through the Senate."
Westerman, a Republican from Hot Springs, also hopes to see an infrastructure package.
"With me being on the [House] Transportation and Infrastructure Committee, there'll be a lot of work," he added.
U.S. Rep. French Hill is also following the infrastructure debate.
"President Trump has continued to say he wants to pursue improvements to America's infrastructure in 2018. I think the view in the House is that's a worthy goal. ... But how do we do it?" the Republican from Little Rock said.
"We need money, we need public private partnership, we need ways to pay for it, we need priorities. All that's true. But we also need to streamline the regulatory part," Hill said. "It's very difficult to design and build a public infrastructure project because of all the regulatory costs associated with that from predesign approvals to various labor arrangements to other regulatory constraints."
Hill also wants to roll back some of the restrictions placed on banks after the the banking crisis of 2007-08.
The Dodd-Frank Wall Street Reform and Consumer Protection Act has placed an unreasonable and unnecessary burden on community banks, he argues.
The House and the Senate are working on a package that addresses some of the problems.
"I think that will be an important pro-growth, pro-business, pro-economic freedom measure so that's a priority for 2018," he said.
Members of the delegation say the nation is headed in the right direction.
"The president has been very successful in his first year," Womack said.
"I think we're way better off today than we were a year ago," Westerman said.
"Since he's been in office we've seen the Dow [reach] 25,000," Crawford said.
"I think America is stronger and more respected in the world, which makes us safer at home," Cotton said. "I don't think you can doubt the fact that our economy is healthier and stronger."
The appointment of Neil Gorsuch to the U.S. Supreme Court was another milestone, Boozman said. "I think he's doing an excellent job and will, for the next 20 or 30 years, interpret the law as those who wrote the law intended it to be."
Hill said there have been foreign-policy successes as well, pointing to U.S. actions concerning Syria, North Korea and Venezuela.
"As I look around the world, we've done a lot of good things in '17, '18," Hill said.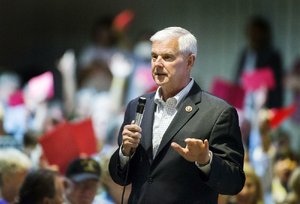 Photo by Jason Ivester
FILE — U.S. Rep. Steve Womack of Rogers speaks Thursday, April 13, 2017, during a town hall meeting at Northwest Arkansas Community College in Bentonville.
SundayMonday on 01/14/2018