Robbie McDonald knew the first time he saw Sabrina Beasley that they would marry.
"I thought she was beautiful, and I knew she was going to be my future wife. She didn't know that but I did. I didn't tell her that until two or three dates later," he says.
The first time I saw my future spouse:
She says: "I was surprised. He was so good-looking."
He says: "It wasn't the picture. It was more about what she had written in her profile that I liked. What she had written was beautiful and exactly what I needed."
On our wedding day:
She says: "I was very excited to have found someone and after all that angst, after I settled and accepted that this was OK, I was very excited."
He says: "We were locked out of our bedroom."
My advice for a long happy marriage is:
She says: "Have grace. You have to let things go. You can't just hang onto things and get your feelings hurt all the time. You have to give everybody the benefit of the doubt. You have to say, 'He's probably having a bad day. He didn't mean that.' You really have to be open-handed and not get your feelings hurt."
He says: "Everybody makes mistakes, including me. You need to be able to let the mistake go and show the other person forgiveness and love in those situations. That's the best thing you can do."
She thought he was crazy and said as much. Robbie's children, at the time, were 14 and 24; hers were 2 and 4, and she was dubious about merging their lives.
Robbie and Sabrina lost their spouses at early ages, he in 2011 and she in 2010.
Sabrina's mother-in-law, also widowed young, had urged her to find another partner, so she signed up for Match.com.
Robbie, also on Match.com, saw Sabrina's profile.
"It was beautifully written, and it displayed very plainly that she was a good Christian woman," says Robbie, 50 -- 10 years older than Sabrina. "I was just slightly out of the age range that she had selected on Match, and I sent her a message saying, 'I know I'm out of your age range but you really need to check my profile out. I think we would be good together.'"
She didn't respond to Robbie's missive.
"I had a very, very happy marriage with my first husband, and I really wanted somebody just like him," she says. "I knew the kind of personality he was going to have, and I knew his life stage and I had it all worked out. And this was not in my plan."
She got off Match.com for about a year, having met a potential match. That relationship didn't work out, though, and in late 2012 she signed up again. Robbie sent another note. They talked on the phone on Christmas Eve and after awhile she agreed to go with him to dinner and a movie.
"I got out of my car in the parking lot and I thought, 'wow, he's a lot more attractive than his pictures were. He's so tall and broad-shouldered and had bright green eyes and he's a big manly man,'" Sabrina says.
They went out a couple of times before Sabrina called a halt. She liked him, but she didn't think things would work out between them, she explained.
"I was like, 'Your son is going to hate me because I'm not his mom,'" she says. "He said, 'Well you haven't even met my son. Why don't you meet my son before you make a judgment like that?'"
She went bowling with them, just to see.
"I was like, this is just to back up my claims, and he was very different than I thought he would be," she says. "He was easy to get along with and funny and upbeat, and he didn't seem at all intimidated or mad or hurt that I was there."
She still wasn't sold, but Robbie persevered, texting each day to ask her favorite color, flower, place to eat and more.
"It was just one text message every day just to remind me, I'm still here. We can still go out if you'd like to," Sabrina says.
Then she was approached by a 23-year-old while at a Super Bowl party with other single people at her church.
"Our life experience was just different beyond leaps and bounds," she says. "I was like, 'why am I messing around. There's this guy who really likes me, who knows how I feel and he's been through the experience and it's not all exactly perfect but I had read the Scripture that man looks at the outward appearance but the Lord looks at the heart. I've been looking on the outward appearance, at how the circumstances lay out and I should have been looking at this man's heart.'"
She called Robbie that night, and they met at a restaurant to talk.
In May, they went to dance at the Arlington Hotel in Hot Springs. Sabrina thought he might propose but she saw no ring-box-shaped bulges in his pockets, and he was as cool as a cucumber and resolved this would not be the night. But toward the end of the night, Robbie pulled a velvet bag from his pocket and removed an engagement ring.
"I knew for a while that I was going to ask her to marry me and that things were going to be all right," Robbie says. "There was nothing to be nervous about."
They were married on July 6, 2013, at the First Baptist Church in Cabot. Friends and family placed red roses in a vase to symbolize support of their union.
Sabrina and Robbie have found a way to love each other while still honoring their pasts, building a home in Little Rock they call Havilah, a Hebrew term meaning writhing in pain as well as to bring forth.
"We felt like that was a suitable name because our happiness and our marriage and our lives were kind of brought forth through the pain of these deaths," Sabrina says. "It's a situation that comes from a lot of pain and a lot of suffering but it's also a joyous occasion."
If you have an interesting how-we-met story or if you know someone who does, please call (501) 425-7228 or email:
kimdishongh@gmail.com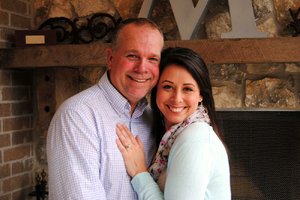 Photo by Special to the Democrat-Gazette
Robbie McDonald and Sabrina Beasly met through an online dating service. He was instantly smitten, she was not. But he persevered.
High Profile on 01/14/2018