FAYETTEVILLE -- In the vacation business, January is a booking bonanza and Blue Sun Vacations is ready to capitalize on it.
The inside of the 4-year-old travel company looks a lot like a traditional tech startup -- with folks working at standing computer desks, a wall filled with inspirational notes written with Sharpie pens, and the now requisite pingpong table. But the people working there aren't developing the next popular dating app, they're using the computers and a human touch to connect would-be travelers with dream vacations.
"This is a high-tech, high-touch business," said David Temple, who founded private, closely held Blue Sun Vacations along with attorney, entrepreneur and former Wal-Mart Stores Inc. executive Randy Laney in mid-2013. Since its inception, the company obtained partners David "Ech" Echegoyen, vice president of marketing for online retailer Jet.com, and his brother, Juilo Echegoyen, an executive with Procter & Gamble, who act as advisers. The company operates without institutional capital or long-term debt.
Temple contends while today's do-it-yourself style of travel planning -- finding a deal on a flight and perhaps a hotel on a major travel website -- might work for a business trip or a casual jaunt, but it's a bad plan for someone looking for a memorable vacation, particularly outside the U.S.
"It's like searching for a needle in a stack of needles," Temple said.
A pastor's kid who traveled with his family extensively on summer road trips, Temple was bitten early by the travel bug. He started his career early, as well, making serious cash in telemarketing before graduating from high school, then thriving and suffering over the years with boom and bust cycles in the travel industry.
Temple eventually settled in Fayetteville in 2012 with his wife, Kristin, after the couple fell in love with the city over a long weekend. Temple was on his way to starting his own travel company when he met Laney in 2013 at a men's Bible study, and the two clicked.
Laney said he was impressed with Temple, and it seemed the future of the travel industry was in flux. He said the time was right for a company with a narrow focus, technical savvy, and an eye toward customer service through expert advice.
"The travel industry was attractive because it was pre-disrupted," Laney said.
Blue Sun Vacations began operation in the summer of 2013 and stumbled out of the gate.
"The first months were like drinking sawdust," Temple said.
But in September of that year, after a new website launch, things began to shift with the last 46 months being profitable. Today, Blue Sun Vacations employs more than 30 workers, who Temple says are the real secret of the company's success.
He said putting together the type of memorable vacation experience demanded by modern travelers takes real know-how and expertise. There's where Blue Sun Vacations differs than the big travel booking sites, he stressed. Many of them have taken humans out of the equation. Blue Sun Vacations banks on them.
"We are your guide," Temple said. "You are the hero."
Blue Sun Vacations refers to its representatives as "beach masters" and prides itself on real humans answering the office phones within sections. A vacationer's beach master becomes a personal concierge who finds out what customers want from a vacation and helps plan an excursion accordingly.
To make sure its representatives are speaking from experience, Blue Sun Vacations sends its employees on three trips during their first year of employment, primarily to Mexico, the Dominican Republic, Jamaica and Costa Rica. They visit the resorts where they book customers to taste the food, sample the amenities and assess the entertainment options.
Communication is also key, Temple said. Customers get direct numbers for their personal beach masters and are encouraged to communicate their needs, wants and questions through calls, emails and texts.
"We're re-humanizing travel," Temple said.
Vacationing is big business.
In 2016, direct spending on U.S. leisure travel by domestic and international travelers totaled just over $683 billion, according to data from the U.S. Travel Association. In 2016, there were nearly 31.2 million U.S. visitors to Mexico, an increase of nearly 9 percent as compared with 2015, according to the U.S. Department of Commerce. Travelers to Mexico represented nearly 40 percent of the U.S. international travel market for the year, the largest segment, with Canada a distant second with 13.9 million and Europe at third with 13.6 million.
Travel industry research company Phocuswright predicts solid growth in the packaged tour market over the next few years. That trend is being driven by baby boomers who like the personal touch and the perceived safety of working with tour operations, said Michel Coletta, manager of research and innovation. It's also getting a bump from millennials looking for "experiential" adventures.
"Part of the attraction is indeed the human contact and the expertise that tour operators offer, even though in many cases it is still travel agents selling the tour operator's offerings" Coletta said. "All tour operators are fiercely defending their place as the go-to provider of travel for people who want great service."
Blue Sun Vacations' operation focuses on Caribbean vacations, primarily to Mexico. The company also leans toward all-inclusive trips -- group trips, weddings, and social and family group trips -- and offers best-rates guarantees.
"We don't do cheap Mexico," Temple said. "You can be on a 6 a.m. flight out of [Northwest Arkansas Regional Airport] and be on the beach by early afternoon."
He said vacationing in Mexico has changed over the years with the addition of new infrastructure, including more flights to more destinations and high-end resort hotels. He said all-inclusive vacationing has also changed over the past decade, from a cookie-cuter vacation with limited dining choices and bottom-shelf drink options to a five-star, gourmet experience that focuses on the niche and boutique options that many modern travelers want.
"All-inclusive does seem to be as popular as ever for travelers seeking a good value, especially to the Caribbean, Mexico -- even despite the hurricanes," Phocuswright's Coletta said.
According to a report by all-inclusive resort company Club Med, along with travel research company Skift, the all-inclusive segment was once dominated by budget travelers but today large players in the all-inclusive space have developed a raft of amenities and services that allow a single property to appeal to a wide variety of guests.
The challenges are in greater and greater demand for "authentic local travel experiences," according to the report.
"Because the all-inclusive experience tends to keep most guests on-property for the bulk of their vacations, there's a conscious effort among hotel brands to develop higher quality travel programs, both on property and off, to immerse guests in the local culture," the report said.
Temple said beach masters' insights and firsthand experiences with the specific vacation locations fit well with this model, expanding their ability to help visitors experience the culture and hospitality Mexico has to offer.
"We're all things beach," he said.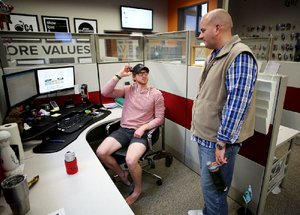 Photo by David Gottschalk
David Temple visits Tuesday with employee Roman Johnson at the company's booking office in Fayetteville.
SundayMonday Business on 01/14/2018