WASHINGTON -- Five protesters, including one Arkansas immigrant, were arrested Thursday morning outside the office of U.S. Sen. Tom Cotton on Capitol Hill.
The demonstrators want participants in the Deferred Action for Childhood Arrivals program -- or DACA -- to be allowed to remain permanently in the United States.
In the afternoon, Cotton met with the Arkansas protesters. Activists said the meeting lasted about 25 minutes and that Cotton expressed support for their cause.
"He said he does support a pathway to citizenship for Dreamers. He specifically said he didn't want to see any Dreamers deported and that he didn't think that anybody wanted to see that," said Michel Rangel, deputy director of the Arkansas United Community Coalition, an immigrants rights group.
[U.S. immigration: Data visualization of selected immigration statistics, U.S. border map]
DACA helps young adults who were brought into the U.S. illegally by their parents or who were kept here after their visas expired.
The term "Dreamer" is based on the never-passed Development, Relief, and Education for Alien Minors Act, which would have given protections similar to those provided by the DACA program, the initiative from President Barack Obama's time in office.
In September, President Donald Trump announced that he was ending the DACA program but gave lawmakers six months to come up with an alternative.
Thus far, legislative proposals have stalled.
Cotton, a Republican from Dardanelle, has fought efforts to pass stand-alone DACA legislation, arguing that it should be part of a broader measure to cut legal immigration, end the diversity lottery and prevent newcomers from bringing their extended family members to the U.S.
Pro-immigrant demonstrations have resulted in dozens of arrests this week, including those of two Arkansans on Tuesday.
As he prepared Thursday for his protest, Gabriel Lopez, 20, said he was following the example of the civil-rights activists of the 1950s and 1960s.
"You're putting your life out there. You're putting your body out there for the greater good and to help people who really need it," the Fort Smith resident said.
Lopez's father lived in the U.S. illegally for years. But he received amnesty as a result of the Immigration Reform and Control Act of 1986. Lopez, who was born in Mexico, said he was able to gain U.S. citizenship once his father had done so.
"Growing up, I've had so many friends that were undocumented that had huge potential to do great things and they weren't able to because of their status. Because of a nine-digit number," he said. "That infuriates me and gives me passion to want to fight for all these people."
In Washington, a large group of protesters entered Cotton's office Thursday morning. They met with staff members and then chanted slogans in the hallway outside his door.
Demonstrators were given three warnings before the arrests began. Those arrested in such cases are generally charged with violating D.C. code Section 22-1307, which prohibits crowding, obstructing or incommoding.
Rather than having them stand trial, law enforcement officials allow the protesters to "post and forfeit collateral."
By paying a $50 penalty, Thursday's protesters obtained "a full and final resolution of the criminal charge." Under the law, each walked away without a criminal conviction.
"Dreamers" and their supporters also gathered inside Cotton's Little Rock office Thursday morning to air complaints about Cotton to his staff.
More than two dozen people attended the walk-in protest. Attendees split into two groups. One group at a time lined the walls of the small office lobby, and people took turns speaking.
A security guard stood in the corner, occasionally nodding his head as people spoke.
This was the first time a group of constituents held a walk-in at Cotton's Little Rock office in 2018, state office manager Nicole Logan said. Such events spiked last spring, the first months after Trump was inaugurated, she said.
"It was good," she said of Thursday's walk-in. "Everybody was civil."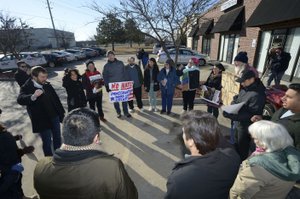 Photo by Andy Shupe
Mireya Reith (left), executive director of the Arkansas United Community Coalition, speaks Thursday during a protest in front of Sen. Tom Cotton's office in Springdale. Protesters came to support those affected by the September rescission of the Deferred Action on Childhood Arrivals policy.
A Section on 01/19/2018