The Capitol rotunda on Wednesday echoed with the voices of scores of children from nontraditional public and private schools.
"School choice now!" they chanted under the direction of Howard Fuller, a former superintendent of the Milwaukee Public Schools.
Fuller, now distinguished professor of education and director of the Institute for the Transformation of Learning at Marquette University, was the keynote speaker for Wednesday's school-choice rally, but he did little in the way of speaking.
Instead, he led the several hundred gathered on the second and third floors of the Capitol in the chant before promptly returning to his seat.
While his brevity caught rally organizers off guard, the crowd of children -- all draped in school-choice themed yellow scarves -- seemed pleased they no longer had to be quiet.
Prominent local supporters of school choice -- including Gov. Asa Hutchinson, Attorney General Leslie Rutledge and Lt. Gov. Tim Griffin -- also spoke at the rally, organized by the Reform Alliance, a Walton Family Foundation-funded group.
Hutchinson unveiled his proclamation designating this week "Arkansas School Choice Week." The Republican governor touted his own family's embrace of school choice, noting that his children attended public schools, private schools and even were home-schooled.
"Choice in education is important as a matter of freedom; it is important as a matter of competition," Hutchinson said. "But the end result is that choice is important for the children of our state and their abilities to succeed in the education environment."
The rally was one in a string of events held across the state and nation as part of National School Choice Week. Fuller spoke Tuesday night at a town-hall style event at a Little Rock church.
Advocates celebrate National School Choice Week each January to raise awareness about schooling options from public schools to public charter schools, magnet schools, private schools and home-schooling.
Wednesday's speakers appealed to the idea that every child is different and therefore a variety of educational approaches are needed. Griffin quipped that "cookie cutters are good for cookies" but "not good for kids."
State Sen. Joyce Elliott, a retired teacher and proponent of traditional public schools, said she's been disappointed with the school-choice movement.
"It's a well-funded, well-orchestrated fever pitch that sounds like a really good idea but, in practice, it dilutes the ability for all our kids to have a quality education," Elliott said Wednesday.
In Arkansas, lawmakers have increased school choice with several bills in recent sessions, starting with a 2015 law that introduced vouchers. That law allows students with certain disabilities to receive state-funded tuition to attend private schools.
Legislators last year loosened some of the restrictions on the Succeed Scholarship Program, increasing the number of eligible private schools and students. After those tweaks, the number of students in the program increased sixfold to 185 for the 2017-18 school year.
Hutchinson said the law included one-time funding for Succeed scholarships, but he pledged to work with the Legislature to ensure it remained funded in the future.
He also praised House Bill 1222 from the 2017 session that failed to pass. It would have created education savings accounts to cover expenses like private-school tuition, textbooks, college testing, speech pathology, transportation and uniforms.
Funding for that measure would come from individual and corporate taxpayers who would make donations to a nonprofit in exchange for tax credits. The nonprofit would then pay education costs at the direction of parents.
Hutchinson said he would support the legislation again in 2019.
Despite the school-choice gains, Griffin, the lieutenant governor, said Arkansas still lags behind other states when it comes to private-school vouchers.
"People should be able to go to the school that's best for them, period," he said. "Let's quit acting like the rest of the world is not doing this. We're behind on this. Let's educate our kids and do what's best for them and quit worrying about the status quo."
Wednesday's crowd, which included student groups from public charter schools and private schools, also heard from parents and students who explained how alternative schooling options had affected them.
One high school senior said the switch from public school to private school brought him out of his shell and made him determined to attend college.
Critics of school choice in Arkansas have expressed concerns about the lack of oversight the state is able to provide. In the case of private schools, for example, the reporting of standardized test scores to the state isn't required as it is in public schools.
Elliott also said school choice exacerbates racial segregation in education. While she's discouraged by the increase of nontraditional public schools, Elliott noted the growth of grass-roots, pro-public school groups like the Network for Public Education.
"We'll never have the money of the Waltons, but a lot of people are starting to dig deeper and learn the truth," she said.
Wednesday's speakers argued that school choice increases the opportunities for students regardless of race or family income. Additionally, Hutchinson said competition improves public schools.
"As governor, it's important for me to support -- and I do support -- public schools in Arkansas," he said. "And I believe that the choice environment makes them better, makes them stronger, and I encourage them to compete and be the best to attract students to their environment."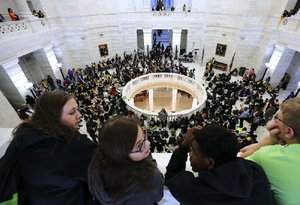 Photo by Thomas Metthe
Arkansas Christian Academy students (from left) Hailey Gaddis, Taylor Apple, Markeson Taylor and Zachary Arp listen as classmate Brandon Clowers speaks Wednesday during the Arkansas School Choice Rally at the state Capitol.
Metro on 01/25/2018