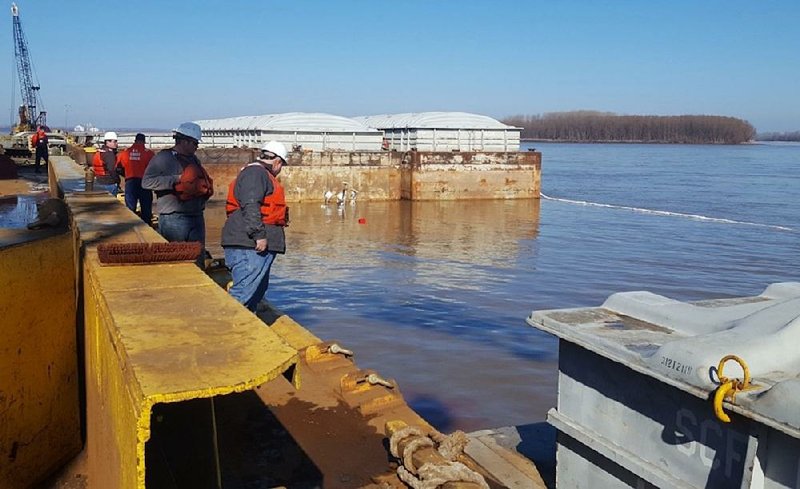 Arkansas Democrat-Gazette - 01/24/2018 - Officials look where the towboat "Virginia Renee" sank with 10,000 gallons of diesel fuel at Hickman Landing on the Mississippi River near Blytheville, January 24, 2018. Booms and absorbent pads were being used to limit the spread of oil in the area, according to the Coast Guard.
The U.S. Coast Guard responded Wednesday after a vessel carrying thousands of gallons of diesel sank in the Mississippi River in northeast Arkansas.
The Coast Guard was notified by Terral River Service at 5:35 a.m. Wednesday of an uninspected towing vessel sinking at Hickman Landing near Blytheville, according to a news release.
The vessel, the Virginia Renee, had 10,000 gallons of diesel on board, according to officials. Neil Martin, vice president of services for Terral River Service, said it was unclear how much diesel had spilled and that the cause of the spill is being investigated
Booms and absorbent pads were being used Wednesday afternoon to limit the spread of oil, the Coast Guard said. Divers also were on scene.
All Terral River Service employees were safe, Martin said.
Kelly Robinson of the Arkansas Department of Environmental Quality said the department was notified of the spill but had not sent any investigators.
State Desk on 01/25/2018
Print Headline: Towboat sinks, spills diesel
Sponsor Content