The middle brother rose to his highest point, elbow tucked, basketball elevated.
The eldest brother stood from his courtside seat a few feet away, raising three fingers in an "OK" sign, knowing the ball's destined path, the scoreboard's inevitable tally.
The parents sat further back, their cell phones tucked away. They had just watched a livestream of their youngest son, Markus, scoring 24 points during the first half of his Marquette game against Xavier, and now their full attention was on Jordan, who was about to make his fifth consecutive three-pointer to send the University of Central Arkansas toward a big victory.
Jordan Howard's shot clipped the net. By halftime, the 22-year-old senior guard had 28 points for the Bears.
His older brother, Desmond, 23, shook his head looking up at the scoreboard.
By game's end, Jordan's career-high 43 points helped UCA beat Stephen F. Austin for the first time in program history.
Chuck Howard rested his right hand around his son's neck afterward.
On the Farris Center court, the father and son shared an inaudible exchange.
So ended Wednesday night in the lives of the Howard family, the host of two of college basketball's top 10 three-point shooters.
"It's the Ball family without the drama," said UCA's fourth-year Coach Russ Pennell.
Jordan Howard stepped into the national spotlight when LiAngelo Ball stepped out.
During a November road trip to UCLA, the entire Bears team looked up from their hotel breakfast to see that LaVar Ball's middle son was scheduled to return to Los Angeles after being detained in China along with two teammates for allegedly shoplifting in Hangzhou.
The following night, Jordan scored 35 points in a near-upset of then-No. 18 UCLA, which the Bruins won 106-101 in overtime.
"Jordan is special," UCLA Coach Steve Alford said afterward.
Nearly three weeks later, Markus Howard, Marquette's 18-year-old sophomore guard, scored a Big East-record 52 points in the Golden Eagles' 95-90 overtime victory over Providence.
Since then, Jordan and Markus' names have been splayed over national and social media. It's hard disputing that they've become the most famous Howard brothers since The Three Stooges.
"It's definitely becoming more surreal this year than in others," said Jordan, whose 2,201 career points are the most in UCA history. "When people say 'The Howard Brothers,' it seems like a lot of people in the country know what that is now."
Jordan, enthralled by the movie Space Jam, "always loved basketball the most," according to Desmond, and he later helped lead Perry (Ariz.) High School to the state quarterfinals during Desmond's senior season.
The boys' mother, Noemi Howard, enrolled her sons into an Arizona basketball academy, which was founded by UCA's Pennell, who was an assistant coach at the University of Arizona at the time.
Chuck's strength and conditioning company occupied the vacant weight room in Pennell's academy. When Pennell was hired as the head coach at Grand Canyon University, he added Chuck, a former running back at Indiana, to the team's staff.
It became a key friendship when Pennell left for UCA in 2014 and needed to fill a decimated roster. He saw that Jordan, then an undersized, 5-11 senior at Perry, hardly had any collegiate offers.
Pennell said he also nearly signed Markus, who "changed his mind two or three times in the same day." Although the brothers "would've been able to bomb," the decision "probably allowed Markus to be his own guy."
Noemi said Jordan told Markus that he had to make the best decision for himself, that Jordan wasn't going to be at UCA for much longer.
"And that's what he would've come here for," she said. "Because of Jordan."
Desmond had only received an offer from Phoenix College, a local community college, and he missed most of his freshman season with a stomach ulcer before deciding collegiate basketball "wasn't for him."
He founded his own basketball training company, League Me, and began to train his younger brothers.
Jordan joined an AAU team and signed with mid-major UCA. Markus finished high school at Findlay College Prep, then signed with Marquette. As Desmond's younger brothers ascended beyond his own athletic accomplishments, he did not grow jealous or bitter.
He continued to wake them up at 6 a.m. on summer mornings to help them train.
"To me, I would rather see them win than me win and them struggle," he said.
"Anybody that's an older brother that can give back to the younger ones and let them benefit before them-self, that speaks volumes about you. I think that, first and foremost, is the most important thing."
Now, Jordan's 25.3 points per game rank third nationally, and Markus' 22.1 rank 12th; Jordan's 75 three-pointers rank fifth nationally, and Markus' 71 rank eighth.
Dr. Geoffrey Greif, professor at the University of Maryland School of Social Work, who co-authored Adult Sibling Relationships, recalled a former case study in which three brothers were unified by a sports-enthusiast father and a mother who made certain every son had as fair an opportunity as the other.
"There was a sense you couldn't split your parents," Greif said. "There was the notion of being a team. So that notion was handed to the brothers, who were very much a team."
Greif said one of the brothers said the relationship succeeded because "I believe that my brothers are doing the best by me."
As Desmond cheered courtside, and Markus retweeted support from hundreds of miles away, Jordan believed the same.
"The biggest thing for us, is we're all for each other," Jordan said. "I think through each stage, it's just unique to see where we each went to, and where we each are now. It's a testament to who we are and what we can accomplish when we do it together."
CENTRAL ARK. AT NW (LA.) STATE
WHEN 3 p.m. Central Saturday WHERE Prather Coliseum, Natchotoches, La. RECORDS UCA 11-11, 5-4 Southland Conference; NW State 3-16, 0-8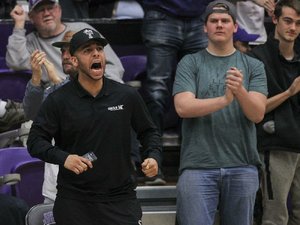 Photo by Benjamin Krain
Desmond Howard cheers for his brother Jordan during Wednesday night's game in Conway. Another brother, Markus, is a sophomore guard at Marquette.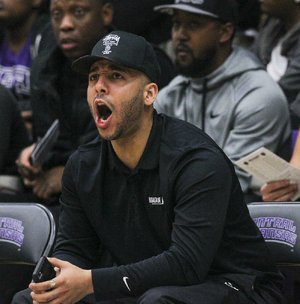 Photo by Benjamin Krain
Desmond Howard cheers on younger brother Jordan Howard from the sideline during UCA's victory over Stephen F. Austin on Wednesday night in Conway.