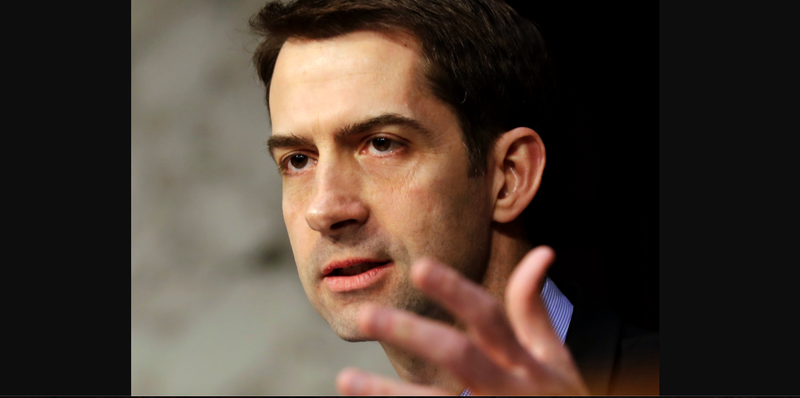 FILE — In this 2017 file photo, Sen. Tom Cotton, R-Ark., speaks during a Senate Intelligence Committee hearing, on Capitol Hill in Washington. (AP Photo/Jacquelyn Martin)
Year One of the Donald Trump presidency has been good for Arkansas' junior senator, writes Peter Spiliakos of The National Review.
In a piece Monday titled "Tom Cotton, Lindsey Graham and the Future of the GOP," Spiliakos wrote: "Tom Cotton has strengthened his chances of being the Republican presidential nominee someday. He was the most effective Trump surrogate and has earned the 'fighter' reputation that [U.S. Sen. Ted] Cruz wanted so desperately."
A survey by Morning Consult, on the other hand, suggested that Cotton's popularity in Arkansas has eroded slightly.
Questioned between Oct. 1 and Dec. 31, 49 percent of Arkansans approved of the Dardanelle Republican, 32 percent disapproved and 19 percent were either undecided or wouldn't share their views.
The survey was based on a national survey of more than 250,000 people. The research and media company said the margin of error for Arkansas was plus or minus 2 percent.
Another Morning Consult survey, conducted three months earlier, showed 55 percent of Arkansans approving of Cotton, 27 percent disapproving and 18 percent either undecided or unwilling to share their views.
U.S. Sen. John Boozman also saw his numbers drop. In the earlier survey, Boozman's ratings were 52 percent favorable, 23 percent unfavorable and 25 percent undecided or not saying. In the latest survey, he fell to 45 percent favorable and 29 percent unfavorable, with 26 percent undecided.
Sponsor Content