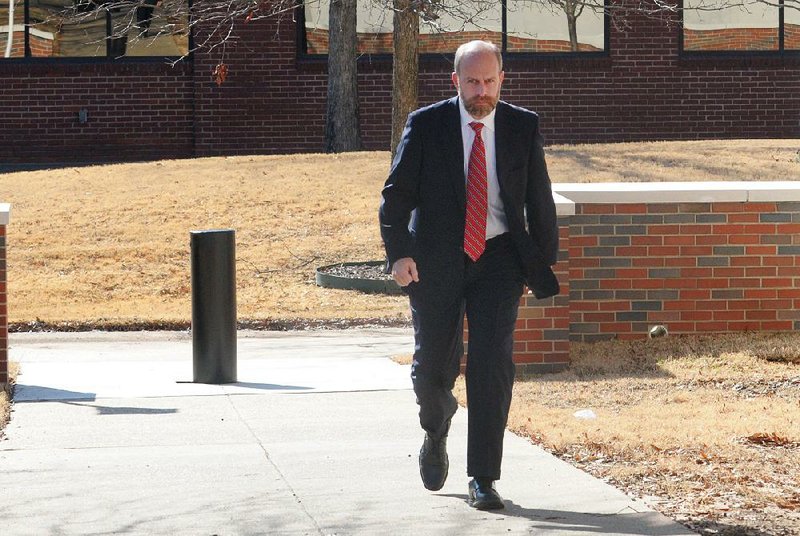 State Sen. Jake Files, R-Fort Smith, walks Monday, January 29, 2018, into the Judge Isaac C. Parker Federal Building in Fort Smith. ( NWA Democrat-Gazette / David Gottschalk)
State Sen. Jake Files, R-Fort Smith, on Tuesday submitted his resignation, effective Feb. 9.
Files tendered his resignation from his Senate District 8 seat a day after he pleaded guilty in federal court to felony charges of wire fraud, money laundering and bank fraud for pocketing state money he obtained for a Fort Smith softball complex and for pledging a forklift he didn't own as a collateral on a bank loan.
"It has been a privilege to represent Senate District 8 in the Arkansas Senate and to serve the citizens of Arkansas in the Arkansas General Assembly," Files wrote in a one-paragraph letter to Gov. Asa Hutchinson. The governor's spokesman, J.R. Davis, said the letter was received late Tuesday afternoon.
"I am proud of the work we have done together during my tenure," Files said in his letter to the governor, who has served as the state's chief executive since 2015.
[DOCUMENT: Read Files' resignation letter]
He wrote that with his last day being Feb. 9, "this will ensure time to tie up any loose ends. Thank you for your service to our great state."
The General Assembly's fiscal session begins Feb. 12, and Files' departure will leave the Senate with 32 members and three vacancies.
Files, 45, has served in the Senate since 2011 and chaired the Senate Revenue and Taxation Committee. He was in the state House of Representatives from 1999-2003. He also has been in the construction business.
Under Files' plea agreement with the federal government, he could be sentenced to up to 20 years in prison, ordered to pay a fine up to $250,000, or both, for wire fraud.
For money laundering, Files may be sentenced for up to 10 years in prison, fined up to $250,000, or both, "or the court may impose an alternate fine of not more than twice the amount of the criminally derived property involved in the transaction," according to the plea agreement. The alternative fine would be up to twice the amount of a cashier's check for $11,931.91.
For bank fraud, Files faces a maximum prison sentence of 30 years, a maximum fine of $1 million or both. No sentencing date was set Monday.
[DOCUMENT: Read complete plea agreement filed in case]
Article 5, Section 9, of the Arkansas Constitution bars Files from continuing to serve in the Senate because under that part of the constitution, no one convicted of embezzlement of public money, bribery, forgery or other infamous crime, including a felony offense, is eligible to serve in the General Assembly.
Hutchinson has set special primary elections on Feb. 13 and special elections on May 22 to fill the vacancies in Senate District 16 and District 29. The District 16 seat became vacant with the death of Greg Standridge, R-Russellville, in November after his battle with cancer. The District 29 seat became empty with the November resignation of Eddie Joe Williams, R-Cabot, to be President Donald Trump's representative to the Southern States Energy Board.
Special primary elections and special elections also will be held on the same days to fill the House District 83 vacancy created when Rep. David Branscum, R-Marshall, resigned to become the U.S. Department of Agriculture's rural development director in Arkansas. The House has 99 representatives and one vacant seat with the fiscal session set to begin in less than two weeks.
The governor is required under state law to call a special election to fill the remainder of Files' term, which was to end in January 2019.
Asked when the governor expects to set the special election, Davis said, "The first step will be to notify the [Democratic and Republican] parties of the resignation and request that they notify us whether they wish to hold a primary or convention to select their candidate.
[DOCUMENT: Read federal information detailing allegations against Sen. Jake Files]
"The governor will set the dates after we receive notice from the parties," Davis said.
The law requires a special election to be held as soon as possible after a vacancy occurs, and within 150 days after occurrence of the vacancy, unless the governor determines the time frames won't work. In that case, the special election will be held as soon as practicable after the 150 days after the occurrence of the vacancy.
In May 2017, hours before Files said he wouldn't seek re-election, state Rep. Mat Pitsch, R-Fort Smith, announced his bid for the Senate seat in this year's election.
But Pitsch will be prohibited from running in the special election for District 8 by Article 5, Section 10, of the Arkansas Constitution. Under that provision, no senator or representative shall, during the term for which he was elected, be appointed or elected to any civil office. Pitsch will be eligible to run in the regular primary and general elections for a full four-year term in District 8.
Asked about not being able to run in the special election, Pitsch said, "It is part of the process. I'm up for the primary and general [election]. That's my focus," he said. He said he looks forward to working with whoever wins the special election.
Some Fort Smith Republicans' names were circulated at the state Capitol as potential candidates for the special election.
They included attorney Joey McCutchen of Fort Smith, who said Tuesday that he's thinking about running in the special election. He said he doesn't know whether he'll run in the regular election.
Former state Rep. Frank Glidewell, R-Fort Smith, said he's considering running as a Republican or an independent in the special election.
Information for this article was contributed by Dave Hughes of the Arkansas Democrat-Gazette.
Metro on 01/31/2018
Print Headline: Files submits notice, cites pride in work; Facing fraud sentence, his last day in Senate is Feb. 9
Sponsor Content