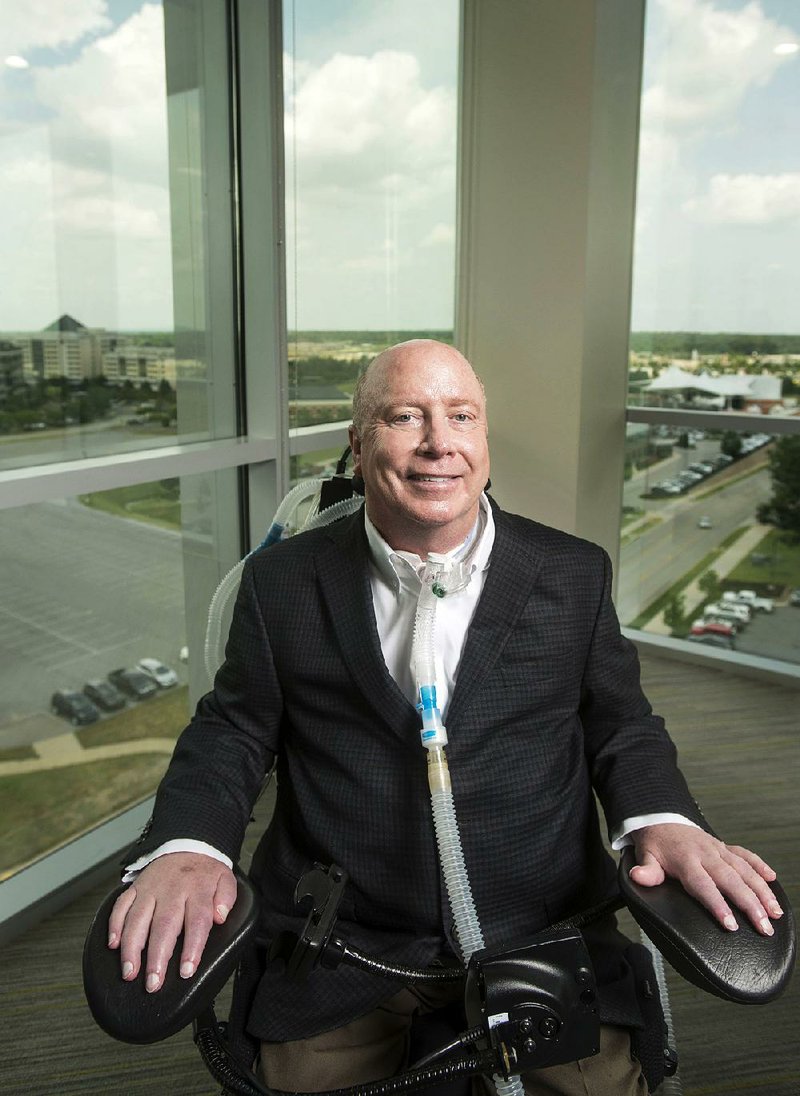 Tommy Van Zandt poses for a photo Wednesday, June 13, 2018, at the Sage Partners office in Rogers. ( NWA Democrat-Gazette/BEN GOFF / Ben Goff)
Tommy Van Zandt was 49 years old on the blustery February day he climbed up a 10-foot ladder to cut limbs off a tall tree on the property of his Fayetteville home.
It was 2009, and the area had just experienced one of the worst ice storms in recent history. Van Zandt's yard maintenance was being repeated at homes all up and down the Northwest Arkansas corridor as homeowners sought to recover from the damage the dangerous storm had wrought.
SELF PORTRAIT
Tommy Van Zandt
• DATE AND PLACE OF BIRTH: July 24, 1959, Little Rock
• IF I'VE LEARNED ONE THING IN LIFE, IT IS: Perseverance, sincerity and a sense of humor will get you a long way.
• IF I HAD THE POWER TO CHANGE ONE THING IN THE WORLD, IT WOULD BE: Peace.
• I'M MOST COMFORTABLE WITH PEOPLE WHO AREN'T: Self-absorbed.
• WHAT GETS ME ENERGIZED: Adrenaline from being in my office, working deals and conversing with our talented employees, partners, and friends. People energize me.
• I WANT TO BE KNOWN FOR: Inspiring others and putting a smile on people's faces.
• THE QUESTION I GET ASKED THE MOST: What keeps me motivated.
• ONE WORD TO SUM ME UP: Grateful.
An avid outdoorsman, Van Zandt was physically fit and agile and thought nothing of aiming his chainsaw for a slightly out-of-reach limb as he balanced near the top step of the ladder. The limb fell toward him, and Van Zandt found himself suddenly tumbling through the air. The sodden ground made for a soft landing pad, but doctors theorize that Van Zandt landed on the back of his head, the impact occurring in such a way that the most damage possible was done.
"I heard my neck break," says Van Zandt with a preternatural calm. "I was still conscious. I just felt the warmth of calmness and the peace of God and the Holy Spirit being with me."
The break was at the C2 vertebrae, almost at the base of Van Zandt's skull. As he lay at the foot of the tree, praying for someone to find him, he realized he couldn't move his limbs, that even breathing was becoming more and more difficult. Within minutes, he was discovered by his family and rushed to Washington Regional Medical Center in Fayetteville.
Over the next seven months, Van Zandt would traverse a difficult medical road that, ultimately, would require him to accept that his quadriplegic status was permanent.
"People ask me, 'What keeps you going? What keeps you motivated? Where does your joy come from?'" says Van Zandt. "I've always been blessed with a joyful spirit and high energy levels. Since my injury, God's grace keeps me motivated and excited about each day.
"I've said it many times: When you have a catastrophic injury, you can look at your situation and make a choice. One choice is to go the positive route, work your way through it to try and use what gifts you still have left and move on using God's help. Or you can be depressed about it and choose not to help yourself. If I had chosen that way, I wouldn't be here today."
Van Zandt was back at work at Sage Partners well before the one year anniversary of the accident. Initially, he intended to be at his desk by 10 a.m. -- but getting out of bed, bathed, dressed in suit and tie and into his chair turned out to be more time-consuming and complicated than he first realized. Today, he and his team are well-practiced at the routine, and Van Zandt arrives at the office no later than noon. during the week, where his assistant, Ashley Solomon, is at his side to assist him.
"I have a lot of daily aches and pains that I have to deal with, but the adrenaline of being here, at Sage Partners, with these people, is bringing me so much joy," says Van Zandt. "This is what I always dreamed of, if I were to ever start my own company."
In his current position as senior vice president, his passion for his job hasn't abated, but he is keenly aware of the differences in his outlook, pre- and post-accident.
FLIPPED
Van Zandt's business partner and brother-in-law Mark Saviers -- who is married to Van Zandt's sister, Vicki -- found the story of Van Zandt's accident and recovery so inspirational that he wrote a book about it. Flipped was published in 2017.
To write it, Saviers pulled from his own journal entries during the difficult year after the accident, as well as memories from Van Zandt and wife Robyn. It is a story that leaves the reader stunned, not only by Van Zandt's unsinkable spirit and determination but also by the unflagging, intense support of his family and friends.
"I felt the Lord was calling me to share the hope that he gave to us in our darkest time, so that others could see hope in him in whatever circumstance they may be facing," says Saviers. "So my prayer for the book is that it will help others see hope in the Lord, including our family, for generations to come."
Van Zandt was born in Little Rock in 1959, but he grew up in Fort Smith. Vicki was four years older than Van Zandt, and when she and Saviers started dating in high school, Van Zandt says he looked up to the older boy as a brother. Even as adults, the pair would hunt and fish together -- up until Van Zandt's accident.
MARRYING THE "INTERN"
Van Zandt followed his sister and Saviers to Fayetteville for college, where he became a business marketing major. He graduated in 1981, just as a recession was hitting, and was grateful to be offered a job at Phillips Petroleum in Dallas.
"One of the reasons he was so effective in Dallas, and is now, is that people warm to Tommy so quickly," says former co-worker and longtime friend Kim Butler. "He is so genuine, and that's always so effective when you have such little time on the front end to get to know someone quickly. ... He had clients that revered him, not only for his knowledge and expertise, but because they knew he truly cared about their best interests."
He would stay in Dallas for 20 years, moving into commercial real estate after a few years with Phillips Petroleum. In 1985, he met his soon-to-be-wife, Robyn.
"I needed a summer intern to help me with the paperwork and different things," he says. "I'm talking about a high school student. A friend of mine that knew Robyn's family decided she would be perfect for the job, so she said, 'I'll set up lunch.' I thought, 'I don't need to go to lunch for an intern.' But she said, 'No, come on, let's do this.' And so, of course, in walks this wonderful, lovely lady, and I realized it was kind of like a setup. She handed me her resume, and it said 'Graduate of University of Texas with an international business degree.' I thought, 'Seriously, she could hire me.' So I took it upon myself to help her find a job, and I used that as a way to stay in touch -- and two years later, we got married."
"My favorite part of the story was -- we were walking down a hallway, and there was a fire extinguisher on the wall, and I hit it with my shoulder and just about knocked it off," says Robyn. "I thought, 'Oh, I'm so embarrassed.' He came over and said, 'Are you OK?' He was so gentle -- at his core, he is such a kind-hearted person."
BACK TO THE NATURAL STATE
Dallas was good to the couple: Business was booming, and soon they would add two sons to their family -- Ross in 1991, Jack in 1995. The Van Zandts started considering a move back to Fayetteville to be closer to relatives.
"Everybody that I knew in Dallas that was from here -- [they] wanted to come back," he says. "That told me something."
Still, uprooting a life of 20 years and taking a chance on an untested market wasn't an easy decision. Van Zandt let years slip by as he mulled it over -- until Robyn reminded him that a decision needed to be made.
"She said, 'We are not getting any younger, and neither are the kids," says Van Zandt. "Are we going to do this or not?"
The couple moved back in 2000, and Van Zandt started out working in the Fayetteville office of Irwin Saviers Partners, the commercial real estate company that Saviers helped start in Little Rock. There Van Zandt met his future business partner, Bryan Shaw.
"I let him know what we were doing, and I said, within 10 minutes, 'If you're coming to Northwest Arkansas, I don't want you working for anybody but us,'" says Shaw. "I knew, very quickly, he was very experienced and knew what he was doing -- and he was a really great people person."
In 2005, Shaw and Van Zandt decided to start their own company and invited Saviers to join them. The trio christened the new project Sage Partners. Van Zandt says the partners' strong value system is responsible for the company's success.
"Tommy is our inspirational leader," says Johnelle Hunt, whose Hunt Ventures merged with Sage Partners in 2016. "He authored the core values for Sage and encourages all the employees of Sage to be mindful, every day, of the core values when dealing with our customers, other firms and each other."
The fledgling company was only 4 years old when Van Zandt had the accident.
EVERYTHING CHANGED
Within hours of his arrival at the hospital, Van Zandt's family and friends would become the ultimate support system. When, a few months after the accident, Van Zandt received a coveted spot at Craig Hospital in Denver -- a resource center that specializes in treating people with spinal cord injuries -- Robyn's brother, Doug Sims, paid the astronomical medical jet transport fee.
Robyn didn't leave Van Zandt's side for the first three months at Craig. She then began grabbing the occasional plane back to Arkansas to check on things at home. The stress was intense, but Robyn persevered.
"Being an able-bodied human being and having to go through almost what I'm going through, so to speak, and feeling every piece of it, and then having to deal with the realities of money, and the realities of raising two kids, and the realities of paying the bills and trying to plan on our kids going to college ... being the caregiver, that's a story in and of itself," says Van Zandt.
The Saviers moved from Little Rock to Fayetteville so that Ross and Jack could stay at home during Van Zandt's recuperation, and so Robyn could travel back and forth to Denver without worrying about leaving the boys alone. Mark Saviers also took over the finances for Robyn so she could focus on Van Zandt.
The financial picture was grim: Van Zandt's accident had occurred right as the country was heading into an economic downturn, and the real estate market was suffering. Van Zandt would be out of work for an unknown amount of time, without income, and medical bills were piling up.
A friend recommended that Saviers create a trust for the Van Zandts and that he be honest with family and friends about the financial need. Donations poured in. Butler and two other friends produced a fundraiser called "Tommy's Nite Out" in Dallas. Though it had been nine years since Van Zandt had lived in Texas, the event was standing room only and raised more than $200,000.
"He had an impact on so many people, from architects to contractors to brokers to vendors," says Butler. "Everybody who had met Tommy instantly liked him, and people really wanted to find a way to help."
The fundraisers have continued on a semiregular basis, and the proceeds pay for the around-the-clock care that Van Zandt requires.
CARING FOR THE CAREGIVERS
"We don't use a home health care service," says Van Zandt. "We found out early that doesn't work. We felt like we could find the right person, whether they were qualified in medical care or not -- if they had a heart for it, we could teach them how to do the medical aspects of the job. We would rather pay our people a little more so they get the money instead of the service. I've got one caregiver who has been with us over eight years, others who have been with us for five and six years. We just try to operate from a mindset of joy -- I would rather laugh any day of the week."
Keeping a positive outlook has it advantages.
"I went back to see the surgeon who did my neck surgery, about five years afterward. [When] I rolled into his office, he looked at me and said, 'Wow, you look fantastic,' and I said, 'How am I supposed to look?' He said, 'A lot of patients that I've had over the years with your type of injury, they're slumped over in the chair, they have pressure wounds, they're not talking. You must have incredible care.' And I said, 'I do.'"
"Tommy really cares for his caregivers -- he gives care right back to us," says April Pittman, who has worked with Van Zandt for nearly nine years. "He'll even ask how I'm doing in the middle of the night, when I'm turning him. I'll say, 'It's 4 a.m., Tommy, I'm fine!' It's so sweet that he asks."
His passion for his job hasn't abated, but he is aware of the differences in his outlook, pre- and post-accident.
"I was in the rehab hospital for seven months," he says. "At night, when the lights are out, and the family is gone to bed, and the friends aren't around, it's just you laying in a bed -- and in my case, kind of staring at a ceiling. I had a lot of really good talks with God, because at that point, you don't have anything else.
"When something like this happens to you, whatever faith you have -- whatever that looks like -- if you don't have faith, I don't know how you make it."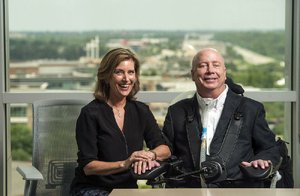 Photo by Ben Goff
Tommy Van Zandt and wife Robyn Van Zandt pose for a photo Wednesday, June 13, 2018, at the Sage Partners office in Rogers.
High Profile on 07/01/2018
Print Headline: Thomas Link Van Zandt: A successful commercial real estate developer, Tommy Van Zandt hasn't let a paralyzing midlife accident deter him from doing what he loves.
Sponsor Content