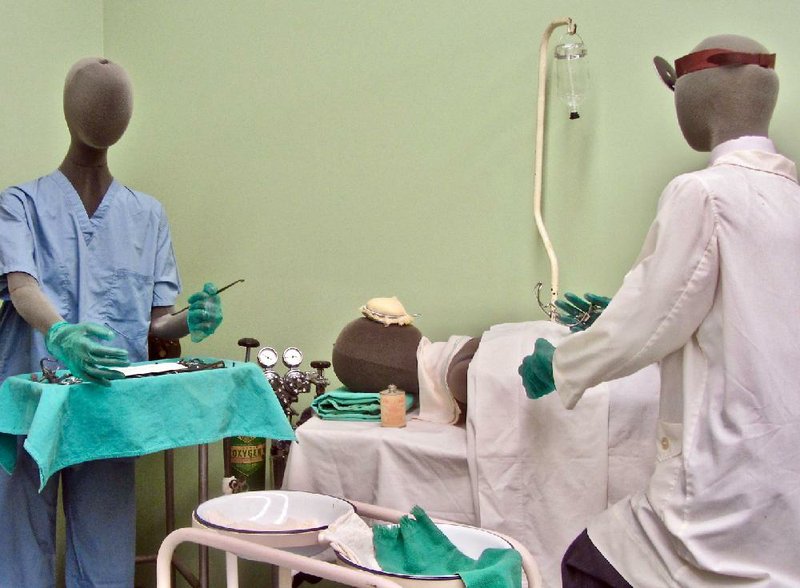 The Marked Tree Delta Area Museum includes displays from the former Verser Clinic Hospital in Harrisburg.
MARKED TREE -- Some historical displays at Marked Tree Delta Area Museum are staffed by mannequins. Their presence aims to give a personal touch to portrayal of the past in northeast Arkansas.
Perhaps designers of the exhibits had a hard time deciding what kinds of expressions to give these inanimate characters. So some have blank faces that hint at a sci-fi film, shape-shifting extra-terrestrials still working to decode human facial features.
Other mannequins are fitted with eyes, noses and mouths. But their features tend to be puffy and misshapen. To a Muppets fan, they could pass for characters from Jim Henson's fondly remembered television series and movies.
Putting aside such visual quirks, the museum does a first-rate job of recapping everyday life in and around Poinsett County before mechanized farming took hold in the mid-20th century. The county's population has declined from 39,000 in 1950 to 24,000 today, suggesting that the sweeping changes since World War II have mostly been not for the better.
Four of the museum's galleries are filled with equipment from the former Verser Clinic Hospital in Harrisburg, the Poinsett County seat. One exhibit brandishes two dozen medical implements from the first half of the 20th century, when all surgery was invasive. The tools include a large muscle-bone saw (for amputations), an adenoid removal instrument and an intestinal clamp. One device has an especially ominous name: tonsil guillotine.
Visitors are greeted in the lobby by a dugout boat hewed from an ash log at the start of the 20th century for James Thomas Morrisett. During severe flooding in 1912-13, he used the dugout to make it from his farm into town to buy food and kerosene. "The river bank was not visible," it is noted. "Mr. Morrisett's vessel would have traveled across fields and through woods to reach Marked Tree."
Poinsett County's prime cash crop a century ago was cotton, the focus of one museum setting. A sign asserts that a single bale of cotton will make 215 pairs of jeans, 249 bed sheets, 400 men's sport shirts, 690 terry bath towels, 1,217 men's T-shirts, 1,226 pillow cases, 2,104 boxer shorts, 3,085 diapers, 4,321 mid-calf socks or 21,960 women's handkerchiefs. Or the bale can be turned into $100 bills -- 313,600 of them. That would be more than $31 million in cash.
At a time when land-line telephones are an endangered species, their novelty and importance at the onset of the 20th century is made clear in exhibits about the local E. Ritter Telephone Co. The utility began daytime operations in Marked Tree in 1906, with 160 lines and a staff of two operators. It was a big deal in 1914 when Ritter began providing telephone service at night.
The museum's smallest room contains shelves and a glass-front counter evoking an old-time general store stocked with a potpourri of goods. Posed near the ornate cash register is one of the mannequins absent facial features. He is the sprightliest of the fabricated figures, sporting rimless eyeglasses and a vivid red vest.
Marked Tree Delta Area Museum, 308 Frisco St., Marked Tree, is open 1-4 p.m. Thursday-Friday, 9 a.m.-noon Saturday, 1-4 p.m. Sunday. Admission is free, with donations welcome.
Visit markedtreechamber.org/City%20Museum.htm or call (870) 358-4998.
Weekend on 07/05/2018
Print Headline: Marked Tree's museum shows us the way we were
Sponsor Content