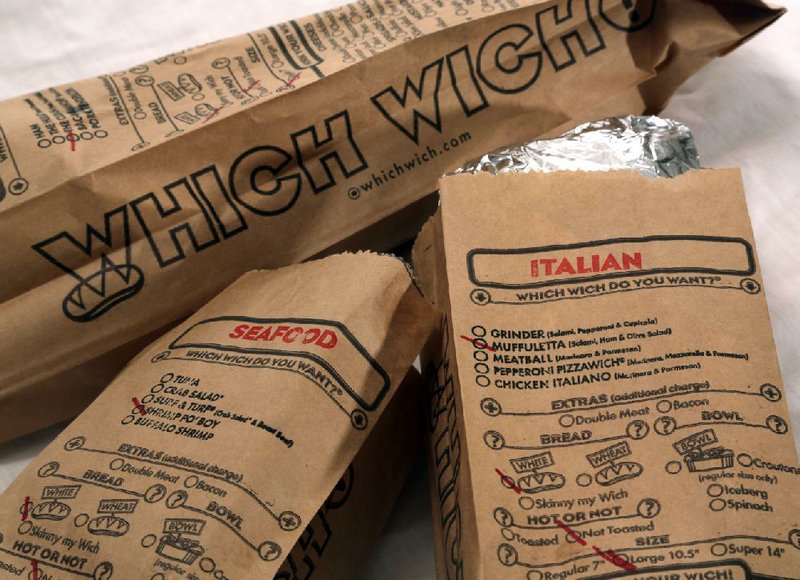 The Which Wich Superior Sandwiches on McCain Boulevard in North Little Rock has apparently closed.
Viva Vegan is having to vacate its brick and mortar space at 4601 W. 12th St., Little Rock, where it has been operating for a year, according to a Facebook post: "We love our neighbors and are sad to say that we will be relocating to another spot in Little Rock. The person responsible for repairs on this building refuses to tend to issues that are health and safety hazards along with general negligence of the property. Our customers' health and safety are of the utmost importance to us. We are currently searching for a new space. ... During this time we will be doing pop-ups, events, and catering. We hope you'll continue to support us during this difficult time. We are working around the clock to get back to feeding y'all on a daily basis. P.S. Any leads for a new location or events we can pop up at would be greatly appreciated!" Contact them via the Facebook page, facebook.com/vivaveganfood.
And speaking of vegan restaurants, Phoebe Glass, who with Amir Salem has been operating Little Rock-based Shambala Vegan Mobile Kitchen, hopes to open this week Blue Sage Vegan Bistro in the former Mason's Deli space in the River Market's Ottenheimer Market Hall, 400 President Clinton Ave., Little Rock. But she's at the mercy of the delivery of an oven to replace one that was first lost in transit and, when it finally arrived last week, was "squished." Blue Sage will initially open for lunch, 11 a.m.-2 p.m. Monday-Saturday, and not long after will start serving breakfast, 7-10 a.m.; Shambala's Facebook page says they'll offer delivery services and will maintain the food truck for festivals and special occasions. For the moment, use the Shambala phone number: (501) 286-2684.
Meanwhile, a very-much-used cafeteria-style steam table and some equipment has been installed in the adjoining Market Hall space that previously housed Rivershore Eatery. We don't yet know what that portends, but we'll keep you posted.
Red & Blue Arkansas, going into the former American Legion building at 1415 W. Seventh St., catti-corner from the state Capitol (the old building, not the new one the legion built next door), is not a restaurant, as we were originally told, but a "special events venue," according to a recent post from Roby and Stephanie B. Brock on the Facebook page (facebook.com/redandbluearkansas): "We are now taking reservations for events and hope you'll consider us for your needs!" They've applied for an on-premises wine/retail beer permit with the state Alcoholic Beverage Control Division so they can serve for wedding receptions, etc. The website is redandbluearkansas.com. (You may recognize Roby Brock as the head honcho at Talk Business and Politics website.)
And speaking of the state Alcoholic Beverage Control Division, The Root's Jack Sundell, who with his wife, Corri, are opening Dos Rocas Beer & Tacos at 1220 Main St., Little Rock, three blocks from The Root in a space that was once Juanita's Party Room, has applied for a mixed drink-minimum permit, which will allow them to serve, among other things, margaritas and local craft beers. Their partners in the enterprise include Paraguay native Cesar Bordon-Avalos, who has been The Root's lunch kitchen manager since 2012; native Honduran Luis Vasquez, currently the breakfast chef at The Root, will manage the kitchen. The pan-Latin American menu will include street food (tacos, empanadas, pupusas) made with "fresh, locally farmed ingredients." We're still trying to track down a target opening date. The website (dosrocasbeerandtacos.com) which lists hours and phone number as TBD; there's also a Facebook page, facebook.com/dosrocasbeerandtacos.
We're also still trying to unearth an opening date for Aji Ramen Bar, 301 N. Shackleford Road, Little Rock, which, we're told, is a brick-and-mortar enterprise from Oki Sutanto, who at one time operated a food truck called Two Brothers Hibachi, and who has applied for an on-premises beer and wine permit from the ABC. The menu, as you might expect, will focus on the increasingly popular Japanese noodle-broth dish.
The Which Wich Superior Sandwiches outlet at 2607 McCain Blvd., North Little Rock, has apparently closed. One of our eagle-eyed observers reports seeing a sign on the door telling customers to go to the west Little Rock location -- 12800 Chenal Parkway, where the phone number is (501) 312-9424 -- and spotted lumber and sheet rock stacked up inside, where there were no lights on. The phone number, (501) 771-9424, had not yet been disconnected by deadline, but we got no answer in several attempts during business hours. The website, whichwich.com, no longer lists the North Little Rock store among current locations.
July 13 will be the grand opening of the DQ Grill & Chill at 1000 W. Main St., Cabot, says Gracie Lively, marketing coordinator for You Scream Holdings, which holds the central Arkansas DQ franchise. They did the grand opening announcement a little differently, asking fans to sign up for text alerts and getting back an image for them to "post and tag" the Cabot store. Whereas typically, the first 100 customers who buy a cake at area DQ grand openings would get one free mini-Blizzard every week for a year, "for Cabot, we are letting people vote for what they want!" -- either that mini-Blizzard or a free four-piece chicken strip basket (drink not included) for one year. Vote online at bit.ly/2tqGIsg. Hours are 6 a.m.-10 p.m. Monday-Friday, 6 a.m.-11 p.m. Friday-Saturday, 7 a.m.-10 p.m. Sunday, and it will be the third Arkansas DQ -- and the first in central Arkansas -- to serve breakfast. The other two locations are in Magnolia and Lowell.
And the Department of Arkansas Heritage has created an Arkansas Food Hall of Fame app through which mobile users can scroll through the restaurants, cooks and entrepreneurs, festivals and events -- all the winners and finalists since the food hall was established in 2017. It also includes photos, videos and practical tools, including a tip calculator. It's available in the Apple App and Google Play stores -- search "Arkansas Food Hall of Fame." For more information, call (501) 324-9150 or email info@arkansasheritage.org.
Has a restaurant opened -- or closed -- near you in the last week or so? Does your favorite eatery have a new menu? Is there a new chef in charge? Drop us a line. Call (501) 399-3667 or (501) 378-3513, or send a note to Restaurants, Weekend Section, Arkansas Democrat-Gazette, P.O. Box 2221, Little Rock, Ark. 72203. Send email to:
eharrison@arkansasonline.com
Weekend on 07/05/2018
Print Headline: Vegan cafes: One closing, one opening
Sponsor Content