David Couch, Arkansas' biennial hawker of ballot initiatives and amendments, pulled up in a U-Haul outside Little Rock's Victory Building on Friday and warned reporters that his latest haul of signatures would be underwhelming.
"I could have fit this all in my [Chevrolet] Suburban," Couch joked as he lifted the rental truck's roll-up door, exposing a paltry 15 office supply boxes. "I'm embarrassed."
The trick to shrinking storage? Printing the signature pages double-sided, Couch explained.
Couch said the boxes contained 69,413 signatures -- more than the number required for ballot access -- for his proposal that would raise the state's minimum wage to $11 per hour. Backers of two other ballot initiatives, to expand casino gambling and shorten term limits, also said they had submitted enough signatures ahead of Friday's deadline.
Canvassers working for Couch and the backers of the casino amendment had a little over a month to gather the required signatures, after a legal dispute that dragged into May eventually prodded Attorney General Leslie Rutledge to approve the wording of the proposed ballot measures.
Now, the secretary of the state's office will begin poring over hundreds of thousands of signatures, cross-checking them with voter registrations and certifying whether each ballot proposal has enough names attached to it to be certified for placement on the Nov. 6 general election ballot.
That review will involve as many as 60 temporary workers hired by the secretary of state's office, spokesman Danielle Fusco said, and will be completed in 30 days. If the state's checkers invalidate enough signatures to knock a measure below the required threshold, backers of each measure will have 30 more days to try to reach the required amount.
The minimum wage measure, an initiated act, needs 67,887 valid signatures to appear on the ballot. Constitutional amendments must have 84,859 valid signatures of registered voters. In addition, sponsors must obtain a minimum number of signatures in 15 counties.
"We passed the magic number around midnight last night," Couch said.
Under Couch's proposal, the state's current $8.50 per hour minimum wage would first be bumped to $9.25 per hour on Jan. 1, 2019, and then to $10 in 2020 and $11 in 2021. The federal minimum wage is $7.25 per hour, and of the states bordering Arkansas, only Missouri sets minimum wages above that, at $7.85 per hour.
Earlier this year, Couch had proposed an alternate initiative to eventually increase the minimum wage to $12 an hour in competition with a similar Missouri proposal, but Rutledge rejected the wording to be used on ballots.
Arkansans voted to raise the minimum wage to its current level in 2014, approving Issue 5 with 65 percent of the vote. Couch was an attorney for that proposal's sponsor. He also sponsored a failed proposal that year on allowing statewide alcohol sales, and in 2016 sponsored the successful medical marijuana amendment.
Four years ago, the minimum wage measure drew support from Democrats and Republicans who were also seeking votes on the ballot.
Then-gubernatorial candidate Asa Hutchinson, now the governor, announced his support for the minimum wage increase after first opposing it. Fellow Republican Tom Cotton also supported the measure during his successful run to oust U.S. Sen. Mark Pryor, a Democrat, who said he would vote for it.
Four years later, the idea of raising the minimum wage again has proved more divisive in the governor's race.
"Over the past three and a half years we have created 70,000 new jobs and wage rates are going up," Hutchinson said in a statement Friday opposing Couch's proposal. "We need to be striving for this kind of wage increase through private sector growth and a more competitive tax code that produces more and better paying jobs in Arkansas."
The governor added in his statement that he generally supports increasing the minimum wage but that such efforts should be passed through the Legislature.
Hutchinson's Democratic opponent in the November election, Jared Henderson, has embraced the plan to raise minimum wages over the next three years. Meanwhile the Libertarian candidate, Mark West, said he is opposed to increasing the minimum wage.
"I believe every hardworking candidate should be able to earn a livable wage no matter what profession they are in," Henderson said in a statement Friday.
Voters headed to the polls this November will already be faced with two questions presented to them by the Legislature, which can place up to three constitutional amendments on the ballot.
The first, known as Issue 1, would place a cap on attorneys' fees and certain damages in lawsuits, while giving lawmakers, instead of the Arkansas Supreme Court, the final rule-making authority over the courts. Backers in the business community, including the Arkansas State Chamber of Commerce, have referred to Issue 1 as "tort reform," while lawyers and the bar association have promised an all-out effort to oppose it, and both sides have raised more than $1 million.
The other legislative referral, Issue 2, would require voters to present photo ID at the polls, something many Democrats have long opposed. The proposal is similar to a law now in effect.
Either measure -- or any of the three pending certification -- have the potential to affect campaign spending or voter turnout in the midterm elections, in which there are at least two candidates for all the state's constitutional and U.S. House races and many legislative seats.
"The chamber is loaded up on Issue 1, so I don't know how much resources they'll have" to fight a minimum wage increase, Couch said.
A request for comment left with a chamber spokesman was not returned Friday.
Two out-of-state groups, the Fairness Project and the National Employment Law Project, have offered their support, Couch told reporters Friday, though he was unsure how much money he would be able to raise for a campaign.
Even if the secretary of state's office certifies the signatures and places a measure on the ballot, a proposal can still be subject to expensive lawsuits by opponents.
In 2016, votes for some citizen-initiated proposals were not counted because of successful lawsuits. Only Couch's amendment to legalize medical marijuana stayed on the ballot, along with legislative proposals.
The state Supreme Court's order against the 2016 measures prompted Rutledge, the attorney general, to stop approving the ballot wording on new proposals, arguing that the justices had set a strict and unclear standard for how future measures should be written. In May, it was the justices who gave Rutledge an ultimatum to start approving the measures or substitute her own language.
Couch said he expected someone, though he wasn't sure who, to file a lawsuit against his minimum wage proposal.
To gather the signatures, Couch said he contracted with National Ballot Access, a firm that pays canvassers to gather signatures. Couch used the same company with success in previous cycles, including in 2016 and 2014.
The group behind the casino amendment, the Arkansas Jobs Coalition, also used National Ballot Access, which Couch said prompted him to raise his price from $3 to $4 per signature earlier this week in order to compete.
Information for this article was contributed by Michael R. Wickline of the Arkansas Democrat-Gazette.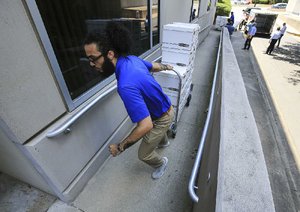 Photo by Staton Breidenthal
Jonas Crank unloads boxes of casino amendment petitions Friday outside the secretary of state's office.
A Section on 07/07/2018