Aiden sat on his mother's lap munching on a french fry, his raspy breathing punctuating her conversation.
He's just learned to walk, and the journey from the kitchen to the living room had worn him out. He has been hospitalized five times for breathing problems related to asthma. One was a five-day stay in the intensive-care unit.
And he's only 1.
His mother, Lakinda Williams, learned in April that Aiden is allergic to black mold, which she said appears to have been creeping up her apartment walls for months because of a water leak.
Williams, who has lived in Little Rock's Bella Vista apartments for three years, said she has called the complex's management at least six times, and no one has fixed the leak. The heat also was out for a week in December, and she has to put plastic bags over windows that don't seal properly.
"I'm trying to find somewhere to move," Williams said. "If I had known he [Aiden] was allergic to mold before I signed my lease again, I would have never signed it."
Unresponsive landlords and conditions that contribute to health problems for residents in rental properties are not unique to Williams and her family, according to a 2017 study by the Arkansas Community Institute and the Central Arkansas Re-Entry Coalition.
Just over half of renters surveyed in that study said they had problems with their landlords. Seven percent said these problems had affected their health.
The Arkansas Community Institute is a Little Rock group that works to "empower low-to-moderate-income citizens economically," according to its website. The Re-Entry Coalition is a group of residents and agencies that helps people in Lonoke and Pulaski counties "reenter society and reconnect with family" after incarceration, its website says.
The groups' study linked data between housing-code violations and trips to UAMS Medical Center. It looked particularly at homes south of Interstate 630, and nearly 1,000 renters were surveyed. The groups also used a small focus group to learn more about the problems identified by the survey.
The study found that people, like Aiden, who went to the hospital with respiratory problems were three times more likely to live in a property that had a mold-related citation than those who lived in uncontaminated housing.
Arkansas is the only state with no automatic requirement for landlords to make their rental units livable. Known as implied warranty-of-habitability laws, such statutes have existed in many other states for almost 40 years.
Every legislative attempt to give Arkansas renters more legal protections has failed, and lawyers say this leaves renters with little recourse when they have problems with apartment owners or management.
Little Rock city code governs the conditions of rental units, but code-enforcement officers say they are overburdened and can't regularly inspect all apartments.
A code officer visited three Bella Vista units in June and found several violations for wall outlets and smoke detectors that didn't work, a broken water tank and damaged electrical wiring. Officers aren't allowed to determine whether mold is in an apartment.
The Bella Vista apartment manager, who declined to give her name, said her office has gotten several calls about mold and water leaks, but she insisted that neither was a problem.
Bella Vista apartment residents went without gas for cooking or heat for several days in December, and several news outlets reported on the situation. Two residents and Neil Sealy, an advocate with Arkansas Community Organizations who has been working with residents for months, confirmed the problems and said that the management has been unwilling to address problems.
'LIVE A LITTLE BETTER'
LaJoy Person moved into the gated Pleasant Ridge Apartments off Cantrell Road with her sons in March 2015 because her downtown home was in the center of a rough neighborhood overrun with gang violence.
"I was living with my kids in that environment," Person said. "So I just wanted them to live a little better. I was trying to get out of the neighborhood for my children."
But the first day she went to her new home, she saw a living room window was broken. The owner had the window fixed before she moved her belongings in, but there was still a mildew smell downstairs, broken tiles in the kitchen and outlets that didn't work, she said.
The longer she stayed there, the worse things got. The air conditioning went out for a summer, and she would have to wring the sweat out of her shirt after cooking. Ants invaded and marched up the walls. The electric stove's burners stayed red hot even when she hadn't turned them on. Sparks flew from the outlets.
Mold, allergens, extreme temperatures and fire risks are a few of the top hazards that contribute to poor health among renters, according to the 2017 study of Little Rock renters. Scientific studies have linked hazards like these to chronic diseases such as asthma and cancer, respiratory infections, diminished mental health and injuries from falls or burns.
Even with the violence of her old neighborhood, Person said she never experienced high blood pressure. But a few weeks ago, as the stress of living in the apartment multiplied, her blood pressure spiked, and she later miscarried, she said.
Much of Person's stress now comes from a fear of fires. On March 29, 2016, the circuit box in her bedroom caught fire. It happened in the middle of the night, and her son was sleeping downstairs.
"We heard a big boom, and I was asleep and my son was asleep," she said. "I thought a car had crashed into a tree, that's how loud it was."
Power to the apartment went out, and the Fire Department report notes that Person told firefighters she had been asking for electrical repairs for a year because her bills had been so high because of malfunctioning appliances.
Her monthly utility bills jumped from $137.81 in April 2015 to $517.76 in February 2016, a month before the fire. After the fire, she called the code enforcement agency. The officer found that her downstairs windows wouldn't open, and she's afraid that her son, who just finished the 10th grade, will be downstairs with his headphones on if there is another fire.
"If it would have got down there to him, he can't come up the steps because it's going down and he can't get out of the windows," Person said. "I'm just scared."
The 2017 study of Little Rock renters cites hypertension as one of the health problems related to many of the housing problems Person has reported.
A Pleasant Ridge apartment manager denied that the Fire Department had been to the complex for electrical problems and that there had been any downstairs flooding.
The manager said it would be nearly impossible for any flooding to occur because the complex is on a hill, but Person showed the Arkansas Democrat-Gazette dated video of her sloshing through the water in her home.
"The Fire Department is right across the street, so no," the manager said when asked if there had been any electrical fires at the complex. She declined to give her last name and added that the apartments are close to fully leased.
City code-enforcement officers visited the complex last year and noted problems with the ceiling in Person's apartment. They also noted exposed electrical outlets, a lack of smoke detectors, and doors that didn't work properly in several apartments.
According to code-enforcement documents, at least one of the apartments was fixed, although it was not Person's.
Under Arkansas law, landlords aren't liable for any injury or death that occurs at their properties, even if it is a result of not making repairs unless both parties agreed to a contract that stated otherwise.
"It's very clear in the law that landlords are protected if they don't affirmatively contract to make those repairs," said Amy Pritchard, a law professor at the University of Arkansas at Little Rock.
Pritchard, who works primarily in the area of consumer protection, said many of the cases she has are a result of tense communication between landlords and tenants that escalates.
Sometimes working with the code-enforcement agency is helpful, she said.
"That's a third-party neutral person who would document what was going on. So if the tenant is saying the plumbing was leaking, and the landlord is saying it wasn't, code doesn't really have a dog in that fight," Pritchard said.
NOT ENOUGH OFFICERS
Code-enforcement officers can't keep up with their city-mandated workload, said Terry Hall, the senior code officer for Little Rock.
"I know the city ordinance says it should be like a biennial assessment, which is every two years, but that's impossible to do," Hall said.
The rental inspection team of five officers would need more than 10 times that number to complete the biennial inspections and address complaints, he said.
Little Rock has 35,011 occupied rental units, according to 2016 data from the U.S. Census Bureau.
Officers' goal this year is to inspect 3,000; last year, they inspected 16,000, Hall said. If the team meets the 3,000 goal every year, existing units will be inspected about every 12 years.
Electrical problems are one of the top complaints that the Little Rock code-enforcement agency gets, Hall said. Other frequently reported problems are mold and leaky roofs.
Depending on the violation, owners have between one and 30 days to fix a problem. One day applies to sewage backup, seven to "life-safety" concerns, and most other problems are given 30 days, Hall said.
"We get some from time to time where people say that [an apartment is] unlivable," he added. "When they say that, it's usually that they've got holes in the wall or ceiling."
Often, he said, complaints concern a few "problem landlords" who own several properties.
Jenifer Hamel, who works with a group that teaches adults to read, called the code-enforcement unit after rainwater leaked through her squirrel-infested kitchen cabinets and ceiling, creating what she called "squirrel juice." She asked that the officer not use her name when he was following up on the complaint, hoping that her landlord wouldn't find out.
She had moved into the apartment in December, charmed by the fireplace and a small extra room, and was out by February. Although the code-enforcement report outlined locks that didn't work, windows stuck shut and rotting out of their frames, and a front porch pulling away from the house, her landlord, Andrew Graham, didn't make any repairs.
The enforcement unit examined the property in February and found 34 violations, documents show.
Graham said he remembers getting a few texts from Hamel, and that he fixed everything after code-enforcement officers went through. He added that windows that won't open are a common problem with older buildings. He's had problems with the enforcement agency before, he said, but they've almost all been for grass that was too tall.
"I knew that my lease said 'as is,' but I didn't know that meant not habitable, not safe," Hamel said.
"As is" means that the tenant is agreeing to take the rental without any additional maintenance unless otherwise stated in the lease, according to the Arkansas attorney general's website.
Leta Anthony, who worked on the 2017 renters study with Sealy and heads the board of commissioners for Little Rock's housing authority, the Metropolitan Housing Alliance, tells people to document all the problems with a complex when they are trying to move out and to test everything when they move in.
"We strongly suggest that they have to do some self-protection things, and if nothing else, get that landlord to sign off on the fact that you went through that checklist and what the agreement looks like," she said.
Dustin Duke, an attorney with the Center for Arkansas Legal Services, said he usually has about 80 housing cases at a time, although some may be eviction cases. The center works with people in Faulkner, Lonoke, Perry, Prairie, Pulaski and White counties who earn at most 200 percent of the federal poverty line.
For rural areas, which often don't have housing codes, renters have almost no legal protection, Duke said.
"You would have to fall back on state law, and we don't have any state law that protects tenants," he said. "In fact, we have a couple of different statutes on the books that would indicate the opposite."
'THEY'RE PUNISHING ME'
Many renters are afraid to speak up about problems because there also is no legal protection for tenants who do, Duke said.
"Even if the landlord is breaking the law -- say for instance they do live in Little Rock and they know there's a code violation, and the landlord is breaking city code -- they're afraid to call because they're afraid that they're going to lose their housing," he said.
Person, who has a month-to-month lease and is already collecting boxes in her living room, said she feels that her landlord has been trying to push her out since she called the code-enforcement unit. Her tub is stopped up and the kitchen lights don't work. Attempts to get them fixed have been met with sarcasm, she said.
"It is like they're punishing me," she said.
Arkansas prohibits retaliation if tenants complain about "lead hazards." Eight states have no anti-retaliation laws, which prevent landlords from evicting tenants for a set number of days if they complain about housing conditions.
"If we are going to have an implied warranty of habitability here, this statute has to have that component in it," said Lynn Foster, a law professor at UALR. "Otherwise a tenant who is on a month-to-month lease will complain, and the landlord will get rid of them as soon as they can."
Foster was also the vice chairman of a 2011 commission authorized by the General Assembly to study tenant-landlord laws in the state. The commission made recommendations to former Gov. Mike Beebe, the president pro tempore of the Senate and the speaker of the House.
The commission's recommendations included establishing warranty-of-habitability and anti-retaliation statutes, but no such laws were passed.
Sealy said the absence of these laws tends to disproportionately affect vulnerable groups -- people who were formerly incarcerated and people who already live in poverty.
"They don't have a lot of choices when it comes to housing," Sealy said. "They end up in substandard housing, so they sort of take it or leave it."
Person said she is trying to save enough money to move, but sometimes goes back and forth because, despite all the problems, the home is still better than where she was.
While Person and Williams are subject to the protections the state provides, Valencia White has the federal government on her side in housing matters. A portion of her rent money comes from the Department of Housing and Urban Development's Section 8 program.
Section 8 provides rental assistance to people with low incomes. White qualified in part because she has a degenerative disc disease that makes it hard for her to work.
She lives in the Bella Vista apartments near Williams. When the complex's gas service went out at Christmastime, HUD called the landlord to get it fixed within 48 hours because several Section 8 residents live there.
While the gas was out, her 4-year-old and 6-year-old sons had to stay with their dad to keep warm, White said.
HUD has a checklist that ensures its clients' homes are habitable. Among the requirements are that buildings must be structurally sound, provide ways to get out in case of fire and have adequate heating and cooling.
However, if HUD doesn't call, White says her problems don't get fixed. White has water damage on her floor and carpet from a leaky air conditioner. Her boys have allergies, and she has asthma. The leak, which took about three weeks to fix, exacerbated her family's health problems, she said.
But the complex's management still fixes her problems more quickly than her neighbors, she said.
"With housing, I have inspections," White said. "And so that goes against them if things don't work."
White, who has lived at Bella Vista for six years, still wants to move because she thinks the management doesn't care about the residents' problems.
"They keep the grass cut on the outside, but when it comes to the inside, they act like we don't matter," White said, the sound of a lawn mower whirring outside. "That's not fair because we have babies. We have elderly people. We have disabled people. When they have a problem, it needs to be addressed because you don't know what's going to happen to their health."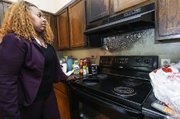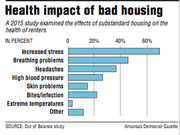 SundayMonday on 07/08/2018