Gov. Asa Hutchinson and the mother of two children who survived the 2012 massacre of 26 people in a Newtown, Conn., school were presenters Monday in the opening hours of the three-day Arkansas Safe Schools Conference in North Little Rock.
"There is not a more timely, urgent or important topic," Hutchinson told an audience of about 300 educators and law enforcement personnel at the Wyndham Hotel about the need for enhancing student and staff safety at schools.
Carly Posey of Parker, Colo., and formerly of Newtown, told the audience that in the aftermath of the shooting at her children's school -- in which her then first-grade son saw his teacher and a classmate killed -- she has learned to plan for the worst.
"I encourage you all to anticipate the unthinkable," Posey said. "I hope it never happens here, but we can all be prepared."
This year's 14th annual conference comes after a 2017-18 school year in which 35 students and adults were killed and others were wounded in campus shootings across the nation. Those included 17 killed at a Parkland, Fla., high school and 10 at a high school in Santa Fe, Texas.
After the Feb. 14 shooting in Florida, Hutchinson established the Arkansas School Safety Commission to make preliminary recommendations for additional campus safeguards.
The commission of law educators, law enforcement and mental health professionals -- headed by Cheryl May, director of the University of Arkansas' Criminal Justice Institute -- submitted a preliminary report to the governor before July 1 and will finalize its work by Nov. 30.
When gunshots rang out at the front of the Sandy Hook Elementary building on Dec. 14, 2012, Posey's son and his classmates moved to the back of the classroom where they sat on the floor.
The gunman entered the unlocked room and without a word pointed the gun across a row of students and shot the teacher, Posey said, then shot a child who ran toward the teacher.
Seven-year-old Reichen Posey watched all this and, when the gunman paused to reload, he and eight others raced out the classroom door and the school. Some headed for a particular home, and Reichen and others went to a nearby volunteer fire station. The station, however, was unoccupied at the time, and the children ended up in the nearby home of a stranger who gave them candy and juice until parents arrived.
Carly Posey learned of the gunman while meeting friends for a farewell breakfast in her honor because she and her four children were moving to Colorado the next day to join her husband who was working there.
Posey recalled driving toward the campus but could only get as close as the firehouse. There, she found her fourth-grade daughter, who had initially sheltered in the Sandy Hook art teacher's locked office until law enforcement officers moved them to the firehouse.
Reunited with her daughter and then finding her son, Posey made it home to wait on her twin fifth-graders' bus from a different Newtown campus. Those fifth and sixth graders had spent nearly six hours on lockdown, huddled under their desks, aware that something bad had happened at Sandy Hook Elementary but not sure what.
Posey wove into the retelling of her family's personal experiences with the tragedy and healing a list of strategies for anticipating, preparing and responding to unexpected crises.
Emergency drills should be done as if a crisis is imminent, and not prepared for 30 minutes in advance of the drill, she said.
Drills should be held at inconvenient times -- such as when children are at lunch, she said. Different combinations of drills should be held, such as a lockdown drill followed by an evacuation drill.
Posey said fire drills should be dealt with warily, with teachers thinking about what they are seeing and hearing before leaving a classroom with their children when the fire alarm sounds. As part of any drills, teachers should be trained to take with them their class rosters and other components of a "go kit" that will better enable them to manage an emergency.
Posey also described "reunification" drills focusing on how students and their parents are to meet in the aftermath of tragedy. That could include a system of contacting bus drivers if they may be needed to transport students offsite.
The most significant recommendation from a final report on Sandy Hook, Posey said, called for classroom doors that lock from the inside of the classroom, not just on the hallway side of the door.
If Reichen Posey's classroom door could have been locked from the inside, "Reichen might not have seen what he saw and some kids might still be alive," Posey said.
Partnerships between schools and law enforcement agencies, including the employment of school resource officers who are police officers assigned to schools, are important, she said. Those partnerships can include inviting law enforcement officers to participate in the emergency drills and to speak to students in classrooms afterward about the drills.
Other strategies include establishing a means for anonymous reporting of potential violence or problems, developing a system of managing school visitors, creating rules for media coverage of school crises, and asking faculty to seek out and connect with students who do not have relationships with their teachers, she said.
Posey said that everyone can help ward off problems by making eye contact with each other.
"Bad guys are cowards. They don't want to be seen," said Posey, who is employed by the I Love U Guys Foundation that promotes school safety. She's been affiliated with Safe2Tell Colorado and Anderson Software, both anonymous tip reporting systems.
Posey also advocated for school counselors who can provide mental health services to students, including those who have suffered trauma.
Hutchinson, in highlighting some of the recommendations of the Safe Schools Commission, also emphasized the need of counselors to have sufficient time to provide mental health services to students. A 1991 law calls for 75 percent of counselor time to be spent on direct support to students and 25 percent to administrative duties, but that balance has been lost, he said.
The governor also said the state needs more school resource officers who are armed law enforcement officers assigned to school campuses. The number is growing but remains short of one per campus, he said.
"That is the first option in school security," he said, citing as advantages the training that the officers have and the connections they create between a school and the local police department or sheriff's office. But the governor also acknowledged that there is a cost to having school resource officers that not all communities -- school systems and police agencies -- can afford.
If there is not money for a school resource officer, he said, districts should have a second option of armed and trained staff. He called that a practical solution to provide protection in the event of an armed shooter.
"Another point I want to emphasize is that teachers should never ever be required to carry a firearm. We don't want to encumber them with a mandatory requirement that they have to carry a firearm," Hutchinson said, adding that an assistant principal or a coach, custodians or employees previously in the military might be willing to be armed if provided with the right training.
Another of the School Safety Commission's 19 recommendations highlighted by the governor was the call for a district to have school safety plans that are developed by a team of individuals to fit the needs of a particular school system. That plan should be put in writing and, while its contents are not dictated by the state, the plan would be put on file with the Arkansas Department of Education.
Some of the topics being addressed during the three-day conference include bullying, gangs, human trafficking, social media, distracted driving, police response to students with special needs, suicide prevention, alcohol and drugs, and protecting the rights of lesbian, gay and transsexual students and staff.
The conference sponsors are the Criminal Justice Institute, Arkansas Safe Schools Association, Arkansas Department of Education, the Arkansas attorney general's office, Arkansas Department of Human Services and University of Arkansas at Little Rock's Midsouth Center for Prevention and Training.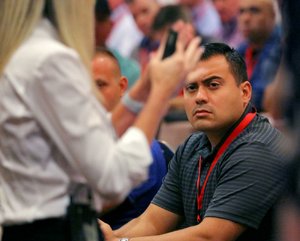 Photo by Arkansas Democrat-Gazette/JOHN SYKES JR.
Miguel Medina-Bravo, a member of the Centerton Police Department, listens Monday as Carly Posey discusses her family's experiences from the Sandy Hook Elementary School shooting.
Metro on 07/10/2018