JERUSALEM -- The Israeli military Saturday carried out its largest daytime airstrike campaign in Gaza since a seven-week war four years ago, Prime Minister Benjamin Netanyahu said.
Two Palestinian teenagers were killed in an airstrike in Gaza City, while three Israelis were wounded from a rocket that landed on a residential home as Hamas militants retaliated in waves throughout the day.
"The Israeli army delivered its most painful strike against Hamas since the 2014 war," Netanyahu said. "We will increase the strength of our attacks as much as necessary."
Israeli military spokesman Lt. Col. Jonathan Conricus said the purpose of Saturday's operation was to stop arson attacks, attempted border breaches and assaults on soldiers that have grown increasingly violent. The military warned Gaza civilians to keep their distance from certain sites.
Volatility along the border has intensified since Gazans launched near-weekly protests against Israel in late March. Almost 140 Palestinians, some of them unarmed, have been killed in the confrontations. Militants have tried repeatedly to break through the security fence along the border, attacked soldiers, and destroyed thousands of acres of farmland and nature reserves in southern Israel with kites and balloons outfitted with firebombs and explosives.
Protest organizers have said the demonstrations are meant to be peaceful, but Israel says Gaza militants use them as cover to attack.
Conricus said the third Israeli sortie of the day struck some 40 Hamas targets including tunnels, logistical centers and a Hamas battalion headquarters.
"Our message to Hamas is that we can and will enhance the intensity of our effort if needed," he said. "What Hamas is doing is pushing them ever closer to the edge of the abyss. ... Hamas will have to understand that there is a price to be paid."
Later, witnesses reported that Israeli warplanes dropped four bombs on an unfinished building near a Hamas police and security compound in Gaza City, reducing the old structure to rubble. The four-story building is adjacent to a public park. Gaza's Health ministry said two teenagers were killed in the strike and 10 others injured.
It marked the first casualties of the day. Striking in the heart of Gaza City is typically only seen during full-blown conflicts like the 2014 war.
The Israeli military had no immediate reaction to that strike but said it had targeted a separate high-rise building in the northern Gaza Strip that was used as a Hamas urban warfare training facility. It said a tunnel was dug under the building.
Shortly after, Israeli medical officials said three Israelis were wounded from a rocket that landed on a house in southern Israel. It said paramedics in the southern city of Sderot were treating a 52-year-old man with a chest wound, a 17-year-old girl with a face wound and a 20-year-old woman with injuries to her limbs.
Sirens wailed overnight and throughout most of the day Saturday in southern Israel as waves of rockets and mortar shells were launched from Gaza amid the airstrikes. According to the Israeli military, at least 190 mortar shells and rockets were fired at southern Israel from the Palestinian territory Saturday, and about 37 launches were intercepted by missiles.
As a precaution, the military shut down a popular beach in southern Israel and placed limitations on gatherings of large crowds. Israeli police says four of the projectiles caused damage.
In a relatively rare admission, Hamas said it fired the rockets to deter Israel from further action. Most of the recent rockets from Gaza have been fired by smaller factions, but Hamas spokesman Fawzi Barhoum said it was an "immediate response" that was meant to "deliver the message."
Israel has been warning Hamas in recent weeks that while it has no interest in engaging in the kind of conflict that led to the sides fighting three wars over the past decade, it will not tolerate Gaza militants' continued efforts to breach the border and its campaign to devastate Israeli border communities with incendiary attacks.
With Israel focused on rising tension along its northern border in its efforts to prevent Iran from establishing a permanent military foothold in post-civil war Syria, it has been wary of escalating hostilities in Gaza. But Netanyahu has also come under pressure to act from southern Israeli communities, that have once again found themselves under rocket fire from Gaza in addition to contending with the daily field fires.
"We are ready to operate simultaneously in different theaters," Conricus said, referring to the dual threats from Syria and Gaza. "It will be challenging to fight on more than one border, but it is something we can do and are prepared to do."
Israel's military chief visited the border area for briefings, and the Security Cabinet, Israel's top decision-making body, is expected to convene today to discuss further actions.
Information for this article was contributed by Aron Heller of The Associated Press; and by Amy Teibel, Saud Abu Ramadan and Ros Krazny of Bloomberg News.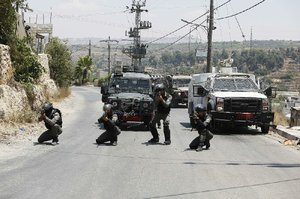 Photo by AP/NASSER SHIYOUKHI
Israeli troops take aim Saturday during clashes with Palestinians in the West Bank village of Beit Ummar after the funeral of a man killed by Israeli forces in the Old City of Hebron. The Israeli military also launched a daytime airstrike campaign Saturday in Gaza.
A Section on 07/15/2018