ARKADELPHIA -- Perhaps you've heard of these little art films featuring characters from Marvel comic books. They are quiet releases with little fanfare and are geared mainly toward a niche audience of avid fans.
Yeah, right.
Marvel superhero films have earned somewhere in the neighborhood of eleventy point eight skabillion dollars since the 2008 release of Iron Man, the first movie in the Marvel Cinematic Universe series, a place where a wisecracking billionaire genius, a straight-shooting soldier, a spider-bitten teenager from Queens, an African king, a Norse god and other super-powered, misfits fight to save mankind from all sorts dire fates.
Along with massive battle scenes, internecine squabbles and troubled heroes, there is a bit of Arkansas in the sprawling, colorful and loud Marvel Universe in the form of a mild-mannered academic.
Randy Duncan is a communications professor at Henderson State University in Arkadelphia, where he has taught for 32 years. A comics fan since he was an 8-year-old growing up in New Orleans, Duncan, now 60, started teaching classes on comics at HSU in the early '90s. By 2014, the college was offering comics studies as a minor.
Duncan is also a co-curator of the Marvel Universe of Super Heroes, a $3 million exhibit that debuted April 21 at the Museum of Popular Culture in Seattle. The sprawling exhibition is loaded with interactive features, rare memorabilia, life-size statues of Black Panther, The Thing and others items from the world of Marvel films and comics.
How does a professor in Arkadelphia end up rubbing shoulders with Black Panther, Thor, Iron Man and other Marvel characters at the Museum of Popular Culture's largest-ever exhibit?
It all began with a paper cut from a radioactive textbook.
Wait. That's not right.
It all began with a letter to the editor.
"My buddy, Matt, wrote a letter to Entertainment Weekly," Duncan says in an interview in the Greene Room of HSU's Huie Library, where the school's graphic novel special collection is housed.
Matt, by the way, is Matt Smith, interim dean for the College of Humanities and Behavioral Sciences at Radford University in Radford, Va. He and Duncan have co-written several scholarly comics tomes, including the textbook The Power of Comics: History, Form and Culture, which is about to enter its second edition.
Smith's letter, in response to the magazine's 2014 story about Jill Lepore's book The Secret History of Wonder Woman, pointed out that the piece didn't acknowledge the work of Wonder Woman artist H.G. Peter.
The magazine published the letter, along with some of Peter's artwork, and that, Smith thought, was that.
"I patted myself on the back and thought, 'Job well done,'" he says in a call from Radford.
A German named Christoph Scholz read the letter, though, and was intrigued.
Scholz is the director of SC Exhibitions, the German firm that had been contacted by the Walt Disney Co., which owns Marvel, about putting together an exhibit around Marvel's characters.
He reached out to Smith, who in turn reached out to Duncan and the project began to take shape.
When he was devouring comics as a kid -- discounted copies with the covers ripped off at a Time Saver convenience store in New Orleans -- Duncan discovered that what he liked most about the stories were the dynamics between the characters.
"I always gravitated toward the team books," he says. "I figured out later in life that what I liked about superhero comics wasn't the costumes or the battles. I had to admit that it was the soap opera element and the relationships between the characters."
In 2015, Duncan joined a team of Marvel experts that included Smith, Spider-Man group editor Danny Fingeroth, X-Men editor Annie Nocenti, writer Wolfgang Wild and Jenny Robb, curator of the Billy Ireland Cartoon Library in Columbus, Ohio, to work on the exhibit. They later added fellow scholar Ben Saunders of the University of Oregon.
Brooks Peck, a curator at the museum, worked closely with the group.
"He's hilarious," he says of Duncan. "He is both a scholar and a fan, and he loves this stuff. Given the opportunity to do such a big exhibition was clearly delighting him. He also got that the audience going to a museum exhibition is not the same as a bunch of grad students learning about comics, or other scholars. He shifted gears and was thinking about making this an audience-centric exhibition."
The Marvel Universe of Super Heroes, which runs through Jan. 6, takes up 10,000 square feet of the museum and stretches beyond the films to celebrate the comic books and their history.
"Matt and I pushed early on for it not to be just about the movies," Duncan says. "Ben also wanted to pay tribute to the comics and to the creators."
Along with giving the behind-the-scenes contributors their due, Smith says they also wanted to shine a light on the actual comics.
"We wanted the public to appreciate the source material. Not a lot of people appreciate how rich and wonderful comics are as a mode for human expression."
The exhibit features a copy of the ultra-rare Marvel Comics #1 from 1939, an original Daredevil cover by artist Frank Miller, an original Steve Ditko-drawn page from Amazing Fantasy #15 -- the book in which Spider-Man first appeared -- and many other items to make comic geeks drool. There are also life-size, fiberglass figures of Black Panther, Ms. Marvel, The Thing and others that cost $75,000 each.
Duncan also was excited about interactive features like a station where visitors can see a page from an artist like Jack Kirby be done by a completely different ink artist, or see original pages compared to what was published in the comic book.
Duncan got his own corner in the exhibit that became known as the Netflix area, which highlights Marvel characters Jessica Jones, Daredevil and Luke Cage, who have shows on the streaming network.
When talking about the proliferation of gigantic superhero movies, he sees advantages and disadvantages.
"Selfishly, I enjoy it," he says. "But it might be a bad thing for movies. It takes up a lot of the oxygen and squeezes out other things being made. For comics, though, it's probably a good thing."
His favorite of the Marvel films is 2011's Captain America: The First Avenger.
"That's a movie I've seen a number of times, and I don't think I would change a thing about it."
The comic book movie he likes best, though, has nothing to do with superheroes.
"American Splendor is probably my favorite," he says of the 2003 film based on the autobiographical comic books of Cleveland, Ohio, underground writer and hospital file clerk Harvey Pekar. "The way they switch back and forth between documentary and film styles is great."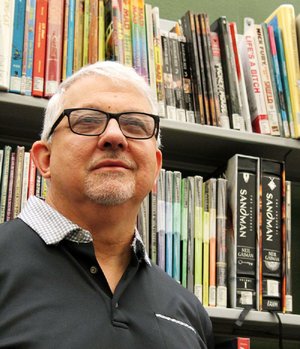 Photo by Sean Clancy
Randy Duncan, a communications professor at Henderson State University, was a co-curator of the Marvel Universe of Super Heroes at the Museum of Pop Culture in Seattle.
MovieStyle on 07/20/2018