As the death toll from the duck boat accident on Table Rock Lake rose to 17 on Friday, it surpassed the number of people killed in a similar tragedy nearly 20 years earlier in Arkansas.
Thirteen people, including five Arkansans, died when a duck boat sank on Lake Hamilton near Hot Springs on May 1, 1999.
The boat carrying 20 passengers had just begun a tour of the lake when it started taking on water at Catalina Point off St. John's Island. The driver said she tried to turn around and return to shore, but the vessel sank within 30 seconds.
Authorities said the water likely forced the passengers upward and trapped them under the canopy that covered the top of the vehicle. It sank so rapidly that many of those on board did not have time to escape.
Eight people, including the driver, survived what authorities called the "worst waterways accident in modern Arkansas history." Three children and tourists from Tennessee and Louisiana were among the deceased.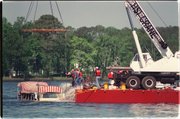 The driver told the National Transportation and Safety Board that she had taken the vessel, christened the Miss Majestic, to the company's mechanics just two days before the accident because a bilge pump turned on automatically. The Majestic sank on its first trip since returning from the shop.
Investigators later found a gap between some rubber seals and a steel tube that allowed water into the hull. There was also a hole in the rubber seal around the bilge pump, which caused water to be pumped back into the boat instead of out into the lake.
The safety board ruled that the company, White and Yellow Duck Sightseeing Tours, had failed to properly repair and maintain the vessel.
The duck boats, which were used by the U.S. military in World War II to transport troops and supplies and later modified as sightseeing vehicles, have been involved in a number of safety accidents in recent years.
In 2015, five college students were killed in Seattle when a duck boat collided with a bus.
Thursday's accident on Table Rock Lake near Branson also injured seven others when the boat capsized in stormy weather.