SPRINGDALE -- Jodi Aaron wants to be a truck driver when she grows up, a determination strengthened by her experience this week in the Explore Skilled Trades Camp.
Aaron, 16, got to meet April Coolidge of USA Truck, who brought her truck driving expertise to campers at Northwest Technical Institute. It was encouraging to meet a truck driver who is a woman, Aaron said.
Camp cost
The cost to enroll in the five-day Explore Skilled Trades Camp was $149 per person, which covered a T-shirt, insurance, snacks and camp-related expenses.
Source: University of Arkansas Global Campus
Aaron was one of 21 teens who participated in the camp, which was put on by the University of Arkansas' Global Campus in partnership with the institute.
Teens learned about, and got hands-on experience with, a different trade each day, starting with truck driving Monday. Subsequent days covered automotive service technology, heating and air conditioning, welding, and electronics and robotics.
Heather Sprandel, a Global Campus program coordinator, started the camp last year in response to the shortage -- regionally and nationally -- of workers in certain career fields.
"I thought, well, perhaps we should look at getting the next generation excited about skilled trades," Sprandel said.
Mark Mansell, chairman of the institute's welding department, ran Thursday's session. The kids were "very engaged" in the day's lesson, he said.
"They love making things, working with their hands," Mansell said. "Some of them are a little nervous in the beginning, but they jump right in and start cutting and welding."
After practicing some welding, Mansell and the teens returned to a classroom, where he talked to them about the job and the opportunities available in the field.
"The thing I like about welding is, there's always something new to learn," Mansell told the students. "There's always some new challenge. It never gets old or boring."
But, he added, "I'm not going to lie to you: It's hard work."
Randy Zook, president and chief executive officer of the Arkansas Chamber of Commerce, spoke at a career education conference in Springdale last month. He said thousands of jobs are available in Arkansas -- some paying in the six-figure range -- in fields related to health care, diesel mechanics, welding and construction. Many employers are "screaming" for workers, Zook said.
Mansell said he gets about one call per month from employers seeking welders. The institute graduated about a dozen students from its welding program last year, and all found jobs, he said.
Dale Smith, 17, who's entering his senior year at Merritt High School in Elk City, Okla., said he's visiting Northwest Arkansas for the summer. He was most intrigued by the welding and heating and air conditioning trades.
"I'm having a blast," he said Thursday.
Aaron's tuition to the camp was covered by Sealed Air Corp. She made the trip to Springdale each day from her home in Anderson, Mo., about an hour each way. She was the only girl among the 21 campers.
"I didn't know about the camp until the day before it started," she said. "At first I didn't think I would like it. And then the first day, I loved it. The second day, I loved it. I've loved it every day."
One goal was to make teens aware of the different levels they could be involved in a trade. A person could, for example, be an entrepreneur and start their own business that employs skilled-trade workers, Sprandel said.
"We want students to be exposed to the many opportunities involved," she said.
Several participants requested brochures from the institute and asked good questions about the trades, she said.
The camp started Monday with a field trip to tour the 17-acre campus of Multi-Craft Contractors, a Springdale firm that employs about 700 people across a wide range of trades. University of Arkansas Transit and Parking provided the transportation.
Other companies and organizations provided support. Unilever sent over an ice cream truck, and Clif Bar gave them snacks. Sprandel said she was very grateful to the sponsors for their help.
She said she hopes to offer the camp next summer as well.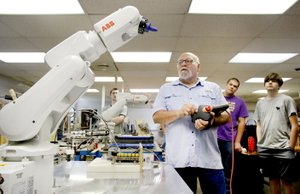 NWA Democrat-Gazette/DAVID GOTTSCHALK Instructor Billy Graham (center) reviews Friday the teach pendant to control an industrial robot in the Electronics Lab at Northwest Technical Institute in Springdale.
NW News on 07/21/2018