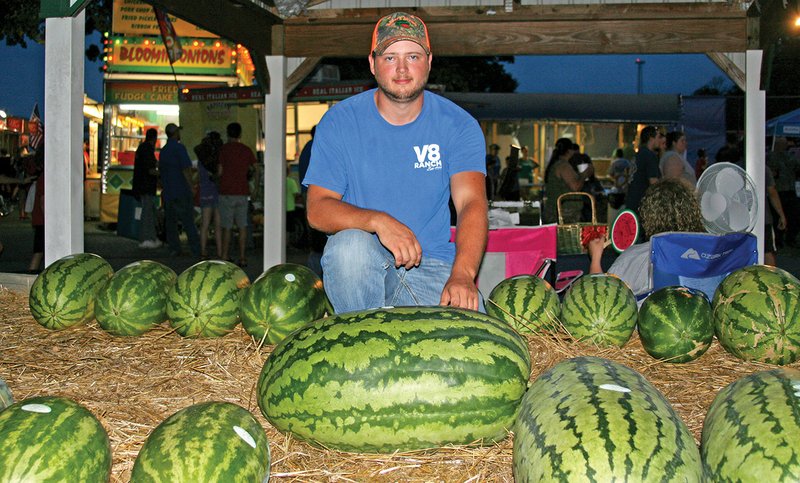 Kolton Moore kneels behind his Best of Show watermelon that weighed in at 107 pounds during the 2016 Cave City Watermelon Festival. Moore planted and tended the prize-winning melon with his father, Kevin Moore, of Moore Farms in Cave City.
CAVE CITY — What started as a small festival in 1970 is about to have its 39th annual event.
The Cave City Watermelon Festival will take place July 26-28 at the Cave City city park.
"I think there were three people on the chamber of commerce that got [the festival] going," said Crystal Crow, advertising and public relations coordinator for the Cave City Watermelon Festival Committee. "It has continued to grow and change with the times. It continues to get bigger and bigger."
The festival will kick off at 5 p.m. Thursday with the watermelon judging. The Amazing Watermelon Race for ages 12 to 18 will take place at Cave City Middle School. Entertainment that night will include the Cave City First Free Will Baptist Praise Team, the Main Street Ministry Worship Band, the Barkin' Beauties Dog Show and the LeFevre Quartet.
A fishing derby for kids 15 and younger will kick off at 8 a.m. Friday, with a limit of three fish per participant.
The Watermelon Speed-Eating Contest will start at 5:30. Luke Stroud and the 50s Beat will perform at 6 p.m. Other entertainment includes the Cave City Cruizers Drive-Thru, Maggie Thorn, the Cave City Cruizer Burnout and Mo Pitney.
The Kiwanis Pancake Breakfast at First Baptist Church will kick off the festival Saturday from 7-10 a.m.
Music and other entertainment will continue throughout the day, including a free watermelon feast at 4 p.m and the Seed-Spitting Contest at 4:30 p.m.
Randy Morrison and Andy Buschmann will perform at 5:45 p.m., with Kristen Kelly at 6:45 p.m., and Little Texas will take the stage at 8:30 p.m.
"The thing that makes our festival such a big deal is that it's free," Crow said. "All of our sponsors who support us allow us to have our entertainment for free. The parking is free. The only thing that costs anything is if you want to eat while you're there or if the kids want to play some kind of game that is there or play in the wet zone."
Crow said the people of Cave City make the festival special.
"It's about the watermelons, but the people of this town as well," she said. "There is something about it. You don't even have to be from here. It feels like a big homecoming experience. Everybody knows everybody.
"We are a town of 1,900 people, and usually, by the end of Saturday, we've seen close to 10,000 people in and out of the park. It's a really big deal for our community. It doesn't just support the watermelon growers. … It supports every business in town."
While the focus of the festival is watermelons, those are not sold at the event.
"Hot cars and watermelons really don't mix," Crow said. "We had beautiful weather last year. It was about 80 degrees. We had people all over the place, but if you put a watermelon in a car, and it gets 120 degrees in there, there's a good chance it's not going to make it, and you're gong to have a mess.
"We try to encourage people to pick up up their watermelons on the way out of town. We do have the big watermelon feast. They do sell watermelon in the park to eat."
This is the second year for the Lost Melon Hunt, which started July 12.
"It just helps get the excitement going here in town," Crow said. "Each year, there are clues to look for the lost watermelon. People really get into that."
Crow said clues will be posted on the festival's Facebook page, as well as given on local media outlets.
"That's how you get the clues," she said. "It's something that you'll know when you see it. The clue will explain what you need to do as well."
For more information about the Cave City Watermelon Festival, visit www.cavecitywatermelonfestival.com.
Staff writer Mark Buffalo can be reached at (501) 399-3676 or mbuffalo@arkansasonline.com.
Sponsor Content