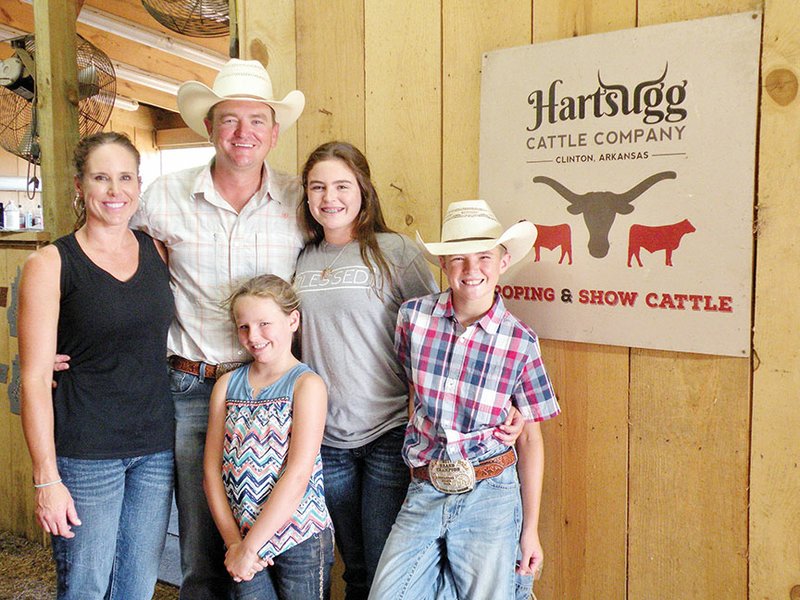 The Jared Standridge family of Dennard is the 2018 North Central District Farm Family of the Year, as well as the Van Buren County Farm Family of the Year. Shown here in their show barn, the family includes, front center, Shelby; and back row, from left, Lacey, Jared, Sydney and Sam. They operate the Standridge Ranch and do business as the Hartsugg Cattle Co.
DENNARD — Jared and Lacey Standridge barely had time to adjust to being named the Van Buren County Farm Family of Year when they learned they had received district honors as well. The first honor was announced on May 1; the second, June 20.
The Standridges, who own and operate Standridge Ranch, have been named the North Central District Farm Family of the Year. They will compete against seven other district winners for the state title, which will be announced Dec. 6 at the Arkansas Farm Family of the Year luncheon in North Little Rock.
"We are extremely honored to be recognized as district farm family of the year," Lacey said. "There are many families in this district that are deserving of this and we are humbled to have been chosen to represent them.
"We were really surprised and honored, first, by the county award, and now by this one," she said.
Jared agreed: "We are very honored," he said.
Jared and Lacey have three children — daughter Sydney, 13; son Sam, 11; and daughter Shelby, 9. The children all attend schools in the Clinton School District; they also help out with the day-to-day operations of the ranch.
"It is great to see a young family like the Standridges working hard to conserve and improve the land, whether it is dealing with wildlife, forestry or their livestock operation," said Jason Vann, district conservationist for the Natural Resource Conservation Service, Clinton Field Center, and a member of the Van Buren County Farm Family of the Year selection committee. "I am happy to see this work recognized by not only winning the county farm family but also winning the district farm family. They are well deserving of this and I wish them the best of luck in the state judging."
The Standridges have been farming for 12 years. Doing business as the Hartsugg Cattle Co., their operation encompasses 781 total acres; they own 606 of those acres. They raise a variety of cattle — 400 head of Corriente/
Longhorn cattle, which they lease to livestock contractors, rodeo events, roping clubs and individuals for recreational agriculture purposes; 75 head of beef cattle; and 40 head of show cattle. They also maintain 200 acres for permanent pasture; 260 acres for timber and wildlife; and 120 acres for mixed hay.
They use their on-site facility show barn for members of local FFA chapters to use as a training facility for livestock competitions with a trained collegiate livestock judge — Trenton Tosh — who is also employed on the farm as the ranch manager.
"We do not believe in a 'one-size-fits-all' program," Jared said, smiling. "One of our goals is to raise functional and marketable cattle, whether it's seed stock such as our bulls and bred heifers or elite show heifers and steers of various breeds. We want to increase our herd inventory through a solid replacement program focused primarily on genetic and numeric merit.
"But above all, we want to instill a love, passion and work ethic and pride in our children for our farm and animals," he said.
Both Jared and Lacey come from farming backgrounds.
"We are both fifth generations to be involved in the beef cattle industry," said Lacey, 36, a daughter of Danny and Kathy Newland, who live near the Standridges on a family farm that dates back more than 100 years. Her brother, Wes Newland, and his family also live on a nearby farm.
"Our parents, grandparents, greats and great-greats have all raised cattle throughout the years," Lacey said. "We are extremely family-oriented, with brothers, cousins and in-laws all involved in producing multibreed cattle that are not only shown as 'show cows' but raised and sold as productive and profitable commercial cattle to prospective customers."
Jared, 36, grew up on a farm in Mount Ida, a son of Steve and Debbie Standridge. He has one sister, Alisha Pollock, also of Mount Ida.
"All I ever wanted to do was stay on the farm," he said.
Jared is a world champion team roper, winning the International Professional Rodeo Association title in 2007.
"We initially had more equine interest when we first came to Dennard," Lacey said. "We had several horses that were trained and competed on. But … his experience with that led us to backgrounding calves, a smaller commercial cattle operation and then buying and leasing our Longhorn and Corriente cattle for recreational use.
"We had our children close in age and although they were involved in numerous school activities and sporting events, we wanted something more for them," she said. "That led us to the show cattle program. It has allowed our children to be involved on an age-appropriate level and teach them things they could learn nowhere else — responsibility, sacrifice, determination, building confidence and sadly, even loss at times.
"Introducing our children to the ranching way of life could prepare them for their future in the best way possible, in our opinion," Lacey said. "But through our show cattle endeavors, it led us to become more educated about genetics and producing and marketing cattle that anyone would be proud and pleased to see in their fields."
Jared graduated from Mount Ida High School in 2000 and went on to Central Baptist College in Conway where he played basketball. He met Lacey in Conway.
"She played basketball at the University of Central Arkansas and roomed with my sister, who also played basketball," he said smiling. "I was also involved in rodeo and her dad did rodeo, too. We married in 2003."
Lacey graduated from Clinton High School in 2000 and from UCA in 2004 with a degree in education. She taught kindergarten and was an elementary school counselor in the Clinton School District. She is now on the Clinton School District's Board of Education.
All three of the Standridge children are involved in the Arkansas Junior Cattlemen's Association showing a variety of steers, bulls and heifers. They have each compete and won at local, state and national levels in not only the show cattle competitions but also public speaking, livestock judging competitions and quiz bowl teams. They are all members of the Van Buren County 4-H and Sydney, the oldest, will be the first FFA member of the three this fall. They are all on the honor roll at Clinton schools.
Sydney will be in eighth grade and is in the Beta Club, on the Student Council, a member of the Fellowship of Christian Athletes and on the basketball team.
Sam, who will be in the fifth grade, plays baseball, football and basketball.
Shelby will be in the fourth grade and plays basketball and sings and acts.
The family attends First Baptist Church of Clinton.
In addition to owning Standridge Ranch, Jared and Lacey also own S&P Insurance Partners of Clinton. They are both members of the Van Buren County Cattlemen's Association, Independent Insurance Agents and several national livestock associations.
Jared serves on the local FFA Foundation board and has partnered with the Clinton FFA program with monetary donations to help build stalls and pens in a building donated by ConAgra to help gives kids a place to keep their show animals at school.
Hartsugg Cattle Co. is the Clinton FFA Rodeo sponsor every year, donating cattle for recreational agriculture purposes.
Lacey is a former Clinton Chamber of Commerce board member and is on the youth committee at First Baptist Church.
Sponsor Content