A chance encounter at a suitcase store started Leon Jones Jr. on his path toward self-improvement.
After graduating from the University of Arkansas at Pine Bluff, Jones knew he wanted to eventually be a lawyer, but a lack of money for law school led him to seek work first. He heard about economic opportunities in Dallas, so that's where he went.
Self Portrait
Leon Jones Jr.
DATE AND PLACE OF BIRTH: Dec. 12, 1971, Pine Bluff
MY FAVORITE SHAKESPEARE PLAY: Othello
MY FANTASY DINNER PARTY GUESTS WOULD INCLUDE: Baseball player Derek Jeter, poet Maya Angelou and radio host Michael Smerconish.
MY ADVICE FOR WOULD-BE LAW STUDENTS: Go directly to law school after college graduation. My father gave me the same advice, and I didn't take it.
THE ONE WORD TO DESCRIBE ME: Thankful.
"I worked retail at a Bag'N Baggage, a luggage store at the Galleria Mall, and the associate superintendent at the Dallas School District came in," Jones recalled. "I was selling him a suitcase, and he said, 'Would you be interested in teaching?' I said to myself I should at least check it out. I never would have sought that out myself, but I soon found myself teaching high school English literature to people four years younger than me."
Jones says his life has been filled with such "serendipitous" events as he has worked his way from a store clerk to an agency head in Arkansas state government.
"Without some of the people in my life I've been able to encounter and the opportunities given because of that, I wouldn't be where I am today," Jones says. "My parents always prayed that we [he and his siblings] would have doors opened for us. We had opportunities we otherwise wouldn't have had because of faith. I am thankful of where I am."
After teaching, Jones, 46, of Little Rock, later became a lawyer, got involved in Arkansas Republican politics, and now works as the director of the state Department of Labor. He's also involved in community activities, including the Arkansas Hunger Relief Alliance for which this year he is serving as board chairman.
He praises the staff of the alliance for the nitty-gritty work. He'd like to find a way to provide more groceries in the downtown area, which he described as a "food desert" because of the lack of supermarkets.
"As a board member you do it because you have a passion for it," Jones says. "But it's not on a day-to-day basis. I try to raise money or introduce people to individuals who have capability to make things happen."
Jones' journey began in Pine Bluff, the oldest of four children born to Leon Jones Sr., an insurance agent, and Beverly Gail Torrence Jones, an elementary school principal. Friends around Pine Bluff called Jones "J" for "Junior."
"We had a really fun time growing up," Jones says. "They sheltered us more than we would have wanted, but looking back, it was a good thing," he says of his parents. "For instance, I was in the ninth or 10th grade and wanted to go to the junior prom. They said, 'Wait your turn.' They weren't scared I'd get into trouble. I would get into enough trouble just hanging around the house. They wanted us to be kids and not grow up too fast."
Each of his parents has a master's degree, so education was heavily stressed in the Jones home. They also spent a lot of time at church, worshipping twice on Sunday and once on Wednesday at Barraque Street Baptist Church where his father was a minister. After graduating from Pine Bluff High School, he stayed in town, opting to attend UAPB.
"He was always on the go," recalls lifelong friend Kevin Stanfield of Tallahassee, Fla. "His family was very involved in the community. He was definitely not fast and loose. There were not a lot of wild parties because he had to be in church on Sunday morning."
GOP
Stanfield says he and Jones were interested in politics from the start at UAPB where they were involved in student government and campus politics and campaigned for a candidate for Pine Bluff School Board. Of about "eight core guys" in their group of friends at UAPB, Stanfield says he and Jones were the only Republicans.
Growing up, Jones felt that, as a black person, he had to be a Democrat. He says he would often have political and social debates with his father, a church minister with conservative social stances. Jones says that as a teenager he was more liberal in discussions with his father.
"Later, I decided to look at things from a more holistic way," Jones says, adding that he came to believe that the Republican Party more closely matched his views on guns, the military and finance.
He says he hasn't been a straight party voter. While he voted for President George W. Bush, he also voted for President Barack Obama. "Not because he's black," he emphasizes. "I would have voted for John McCain except for Sarah Palin. She was too Tea Party-ish. You can't just govern for your base. You have to govern for everyone."
In 2001, Jones returned to Arkansas to attend law school at the University of Arkansas, Fayetteville. He became involved in Northwest Arkansas Republican politics, which culminated in an eventful year in 2006. He graduated from law school; acted as campaign manager for a legislative candidate in Fayetteville, Cephus Richard III; volunteered for Asa Hutchinson's gubernatorial campaign against Democrat Mike Beebe; and was hired by Gov. Mike Huckabee as a policy adviser.
WORLD OF WALMART
The Republicans lost those races, which meant Jones had to look for a job. Soon came another of those serendipitous moments Jones says he seems to have.
"After I left [Huckabee's] office, a good friend of mine who worked for Walmart and I were talking, and I said, 'Governor Beebe won so I don't have a job,'" Jones recalled. "He said, 'Well, we're hiring, do you want me to put in a word for you?'"
So, for the next two years Jones worked as a real estate manager for Walmart, helping on site selection and relations with local governments in northern California.
After a couple of years, an old law professor needed someone to act as a "caretaker" for his law practice in Siloam Springs while he taught at UA. Jones was excited at the opportunity. "Again, all of these serendipitous things seem to happen to me," Jones says.
By 2011, Jones was ready to go out on his own. He opened a solo practice closer to home in Fayetteville, handling domestic relations, bankruptcy and small business representation. The shorter commute gave him more time to spend with his children, which was important to him.
Jones stayed involved in the community, including serving a stint as a commissioner on the Fayetteville Housing Authority board.
Shontavia Jackson of Greenville, S.C., who attended law school with Jones, recalled his determination with community involvement, whether that included campaigning for local Republicans or making sure refugees from Hurricane Katrina slept in an appropriate space. She recalled that some were initially slated for lodging in a local jail.
"Leon and I went to one of our professors and talked about how that was wrong," Jackson recalled. Their next step was to visit with local officials. After hearing from Jackson, Jones and others, they later decided on a better place of housing for the refugees.
"Leon is the type of person I've always been able to count on," Jackson says. "He was very resourceful. He's one of those types of people who could hear the professor talking and immediately understand the practical applications. I'm sure that [receiving work experience before entering law school] had something to do with that."
DRINKING WATER FROM A FIRE HOSE
In 2013, Jones became minority outreach coordinator for Hutchinson's second run at governor. In that role, he focused on organizing the black vote, serving as a central point of contact for various communities of black voters.
After Hutchinson's victory in 2014, Jones was appointed as director of the Arkansas Department of Labor. In that role, he is responsible for the regulatory oversight of wage and hour claims, child labor laws, health and safety consultation, elevator inspections, electrical inspections and permitting, boiler inspections and compilation of statistical data on injuries and fatalities for the Bureau of Labor Standards. The department is also responsible for inspecting all amusement park rides and blasting operations in Arkansas.
"It was like drinking water from a fire hose," Jones says of the transition to being an agency head. "It was fast and furious. I didn't have administrative experience, but all of my previous experiences helped me."
Jones hit a rough patch in 2016. Some legislators called for him to consider resigning following a legislative audit that flagged him for multiple improper expense reimbursements, not following travel rules, and for taking undocumented leave. Jones told auditors a former finance manager in the department gave him poor advice, but he accepted responsibility.
Looking back at the experience, Jones says he is trying to make it into a positive.
"You never want to go through a fire, right, but actually I'm not upset," he says. "I went through that, and it taught me that I can go through a hardship and come out the other side. It's not personal, necessarily. Politics is politics. You learn some hard lessons. I acknowledged I made a mistake and didn't run from that. When you make mistakes, you own them. Mistakes happen. The governor had my back. He didn't turn tail on me. It made me feel like I was part of the team."
Walking through his agency's offices on Markham Street in west Little Rock, Jones talks about the good things happening at the Labor Department, including an award from the federal Occupational Safety and Health Administration regarding safety education; a computerized licensing system; a new video conferencing system he says is saving the state $12,000 a year in travel costs; the consolidation of agency office space; and the initiation of a "Wall of Fame" to honor longevity and productivity of staff.
His office is sparsely decorated. A photo of him with Hutchinson and former N.J. Gov. Chris Christie hangs by his desk, and a John Grisham book lies atop a side table. He keeps the agency's budget on his desk to remind him "it's the citizens' money."
A nearby hallway contains photographs of each of the previous Labor Department directors. They are all white men.
"It makes me feel a lot of progress has been made, but it also makes me feel sad that in 2014 there was no one [on that wall] that looked like me," Jones says. "Also, there were no women. At some point, there should be a woman leading this agency. It's been a privilege to be the first black guy appointed to this position."
ON A MISSION
Bobby Courtney of Dallas, a friend going back to the UAPB days, says he could tell Jones would be special since he was freshman class president.
"He was always on a mission," Courtney says. "He was pre-destined to be the best at whatever he tried to do."
Courtney also recalled a softer side. He says when his baby brother died in 2002, Jones was right there to comfort him and be the "shoulder to cry on."
Last year, Jones married Tori Gordon, a lawyer with the Rose Law Firm. They met through their fathers who knew each other through church in Pine Bluff. The couple lives in the Ellis Acres neighborhood in Little Rock. Jones has two children from a previous marriage who live in Fayetteville with their mother: Leon "Tre" Jones III, 18, and Sydney, 11. Tre recently made his dad proud by giving the keynote speech at his graduation from Fayetteville.
His sisters, Alicia Jones Simon and Charity Jones, both live in the Dallas area. His brother, Christopher Jones of Little Rock, was recently named the executive director of the Arkansas Regional Innovation Hub.
What does the future hold for Jones? For now, he's happy working for Hutchinson as long as the governor wants him to stay. After that is to be determined.
"I'm not looking to be a career state employee," he says. "It's a serendipity thing. You never know what the future holds."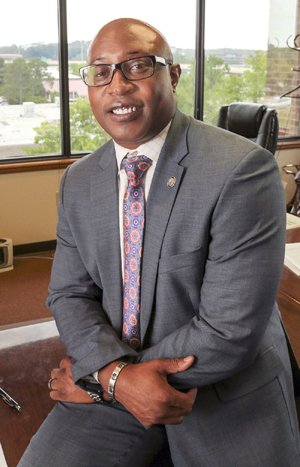 Photo by John Sykes Jr.
"I'm not looking to be a career state employee. It's a serendipity thing. You never know what the future holds." -Leon Jones Jr.
High Profile on 07/29/2018