On the day that he became its new chief, Dr. Cam Patterson said that the University of Arkansas for Medical Sciences is leaner after emerging from a budget crisis and is well-positioned to accomplish new goals throughout Arkansas.
"At this point in time, I think we have a few cobwebs that we still need to shake out, but the hard work has already been done, and really, we need to move rapidly to an inflection point where we're talking about the ability to do things in 2018 and 2019 that we couldn't do in 2016 and 2017 because of financial distress," Patterson said Friday.
UAMS has laid off 258 workers and announced plans to eliminate 730 total jobs since January, when projections showed it heading for a $72 million budget deficit. Cutbacks have moved the deficit closer to the initial projection of $39 million, and officials have submitted a balanced $1.57 billion budget for fiscal 2019.
The academic hospital is one of the state's largest public employers, even after the cuts. It employs more than 10,000 people, educates about 3,000 students per year and oversees seven institutes on specialties such as cancer, psychiatric research, eye care and aging.
Based in Little Rock, its properties include a Northwest Arkansas campus and hundreds of clinics throughout the state.
Patterson, 55, praised the leadership team, specifically former interim Chancellor Stephanie Gardner, for making difficult but necessary budget cuts. He said he agreed with the decisions, which will create an environment "where you can not only have great ideas, but implement those great ideas."
"We need to shift the conversation in that direction," Patterson said. "That's something I intend to do with my leadership team starting today."
Public teaching hospitals across the country are facing financial challenges in an environment of shifting health-care policies, uncertain reimbursement rates and public funding shortfalls.
The state funded UAMS at a high of $120 million in fiscal 2014. In more recent years the funding has been between $107 million and $108 million. About $21.5 million of that is "pass-through, or designated" funding, leaving UAMS with about $86 million that isn't earmarked for specific purposes.
Patterson, a cardiologist, arrives from NewYork-Presbyterian/Weill Cornell Medical Center, where he was senior vice president and chief operating officer since 2014. He became the fifth UAMS "chancellor" since it reorganized in 1975. The 139-year-old medical school system had 14 leaders before 1975.
He replaces former Chancellor Dr. Dan Rahn, who retired in July 2017 after nearly eight years in the job.
Gardner, provost and senior vice chancellor for academic affairs, was a finalist for the top job and will remain at UAMS, officials said.
Patterson said Gardner kept him informed of how UAMS addressed the budget shortfall after he was selected as chancellor. She was "strong, thoughtful and gutsy" in how she made "tough decisions, correct decisions" about the budget, he said.
"Make no mistakes, she was the one who was calling the shots," Patterson said. "I feel fortunate that I agree with everything that she did, but she did the hard work."
Two earlier finalists for chancellor withdrew from consideration after visiting the UAMS campus, and meeting with officials and trustees. Dr. Jeanette Shorey, who led a 17-member search committee, said in December that the earlier finalists accepted retention offers put together by their home institutions.
The University of Arkansas board of trustees voted to hire Patterson in early January on System President Donald Bobbitt's recommendation. Since then, Patterson has visited Arkansas monthly.
Patterson will receive a $1 million salary, plus $200,000 annually in deferred compensation, which is set aside for retirement, said Leslie Taylor, vice chancellor for communications and marketing. Of his salary, $375,000 is state-funded; the remainder comes from clinical revenue, Taylor said. The UAMS Foundation will pay the deferred compensation.
Rahn's salary was $630,000, in addition to $270,000 in annual deferred compensation.
"[Patterson's] experience in leading a very complex clinical enterprise and his varied background in clinical care, research and administrative leadership will complement and elevate the momentum already being generated there," Bobbitt said in a news release.
Trustee Cliff Gibson of Monticello, in a telephone interview, called Patterson a "premiere gentleman" and an "accomplished physician" well-suited for the challenge.
"I was impressed that he already has a history of running an institution, an academic medical facility that is equivalent in size to UAMS," Gibson said. "You have to wait and see someone perform, obviously. I'm confident that a man of his accomplishments and his educational background, that he's ideal for the challenge."
Gibson stressed that he was speaking for himself and not for the full board of trustees.
"I want to hear what he's got to say," Gibson said. "He's got to get his feet on the ground. And then, I'm sure, he's going to come forward with some more concrete [ideas] as opposed to generalities."
Patterson, during a 40-minute interview, spoke of using artificial intelligence to handle some of the "mundane" tasks that bog down the hospital's workforce, such as reconciling a patient's medical diet with a doctor's orders. Innovations, he said, could free "everyone within the organization to practice at the top of their licenses."
The new chief is also interested in a "statewide" mobile unit to treat stroke patients, he said, adding that he was on the team that started such a program at NewYork-Presbyterian.
Rather than an ambulance picking up a patient and delivering him to a hospital, the mobile units are capable of scanning a patient's body in the field and relaying the information to a neurologist.
The doctor, remotely, can decide whether the unit should administer "clot-busting drugs while you're in the driveway of that patient, before you've even started the transportation back to UAMS," he said.
In 2016, strokes killed 1,643 people in Arkansas, ranking it fifth in the U.S, according to the U.S. Centers for Disease Control and Prevention.
Arkansas' rural areas have long had a shortage of doctors and health care providers. Rather than focusing solely on incentives to persuade medical graduates to move to less-populated areas, Patterson said it's important to recruit and educate people from those areas.
"The biggest predictor of where somebody practices is where they came from," Patterson said. "I think what we really need to do is figure out how we get more people from underserved communities engaged in the process of becoming health care providers themselves."
Patterson said he recognizes that an "imprint of concern" lingers from layoffs and budget woes, and he believes it is important for him to listen to employees, to be "visible and accessible," and to make sure decisions are being made that fit with the teaching hospital's mission.
"The mission of UAMS is not to make money," Patterson said. "The mission of UAMS is to serve the people of Arkansas. We've got to be sure we stay on that."
Patterson would like to remain chancellor until he retires, he said.
His arrival coincides with a series of high-profile employee exits.
Among employees who have left or announced plans to leave UAMS are its dean of the College of Medicine, the vice chancellor for campus operations, the medical center's chief financial officer, the director of its cancer institute and the top cardiac surgeon. The hospital temporarily shut down its cardiac surgery program in May, days after the lead surgeon retired.
"I think some of that is natural when there is a leadership transition," Patterson said. "It provides an opportunity to reflect on what their goals and plans are. Some of that, I think, has clearly been motivated by the financial challenges that we have gone through and are now through."
Medical centers outside Arkansas have sought to "pick off" top-level talent, even in recent weeks, but UAMS has been able to retain targeted employees, Patterson said.
Patterson and his wife, Dr. Kris Patterson, a specialist in infectious diseases, have three children: a 16-year-old daughter, 14-year-old daughter and 12-year-old son. The family likes to fish and spend time outdoors, and has already compiled an "Arkansas bucket list" that will take years to finish, he said.
Patterson showed up at the office at 9 a.m. Friday, his first day on the job. That's later than he'd planned. His flight Thursday to Little Rock was canceled because of weather, so he caught an early flight Friday.
In the Mobile, Ala., native's new office, an Arkansas Razorback decal was stuck on a miniature Crimson Tide football helmet sitting atop a shelf.
"I'm still a Crimson Tide fan, although I'm willing to put that on the side when the Razorbacks play Alabama," he said. "I don't know who put the Razorback sticker on there. ... That's not my doing, but I felt it was somehow really appropriate." He later learned that his executive assistant, Tara Austin, put it there.
Framed copies of review articles he wrote for medical journals hang on his office wall. They are signed by the rock stars whose song titles he borrowed as headlines for them.
An article about two interacting proteins is titled: "Tiny Dancers: The integrin-growth factor nexus in angiogenic signaling" and autographed by Elton John. Pete Townshend of The Who ("Won't Get Fooled Again"), and Greg Allman of the Allman Brothers Band ("Brothers and Sisters") signed others.
Patterson, who also sings and plays guitar, left his band The Jake Brakes behind in New York, but he says he's open to forming a new musical group in Little Rock.
"We were mostly covers, but covers of songs that, you know, unless you are a real aficionado of the band, you've probably never heard of," Patterson said. "We went from country to disco to '60s to psychedelic to all kinds of stuff."
Playing in a band is relaxing, social and rewarding, he said.
"It's a way to interact in a very personal way with a group of people," Patterson said. "Most of the people that I play with are outside of the medical arena, so it's a way of having a life that doesn't just exist within the confines of the campus."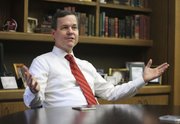 A Section on 06/02/2018