SPRINGFIELD, Mo. -- Arkansas state Sen. Jeremy Hutchinson of Little Rock accepted payoffs along with former state lawmakers Hank Wilkins of Pine Bluff and Jon Woods of Springdale from lobbyist Milton R. "Rusty" Cranford, according to Cranford's guilty plea Thursday in federal court.
Hutchinson, the son of former U.S. Sen. Tim Hutchinson, R-Ark., and nephew of Gov. Asa Hutchinson, denied any wrongdoing through his attorney. Jeremy Hutchinson was an attorney under contract with Preferred Family Healthcare, Cranford's client, until last year, the company confirmed in an earlier statement.
The plea documents describe $500,000 in payoffs made to "Senator A," through bribes, attorney's fees, and gifts that included tickets to the 2013 World Series. He was paid $7,500 a month as an attorney by Preferred Family Healthcare beginning in 2013, according to the plea. That amount was raised to $9,000 a month in 2014, according to the plea.
"Senator A" filed Senate Bill 62 of 2015 and Senate Bill 655 of the same year, the documents also say. Jeremy Hutchinson was the sponsor of those bills, legislative records show.
Preferred Family Healthcare, headquartered in Springfield, Mo., is a behavioral health care provider with 47 locations in Arkansas. It also has operations in Missouri, Oklahoma, Kansas and two clinics in Illinois.
"I have read Mr. Cranford's plea agreement. It clearly mischaracterizes Mr. Hutchinson's work as a practicing attorney and part-time legislator," said Tim Dudley of Little Rock, Jeremy Hutchinson's attorney. "Mr. Hutchinson has done nothing illegal or unethical."
Wilkins received at least $88,000 in checks and an undetermined amount of cash. Woods received a payment of $5,000 plus an undetermined amount of additional cash, according to federal court documents.
Cranford pleaded guilty Thursday morning to one count of federal program bribery for his role in bribing Arkansas lawmakers from 2010-17. He was Arkansas director of Preferred Family Healthcare during that time and a lobbyist for the nonprofit company and other groups. The bribery charge carries a maximum sentence of 10 years in prison.
He waived indictment by a grand jury to plead guilty to the charge in a deal in which other charges were dropped.
"Mr. Cranford's guilty plea contains admissions and allegations which demonstrate clearly the extent to which Preferred Family Healthcare was victimized by the actions of former employees and representatives of PFH," Reginald McElhannon, a spokesman for the nonprofit, said Thursday.
"Preferred Family Healthcare will continue its cooperation and assistance with investigative agencies and hopes to recover any misappropriated funds so those funds can be used for the benefit of our communities and beneficiaries," the statement from McElhannon said.
Gov. Hutchinson said Thursday that he had quickly reviewed information in the plea agreement, noting the 63 pages of plea documents.
"It is a complex case and so this needs to be reviewed much more carefully," he told reporters. "But without any doubt, the allegations that are contained in the indictment and the factual statement are profoundly serious and undermine the system of legislative process that the public relies upon. It undermines the confidence that the public has in their government, so the allegations are very serious, and I am very troubled by the allegations that have been made," he said.
In exchange for the bribes, the lawmakers steered money to Preferred Family Healthcare operations, sponsored and supported legislation to benefit Preferred Family Healthcare, and used their political influence to enrich the company, according to the plea documents.
SERVICES RENDERED
Wilkins pleaded guilty April 30 to one count of conspiracy in the bribery scheme. Woods was convicted May 3 on 15 counts of a federal indictment, although most of those counts did not involve Cranford.
Former state Rep. Micah Neal of Springdale pleaded guilty to one count of conspiracy on Jan. 4, 2017, for taking kickbacks from state grants, including one to a company started by Cranford. However, according to Thursday's plea documents, Cranford paid Woods who then in turn paid Neal, although Neal knew who the source of the kickbacks was.
Examples of the services rendered by the bribed lawmakers, according to the guilty plea, included hobbling a state rating system for behavioral health providers.
"Beginning in 2012 and then continuing through 2013, behavioral health service providers were rated by state regulators on their ability to adhere to certain regulations," the plea says.
Many behavioral health providers across the state of Arkansas, including Preferred Family Healthcare, wanted to end the rating system, it says. In 2012, at Cranford's request, Arkansas Senator A used his position on a legislative audit committee to initiate an audit of the company that administered the rating system.
Meanwhile, Wilkins filed House Bill 2209 of 2013, a "shell bill" that would be filled later with provisions to hurt the rating company, according to the plan. Wilkins was a member of the House at the time.
"During the [2013] legislative session, Cranford arranged a meeting between representatives of the rating company and Cranford, Arkansas Senator A and Wilkins. Cranford told the rating company that they needed to work with Cranford because Wilkins sat on the House Budget Committee and that a refusal to work with Cranford regarding their complaints might affect their ability to renew their contract as Wilkins would be involved," according to the plea. An agreement was reached, the plea says.
Among other benefits, Jeremy Hutchinson, Wilkins and Woods steered about $1 million in state General Improvement Fund money to Cranford's clients and another $400,000 to a company he set up, the plea document says.
Cranford was originally charged with nine counts, alleging that he helped unnamed executives embezzle almost $1 million from Preferred Family Healthcare, according to his Feb. 20 federal indictment. The embezzled money was used for personal benefit and to pay for illegal lobbying, the indictment says. Federal agents arrested Cranford on Feb. 21 in Rogers. Cranford was originally indicted on one count of conspiracy and eight counts of accepting bribes.
Wilkins took bribes from Cranford, Cranford lobbying firms and Preferred Family Healthcare from 2010-14 steered to an account at St. James United Methodist Church in Pine Bluff, where Wilkins pastored, according to Thursday's plea documents. Wilkins plea documents say he also received $20,000 from an unnamed nonprofit based in Pine Bluff in return for a state grant of more than $60,000.
Eddie Wayne Cooper of Melbourne, a former state representative who went to work for Cranford's lobbying firm after leaving office in 2011, pleaded guilty Feb. 12 in Missouri to one count of conspiracy. Cooper pleaded guilty to the same embezzlement and illegal lobbying scheme that Cranford was indicted for in Missouri. He also pleaded guilty to further embezzlement involving the same individuals who took another $3 million from Preferred Family Healthcare, according to his plea documents. At one time, Cooper sat on the nonprofit's board.
In all, Preferred Family Healthcare executives deposited almost $2.9 million into Cranford's lobbying account between 2013 and 2017, according to court documents. In return, Cranford paid kickbacks totaling $613,600 to an executive with Preferred Family Healthcare who was a co-conspirator in the scheme, the plea says. Preferred Family Healthcare also rented property of Cranford's in Florida and Texas, the plea says. Cranford also used Preferred Family Healthcare credit cards, and the nonprofit paid the bills. The amounts were not specified in the plea.
Cranford agreed to a $3.7 million judgment against him in forfeiture of the proceeds of the scheme.
MISSOURI AND COOPER
Cranford's indictment stems from a plan by former Preferred Family executives, including Cranford, to hire Philadelphia-based political consultant Donald Andrew "D.A." Jones to lobby Congress on the company's behalf. Cranford oversaw Preferred Family's operations in Arkansas at the time.
Jones pleaded guilty Dec. 18 in Springfield in a scheme to embezzle money and pay Jones $973,807 from April 2011 until January 2017. In return, Jones used the money for political contributions and other unlawful lobbying and "political advocacy," Cooper's plea agreement says. That influence was used to obtain more donations and taxpayer funds that could be skimmed, the plea says.
Nonprofit companies such as Preferred Family that receive federal taxpayer money through Medicaid and other programs and grants cannot legally lobby and contribute directly to campaigns to get more, Jones' plea documents say. The money was disguised in the nonprofit's records as reimbursements to participants for business expenses they never incurred, along with training and consultant costs.
Another aspect of the scheme is that Jones channeled some of the money back to his benefactors, including Cranford and Cooper, according to Jones' and Cooper's plea documents. Cranford and Cooper were charged in Cranford's original indictment with taking kickbacks from Jones that totaled $264,000, much of it going to Cranford's lobbying firm. Cooper was a registered lobbyist for the Cranford Coalition Inc. from 2011-15.
Cranford was alleged to have plotted Jones' murder after Jones told him in November that he would plead guilty. No charges resulted from the allegation, which was made in earlier court documents regarding whether Cranford should be allowed bail.
WOODS, NEAL, WILKINS
Neal received $20,000 in cash, passed along from Woods, as his part of the kickback from a Sept. 26, 2013, grant totaling $400,000 to AmeriWorks of Bentonville, Neal said in his plea agreement. Woods' share is unknown because he was also paid in cash, according to statements by federal prosecutors at Woods' trial.
The two state lawmakers began supporting a grant of $400,000 to AmeriWorks two months before it incorporated, grant records show.
The money for the grant came from the state's General Improvement Fund. Grants from the fund are obtained through the recommendations of state legislators. The AmeriWorks grants were distributed through the Northwest Arkansas Economic Development District based in Harrison.
The AmeriWorks job training program failed to gain additional financial support and never got off the ground, according to an Aug. 13, 2014, letter from Cranford to the Northwest district returning the $400,000. Court documents in Woods' case later revealed the money was returned shortly after federal investigators began asking Cranford questions about the grant.
The $400,000 grant wasn't the only Improvement Fund award AmeriWorks sought and received. The nonprofit group also received a $100,000 state grant recommended by a third lawmaker through the White River Planning and Development District, based in Batesville, records show. The Batesville-based grant was diverted to long-standing behavioral health services provided by Preferred Family with the White River district's knowledge and consent, grant records show.
The co-founder of AmeriWorks was the late David Carl Hayes, a Springfield accountant and former member of the board of Alternative Opportunities, as Preferred Family was known until 2015. Hayes killed himself in November after pleading guilty June 12 to embezzling almost $2 million from the nonprofit and another $1 million from clients of his accounting business in another federal case in Missouri.
Wilkins resigned as county judge for Jefferson County after his name came up in Cranford's March 16 bail hearing. Assistant U.S. Attorney Steven M. Mohlhenrich told U.S. Magistrate David P. Rush at that hearing that Wilkins had confessed to taking bribes from Cranford.
Wilkins supported legislation favored by Cranford and steered grants to programs Cranford supported, including clients of the lobbyist, Wilkins' plea bargain said.
Information for this article was contributed by Michael R. Wickline of the Arkansas Democrat-Gazette.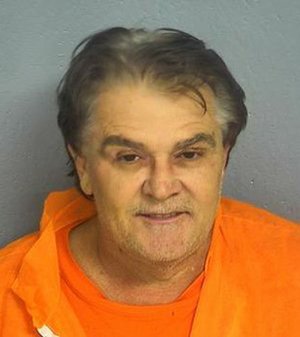 Photo by Special to the Democrat-Gazette
Milton "Rusty" Cranford, Preferred Family Healthcare's Arkansas executive and longtime lobbyist at state Capitol, is shown in this file photo.
Metro on 06/08/2018