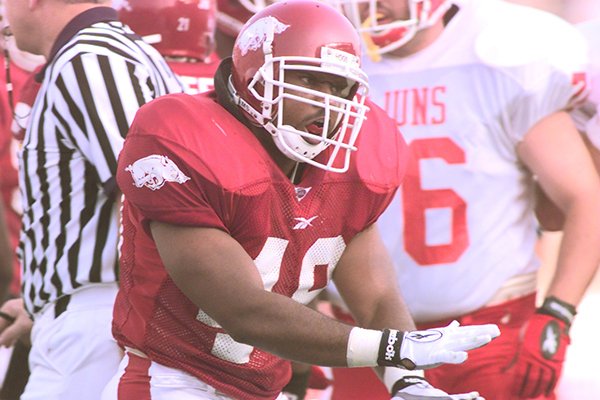 Arkansas linebacker J.J. Jones celebrates after making a tackle during a game against Southwest Louisiana on Saturday, Sept. 5, 1998, in Fayetteville. ( David Gottschalk)
FAYETTEVILLE -- Saturday was a satisfying and emotional day for former Arkansas Razorbacks linebacker J.J. Jones and his wife Paula after their twin sons, Jai and Jalen, received scholarship offers from the Hogs.
Sophomore linebackers Jai Jones, 6-0, 223 pounds, and Jalen Jones, 5-10, 195, of Dallas South Oak Cliff impressed defensive coordinator John Chavis during the Razorback Night Camp II and received offers after the camp.
Jai had offers from Texas A&M, Baylor, Louisiana Tech, Bowling Green and Alabama A&M prior to the camp, while the Hogs are Jalen's first offer.
J.J. Jones, a Magnolia native, lettered from 1996-2000 for the University of Arkansas, Fayetteville. Paula received her master's degree from Arkansas.
Hearing the Hogs offered his sons brought tears to his eyes.
"I'm speechless. It probably won't sink in until later on tonight," Jones said shortly after hearing the news. "This is a moment you do dream of as a father to have two D-I athletes to be offered by your alma mater, and just seeing them wear the Razorback today was special.
"When coach said they were going to offer, I was like, 'Excuse me'. It's surreal right now to be honest with you."
Paula's reaction to the the offers was much the same.
"I know Arkansas is in their blood and in their heart and ours because we both graduated from here," she said. "So it means a lot to us. We're just honored."
She's glad Jai and Jalen have an opportunity to play together in college.
"I know the boys have always said they want to stay together, they want to be together," Paula said. "So this is a big moment as a mother to see the opportunity for them to actually continue to be together."
Jai played the first four games with the freshman team last year, then moved up to varsity and recorded 32 tackles, 5 tackles for loss, 2 sacks and a forced fumble. Receiving an offer from the school he and his brother grew up cheering for was big for Jai.
"That's huge," he said. "It's very exciting. I can't even speak about it. Plus, it's my brother's first offer. I'm very proud of that. That's a big offer for the first one."
After getting the offer, Jai said the Hogs lead for him. He and Jalen have visited Arkansas numerous times, and he said it feels like home.
Jalen, who also moved up to varsity after the fourth game, had 21 tackles, 5 tackles for loss, 3 sacks and 2 recovered fumbles last year. He was humbled by the offer.
"I love being out here in this environment, love the coaching staff, and I love everything about Arkansas," Jalen said. "It's great to be where my dad played."
The family toured the facilities Friday. Jalen said his parents marveled at what they saw vs. when they attended school.
"They were saying how different it was, like the new facilities and like the Jerry Jones and Gene Center," Jalen said. "This is their old stomping grounds and they love it."
Jai said his father was envious about what football players have at Arkansas today.
"My dad was like it's all messed up you guys get all this new stuff, but now he's like we actually built this for you," Jai said jokeingly. "All that hard work made this for you."
Paula said she and J.J. were able to show Jai and Jalen their names on Senior Walk, where all graduates from the school have their names etched into the sidewalks around campus. The combination of that and the Hogs offering her sons made it an emotional weekend.
"They were anxious to find it, which we thought was big, too," she said. "They find it, and they were excited to see our names there. It really just made it even more emotional."
At the end of the camp, Coach Chad Morris talked to the athletes and focused on several topics, including character, academics and behavior on Twitter.
"It's the same things that we say to them all the time," Paula said. "So for them to hear it from him, I was thinking in my head for nothing else, I'm glad they heard the head coach say the same exact same thing and the players say the same exact things we're preaching all the time."
J.J. is looking forward to the next trip to Fayetteville.
"We'll definitely be around," he said.
Email Richard Davenport at rdavenport@arkansasonline.com
Sports on 06/12/2018
Print Headline: UA gives offers to keep up with Joneses
Sponsor Content