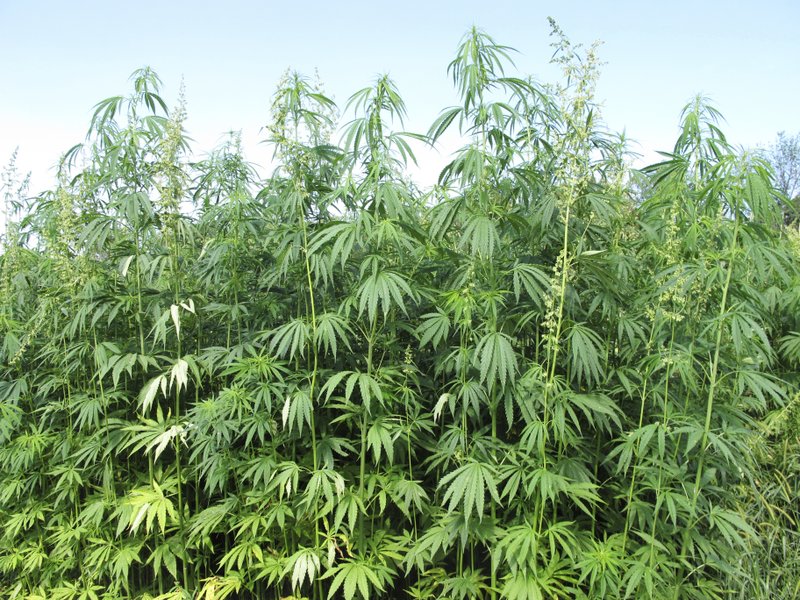 FILE - In this Aug. 13, 2015, file photo, hemp plants tower above researchers who tend to them at a research farm in Lexington, Ky. Senate Majority Leader Mitch McConnell said Monday, March 26, 2018, he wants to bring hemp production back into the mainstream by removing it from the controlled substances list that now associates it with marijuana, its illicit cousin. (AP Photo/Bruce Schreiner, File)
The state Plant Board on Thursday approved rules that will allow Arkansas farmers to grow hemp as part of a program to assess the marketability of the crop.
The General Assembly approved the program in early 2017 but its formal adoption has been sidelined for months.
"I'm happy to finally see it go through," Nicholas Dial, president of the Arkansas Hemp Association and co-author of the draft of legislation eventually approved by large margins in both the House and Senate, said Thursday after the board's vote.
The board still must determine when it will begin accepting applications to become licensed growers.
House Bill 1778, now Act 981, created the industrial hemp program. Only one House member and no senator voted against the bill.
Hemp -- a cousin to marijuana -- contains no more than 0.3 percent tetrahydrocannabinol, or THC, the psychoactive component that gives the "high" from marijuana use. Growing hemp was illegal until the 2014 farm bill approved by Congress allowed states to set up research programs that also would involve private growers of the fiber.
Arkansas is at least the 37th state to approve such a research program, according to the National Conference of State Legislatures.
The rules also still must go through the Legislative Council, a body of lawmakers that conducts the Legislature's business when it isn't in session.
The Plant Board had initially approved rules and regulations in March, but concerns of Gov. Asa Hutchinson held up the measure for several more weeks, Dial said. "Instead of taking three or four days, it took two months," Dial said.
Hutchinson signed off on the rules and regulations in mid-May, which then opened the process to a 30-day period for public comment that ended last week.
Hutchinson let HB1778, and 12 other pieces of legislation, become law without his signature.
"I don't approve of every bill that lands on my desk, but my disagreement doesn't always rise to the level of a veto," Hutchinson told the Arkansas Democrat-Gazette in April 2017, referring to all 13 pieces of legislation he didn't sign.
The Plant Board, after nearly an hour of going through each provision and considering pertinent written comments from the public, adopted the rules without opposition among the 13 members who voted Thursday.
"It's been a long process," Dial said, noting the Plant Board has been busy since last year in dealing with complaints of dicamba damage to crops and other vegetation not tolerant of the herbicide. Dial said he liked the changes made to the rules between the first and second times the Plant Board considered them.
But Dial also noted that pending federal legislation could make much of the Arkansas work moot.
Senate Majority Leader Mitch McConnell, R-Ky., added an amendment to the 2018 farm bill that defines hemp as an agricultural commodity and removes it from the list of federally controlled substances. McConnell's amendment states the regulators of hemp production and makes hemp farmers eligible to apply for crop insurance. Hemp researchers also could apply for grants from the U.S. Department of Agriculture.
Business on 06/22/2018
Print Headline: Rules OK'd for hemp crops in state
Sponsor Content