During World War II Richard Yada's family was imprisoned at a Japanese internment camp in Rohwer, Arkansas. Richard Yada was born there. ( John Sykes Jr.)
Richard Yada visits the Desha County land where he was confined as a child so frequently that he notices when the crops change.
For the past couple of seasons, cotton surrounded the Rohwer internment camp cemetery. Before that, it was corn, Yada said.
The 74-year-old retired accountant and financial adviser lives in Little Rock. He often takes friends and relatives to see the Rohwer cemetery and smokestack, two relics of a compound where thousands of people of Japanese descent were detained during World War II.
Now, the idea that Rohwer land might again be used to detain children who cross the southern U.S. border is "kind of ironic," Yada said.
He spent the first three years of his life at Rohwer. Yada remembers the cots, the lone light bulb in each room, the potbellied stove and the lack of privacy.
"Being 2 or 3 years old, you thought everybody grew up that way," Yada said. "You didn't know any better."
Last week, federal officials visited two Arkansas sites to determine whether they're suitable to temporarily house minors who have crossed into the U.S. from Mexico unaccompanied by parents or legal guardians. No decision was released.
Generally, such unaccompanied children are temporarily housed in U.S. Department of Health and Human Services shelters until they are released to relatives or other care providers while they await their immigration proceedings.
Space is needed for some 20,000 unaccompanied children in the coming months, the Pentagon announced last week. Many of the children are under age 12 or in their early or midteens and journeyed from Guatemala, El Salvador and Honduras, according to government data.
The Little Rock Air Force Base in Jacksonville is one Arkansas site under consideration to house them. The other location is a former U.S. Department of Agriculture facility in Kelso, also in Desha County. It sits on what used to be the Rohwer camp land, according to a business agent with knowledge of the land sale.
The unincorporated communities of Rohwer and Kelso are just a few miles apart.
The physical link between the past and the present has drawn national attention and triggered additional criticism about the Trump administration's immigration policies.
Actor, director and activist George Takei, who was detained in Rohwer as a child, said on Twitter that he had "no words" after hearing the latest news.
Days previously, former first lady Laura Bush wrote an op-ed piece for The Washington Post in which she criticized the practice of separating parents from their children after they crossed into the U.S. Trump later walked back that policy.
Images of children living in tents and converted big-box stores are "eerily reminiscent" of Japanese internment, which is now considered "one of the most shameful episodes in U.S. history," she wrote.
For some people and their relatives who were interned at the camps, what's happening now looks all too familiar, they said.
Sharon Wong was born in the Jerome camp that straddled the Drew and Chicot county line. Together, Rohwer and Jerome held some 16,000 people between 1942 and 1945.
[U.S. immigration: Data visualization of selected immigration statistics, U.S. border map]
When told that unaccompanied children might be kept on Rohwer land, Wong asked, "How could that be?"
To hear the government is considering "anything even near those places, it's hard to believe," she said. It's "disturbing," she added.
"I didn't think that it would happen again in my lifetime," retired professor and child therapist Satsuki Ina said. "It has triggered so many emotions."
Like Wong, Ina lives in California. She was born in the Japanese internment camp called Tule Lake.
Survivors refer to such camps as prison camps or concentration camps, Ina explained. That's because an "internment camp" is a place to detain "enemy aliens" in a time of war, she said. The 120,000 people who were detained were not enemy aliens. About two-thirds were American citizens.
Gov. Asa Hutchinson, U.S. Rep. French Hill and U.S. Sen. Tom Cotton, all Arkansas Republicans, have issued statements against holding the unaccompanied children in Arkansas, which Ina said is encouraging. She's also grateful that many Japanese-Americans are speaking out because "when we were being rounded up and stigmatized, there was no organized protest," she said.
Some people say juxtaposing the two eras is "comparing apples to oranges," Kimiko Marr said. Marr organizes pilgrimages to Rohwer and Jerome. Her mother and grandmother were detained in a camp in Topaz, Utah.
"I will agree that it's clearly not the exact same circumstance," she said. People crossing the southern U.S. border are not American citizens, but the bottom line should be "they are human beings," Marr said.
For University of Arkansas at Little Rock professor Johanna Miller Lewis, some of the historical similarities are unmissable.
Corralling large groups of people, placing them behind barbed wire or in cages and shelters, and guarding them with military troops or customs and border patrol agents are the consistent themes, Lewis said.
In both cases, "We have all these people. We're not quite sure what we're going to do with them. So we've got to find a place to put them," Lewis said.
There are some differences, Lewis added. Japanese-Americans were given no route to due process and were never charged with any crime, she said. And most parents and children weren't separated from one another, she said.
But as a public historian who has studied detainment camps for two decades, the parallels "are just so strong," Lewis said.
Like Lewis, David Inoue, the executive director of the Japanese American Citizens League, sees a common thread. Right now, like during World War II, there's "hatred and vitriol" from some people toward anyone who looks like an outsider, Inoue said.
For Kerry Yo Nakagawa's family, that hatred once appeared on a slip of paper.
Nakagawa's maternal grandmother was a proud business owner who believed America was "the greatest country in the world," he said in an email.
She was forced to abandon a thriving restaurant in Fresno, Calif., and board a train to Jerome, Nakagawa said. While at the camp, she died of cancer, and her body was shipped out to be cremated.
A few months later, her ashes arrived in a Folgers coffee can. On top of the can was a piece of paper. It read, "Jap Woman," Nakagawa said.
If his grandmother knew about what was happening now, Nakagawa said, "She would be deflated."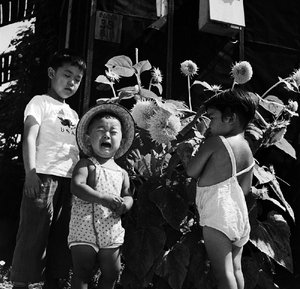 Photo by © Paul Faris/Courtesy of Mary Ann Thurmond and Tim Faris
A child cries at the Rohwer War Relocation Center in July 1945 in this photo taken by Paul Faris, Hendrix College photography and English teacher.
Metro on 06/24/2018
Print Headline: Camps for border's kids harken to state '40s past
Sponsor Content