Dynamite comes in small packages."
That's what the Washington County superintendent of schools said as tiny Pat Parsons crossed the stage at her eighth grade graduation to receive her diploma.
Rodeo of the Ozarks
When: 7:30 p.m. June 27-30
Where: Parsons Stadium in Springdale
Cost: $7-$38
Information: (479) 756-0464
Bonus: Rodeo parades will take place down Emma Avenue at 3 p.m. June 27 & June 30. There will be fireworks after the rodeo on June 30.
Next Week
Tommy Van Zandt
Fayetteville
For evidence of the truth in that statement, take a look at the photo of Springdale's Rodeo of the Ozarks board on the organization's website: Eleven men in white shirts and cowboy hats surround the lone woman, board president Pat Parsons Hutter. She is nearly a foot shorter than several of the men towering over her, and her vibrant copper-colored hair isn't hidden beneath a cowboy hat. Even so, with her white shirt and large belt buckle and thumbs hitched into her pockets in a cowboy stance, she fits right in.
It's always been that way for Hutter, who describes herself as being a "tomboy" since childhood. Her family is rodeo royalty: Her father, Thurman "Shorty" Parsons was a businessman, a native of Springdale and one of the chief founders of the Rodeo of the Ozarks. For Hutter, "rodeo" is a verb -- as in, her family "rodeo'd" nearly every weekend through her entire childhood and well into adulthood. As a result, she started riding horses at the tender age of 10, then went on to become a rodeo queen several times as a young adult and a barrel racing champion for 27 years.
"I get up every morning at 4:30 a.m. and have myself a Dr Pepper," says Hutter, when asked how she accomplishes the myriad tasks she has to do on any given day. She says she rarely gets more than five or six hours of sleep a night, a pattern she established as a child, when she helped her parents with family businesses. Hutter is polite, firm, bluntly honest and as sweet as pie in the way only Southern women of a certain age seem to have mastered.
"They tell me that the Dr Pepper is going to kill me, but I say, 'I'm 84!'"
Outside the box
Born in Springdale in 1934, Hutter came of age in an era that had strict expectations for young women: They should be ladylike, reserved and placid; they should be married by their late teens or early 20s; and they should have children by their mid-20s.
But Hutter had other ideas. One of the prime factors behind her quiet confidence and life's achievements might well be the fact that her family supported and encouraged her to pursue what she enjoyed and what she was good at -- regardless of society's expectations.
"Daddy had lot of dairy farms, and I'd always get up early so I could go with him," she says. "He would drink that old hot cow milk right from the cow and tried to get me to. To this day, I don't like dairy products, I didn't like all that, but I always wanted to go with him."
"Shorty and [his wife] Inez were here way back when Springdale was just trying to come off the ground," says Rodeo of the Ozarks board member Tex Holt. "There were really some strong, strong people trying to bring up Northwest Arkansas, and Shorty was right in that group. They were good, hard-working people -- Pat is from really good stock because Shorty and Inez were just really nice people. When they told you something, you could take that to the bank."
Hutter started school early. Inez was a school teacher who hired a babysitter to watch 4-year-old Patricia when she went back to work. Hutter didn't like that and ended up going to work with her mom, perching on the school steps and occupying her time with her own imagination until recess rolled around and the schoolchildren came out to play. Since she was there anyway, Hutter started school at 5 -- so the already tiny young girl was a year younger than her school chums throughout her school years.
Hutter was the only daughter of three children until baby sister Brenda came along some time later. As the only girl in the family during the 1940s and 1950s, Hutter was probably expected to spend more time helping her mother than her father. Instead, Hutter gravitated toward what most interested her. Still, she was keenly aware of her mother's hard work.
"I'm sorry for it, but I never did help my mother," she says, with a note of wistfulness. "But she cooked for all of us and washed and ironed, and I should've been whipped [for not helping]. But I wasn't.
"We all wore jeans, starched as a board. We had the old washing machines, where you had four tubs -- washer, and then a rinse, and then bluing and then you'd wring it out. And we'd have nice new jeans every morning and then come home from school and throw those into the dirty clothes hamper. We would put on our old ones -- but they still had to be starched. I have memories every Saturday of her clothesline: She would have them all hung up by the crease, all in a line."
It wasn't as though Hutter wasn't working hard: The entire family helped with house and farm chores, as well as with the family's businesses. Parsons was a successful businessman, but he expected his children to work for what he gave them. When the family briefly moved away from their beloved east Springdale to Goshen so that Parsons could operate a grocery store, they all kept a grueling schedule in order to make sure everything got done.
"We would get up at 5 in the morning, and everybody would come to the grocery store," she remembers. "Then we would go to school, where mother was a school teacher. And then we'd go back to the store and go home about midnight every night. So that didn't last too long. Over at Goshen, we had a big house, a big farm. But it was fun. We've had a lot of good experiences."
When Hutter coveted a beautiful green Schwinn bicycle, she worked in the family's strawberry patch for a year to raise the money.
"Daddy believed in making us work," says Hutter. "When I was about 14 or so, we had a peach orchard, grapes and strawberries. Harold and Glen and I would get up at 5 a.m. and load the truck down with peaches and grapes and go to the Huntsville sale barn and sit there all day. They said, 'Don't come home until you sell it all!' But we enjoyed it. We talked to everybody. I mean, none of us are bashful."
Hutter was 10 years old when her father was struck with the idea of starting a local rodeo. It was 1944, and wounded soldiers were coming home from the war. Hutter says Parsons thought an event like a rodeo might help lift the spirits of small-town Springdale. Shorty and his sons rode horses, but Hutter had always declined the opportunity. Being on the small side, Hutter had thought the horses seemed mighty tall. She told her dad she would just ride her beautiful, green Schwinn bicycle in the rodeo instead.
"Daddy said, 'You're not going to ride your bicycle, you're going to ride a horse,'" remembers Hutter. "And so they put me on the horse, and we started down the driveway. We didn't put the horses on a trailer -- we just rode them to town. And we got to the edge of the driveway, and my horse just ran off down to the grape vineyards with me. And, of course, the boys ran down and caught me -- well, caught the horse. I said, 'Well, that's it, I'm not going to ride any more,' and Daddy said, 'You're going to get back on that horse and ride because we're going to do this as a family. Dad was a big family man, which, thank goodness he was."
And thank goodness he was so insistent: As it turned out, not only did Hutter love riding horses, but she was also really, really good at it. Her slight size and innate grace made her a natural at barrel racing, the sport of racing a horse in the shortest time possible around large barrels placed in a cloverleaf pattern.
"I rode barrels in the Invitational Ranch Girls Barrel Race at the Fort Worth Stock Show Rodeo," says Hutter. Despite the fact that the Fort Worth Rodeo is one of the largest in the United States and regularly draws crowds nearing 1 million people, Hutter speaks matter-of-factly about her accomplishments. "It's always in January and February. And you get invited if you did well every year. So I got invited for 27 years, and, at the last year, I came home and I said, 'I'm not going back.' I said 'I'm an old Grandma, and all these kids are young.' And of course my husband said, 'As long as you're winning, just go on.'"
Like any great athlete, though, Hutter could sense when the time had come to hang up her saddle.
"When I got the invitation that [next] year, I wrote a thank you note saying that I had enjoyed coming, and if I could ever do anything for them, let me know."
"When we go to the national finals in Las Vegas, the barrel racers invite her to their awards dinner, and she invites [my wife ] Beverly and I to go with her," says Holt. "We get to sit there with all of these world champion racers, and they honor her. They have a tremendous amount of respect for Pat Hutter."
"Either two or three years ago, she was honored out there during the [National Finals Rodeo] at the [Women's Professional Rodeo Association] luncheon," says Rick Culver, executive director of the Rodeo of the Ozarks. "They honored her with a trophy -- I think it was a lifetime achievement award, something along those lines."
Love and horses
Hutter again bucked the norms of the day by going to college at the University of Arkansas to study business. In 1950, college attendance for women in Northwest Arkansas hovered somewhere around 5 to 7 percent. Shorty Parsons had not had the opportunity to finish school -- he was one of nine children and had to help support the family -- so it was important to him that all four of his children attend college.
Hutter had a wide circle of friends, but she didn't date a lot ("I thought a lot of them were sissies," she says with a laugh). She even passed on a relationship with a handsome football player in college.
"We went to Jug Wheeler's on Dickson Street," she remembers of their first date. "Everyone went there to have Cokes and things. He pulled out a cigarette and started smoking. I said, 'You play football, you shouldn't smoke!' and he said, 'Oh, it's all right.' Then he told me he drank beer and stuff.
"So that was my last date with him. I didn't go with anybody else until I met Joe."
Joe Hutter was a dashing young man who had a way with horses. Parsons persuaded the Curtiss Candy Co. Pony Hitch -- trained Shetland ponies who performed for crowds -- to come to Springdale for events in between rodeos. Joe was one of the handlers of the horses. When Hutter went to gas up her car at her aunt's gas station right before a trip to Tahlequah, Okla., she met Joe, who suggested he and the other boys working with the Shetland ponies accompany her.
"Now, I was 22 years old, so I was old enough -- I should have known I could probably have them ride along," says Hutter. "But I called my dad and asked him if they could go with me, and he said, 'Well, let me talk to Sis.' And he asked her if it was all right, and she said, 'Oh, yes, they're good boys.' So he said, 'Well, all right, if they'll sit in the back seat.' I said, 'OK, that will be fine.
"And from then on, it was me and Joe Hutter. Every other weekend that we didn't do the rodeo, I went wherever he was with the pony hitch, and we got married that December of 1955."
Once married, Hutter had to do something that was very difficult for her: She had to leave Arkansas for the first time in her life. The couple moved to Sherman, Texas, for Joe's job. The job had its exciting elements -- the couple traveled to all the state fairs and even Havana, Cuba, in the waning days of Bautista's government -- but Hutter desperately missed her family and friends back home.
"I couldn't have made it if it weren't for the Jones Truck Line," she says. "There was heavy traffic down that way then. I knew a lot of the drivers, and they would stop by and sometimes stay all night because we lived right on the highway. Otherwise, I couldn't have made it because I had never been away from home like that."
Home and family
The two lived in Texas for two years, until they decided it was time to have a baby, and that meant moving back to Springdale to be closer to family -- so close, in fact, that they built a house just down the road from Shorty and Inez. Hutter has lived in that same house since 1958.
"When we moved back here, of course, Joe trained my barrel horses, but he also went to work for my daddy and brother, raising turkeys," says Hutter. "He worked with them for 18 years. In the meantime, he trained horses, and I rodeo'd."
Hutter put her love of barrel racing, innate organizational skills and business school training to use in 1983 when she and several other barrel racers formed the Barrel Futurities of America. Friend and fellow barrel race champion Florence Youree says the organization was necessary to help regulate the barrel races for horses 4 and younger.
"Younger people were putting on futurities, but they didn't have any standard rules," says Youree. "You could go to one and they would have changed the rules, and there wasn't a standard payoff or anything." Youree and Hutter would serve as president and secretary, respectively, of BFA for two decades.
Hutter also opened her own business -- a small Western clothing store in a space adjacent to her barn.
"Well, we wore it all the time, and I thought, 'That's silly. I could be getting it at cost,'" she says. "But I would never sell it the way it was supposed to be. For my friends, I would sell it for cost. I might make $5. I would just leave the door unlocked. I knew all the cowboys. I said, 'If I'm not there, just leave money for what you bought.' Dad would sit out there a lot -- he enjoyed seeing everybody. We probably had it 15 years or so."
The couple had two children, Mike and Melinda, and raised them just down the road from their grandparents. Hutter says all of her siblings -- and most of their children and grandchildren -- live in the area, and the family remains very close. When Shorty Parsons died in 1988, Hutter continued the Parsons family's history with Rodeo of the Ozarks by taking his board seat. She's the first, and only, woman to ever serve on the rodeo board.
Three years ago, Joe started feeling poorly.
"He had never had a prescription or seen a doctor," says Hutter of her husband. Despite his poor health, he resisted medical attention, until son Mike convinced him to go to the doctor. He was sent immediately to a heart specialist.
"The doctor said, 'I could put a defibrillator in if you live for 30 days,'" says Hutter. "And Joe said, 'Well, I can make that, but can't you just put it in now?' He said, 'No, I can't do that.' He said something had to build up for 30 days before he put it in.
"Then, on the 29th day -- it would have been his birthday the next day -- I fixed his lunch and put it in the living room and told him I would be right back. There was a limb he wanted me to help him cut off a tree. I said, 'When I come back, we'll do that.' When I came back, I couldn't find him. I hollered for him, and asked Mike if he'd seen him, and he said, 'No.' I went to the back door and looked past the sandbox and all I saw was his two boot tops. He had just sat down and died.
"That was hard."
In another terrible blow, one year later, Hutter also lost her son, Mike.
"So now I live in the house by myself," she says simply. "My daughter and her husband live in Pea Ridge, but my brothers and sisters, they live all around me. So it's real good. I love all of the kids. And I couldn't have handled any of it without God and my church."
And then there's the rodeo, the constant in her life for nearly 75 years. Through all of life's biggest transitions -- growing up, getting married, having children, losing loved ones -- the rodeo was waiting for her, every summer. Right now she's prepping for the next one, which runs June 27-30. She might not ride in the rodeo anymore, but, as board president, there's still a lot of work to be done. So she stays busy.
"She brought us soup yesterday, then a cake today," says Culver. "She takes care of all of us. She's in charge of the meals every meeting -- she's kind of like the home room mom with all these guys. She still works in the office, with the timers, and helps put on the barrel racing events."
"It's a privilege to be around Pat," says Holt. "Whatever she tells us to do, we get it done."
"I would hate to not have known her in my life, because she is a special, special person," says Culver.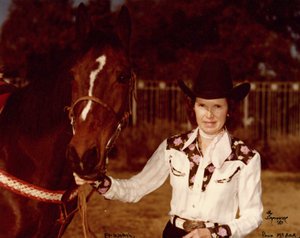 Photo courtesy Pat Hutter "She still comes to the BFA [competitions] and people love visiting with her, just for the fact that she's such a kind, caring person who will go out of her way to help others. She's always trying to help the young people get involved in barrel racing." -- friend Cindy Arnold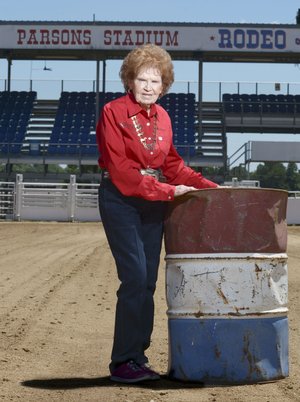 NWA Democrat-Gazette/ANDY SHUPE "Pat was a pioneer in the barrel racing world, and they still have a tremendous amount of respect for her." -- Tex Holt
NAN Profiles on 06/24/2018