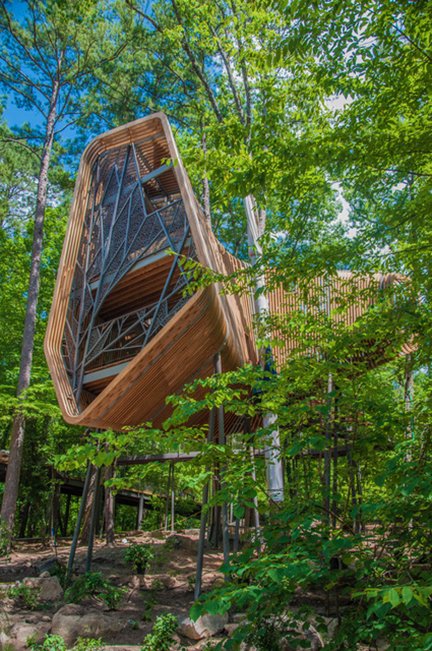 HOT SPRINGS — Garvan Woodland Gardens, a division of the Fay Jones School of Architecture and Design at the University of Arkansas, announces the "soft" opening of its tree house within the Evans Children's Adventure Garden. The tree house is suspended within a group of pines and oaks, bending easily between them. The theme of dendrology, the study of trees and wooded plants, drives both the form and program of the structure, designed by Fayetteville-based architect firm modus studio.
Garvan will host its first-ever Celebrate Summer Day on Saturday. The new tree house, which has been under construction for the past year and in the design stage for several years prior to that, will open at 9 a.m. The tree house, it's fanciful Root Plaza and a newly renovated circular bridge in the Children's Garden will all be open to visitors.
Children's craft booths will be open from 9 a.m. to 1 p.m. and are included with admission or free to members. Kids can take part in face-painting, worm-farming and leaf-rubbing.
There will be lots of food and drink options throughout the day: The Means of Grace Coffee Truck will open at 9 a.m. at the Dooley Pergola. From 11 a.m. to 3 p.m., Bubba Brews Beer Garden and a Chipmunk Cafe Snack Station will open at the Pavilion. Down at the Children's Garden area, Flossie's Food Truck (fair-style food) and Blue Elephant Snow Cones will be open from 11 a.m. to 3 p.m. as well. Of course, the Gardens' Chipmunk Cafe next to the model trains will be open as usual at 11 a.m., serving gourmet, fresh-made sandwiches, salads and wraps. Frozen lemonade and other sweet treats will be available to beat the summer heat.
It is about a quarter-mile stroll from the Welcome Center to the Children's Garden area. For those who do not want to walk, a tree-house trolley will be available. Visitors may purchase a wristband for $5 and ride all day until 5 p.m.
Garvan Woodlands Garden members will be admitted free. Admission is $15 for ages 13 and older, $5 for ages 4 to 12, and free for children 3 and younger. Well-behaved dogs on short, nonretractable leashes are admitted for $5 each (one dog allowed per guest).
Garvan will sell family memberships at several locations throughout the day Saturday. Because of the growth of the gardens' offerings, annual membership prices will increase July 1. Summer memberships can be purchased before that date.
Sponsor Content