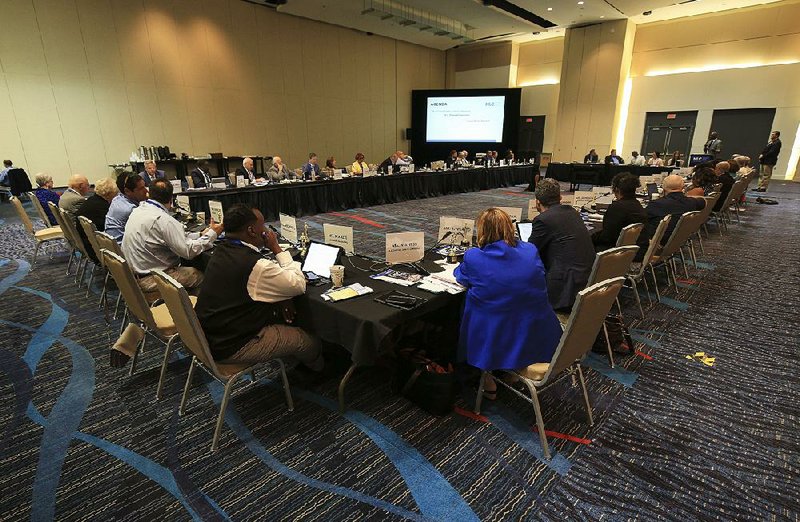 Members of the National League of Cities' board meet Tuesday morning at the Statehouse Convention Center in Little Rock during the group's summer conference. ( Arkansas Democrat-Gazette / Staton Breidenthal)
More than 300 city leaders from across the country, many of them mayors, are convening in Little Rock this week to discuss challenges to cities and what top talking points should be when lobbying Congress for local rights and aid.
Little Rock Mayor Mark Stodola, president of the National League of Cities, brought the organization's summer leadership meeting to his town with committee, board and council meetings planned through Thursday.
The "opioid crisis," transportation and infrastructure, public safety and recidivism, and access to broadband were topics that came up several times Tuesday throughout various group meetings.
The group's 60-member board of directors, made up of mayors and leaders from multiple states, supported a resolution Tuesday asking Congress to make sure that federal funding being disbursed to states for opioid prevention and treatment makes its way to local programs.
A board member said that only about 20 percent of funds allocated in a federal bill two years ago have made it to localities.
"It's disgraceful we have this epidemic and Congress is not letting the money loose so it can be used for treatment and for prevention," Stodola said at the board meeting.
Later, in a meeting of the Public Safety and Crime Prevention Committee, about a dozen leaders discussed the trend of states legalizing marijuana for medical and recreational use.
The committee asked National League of Cities staff members to research and draft a resolution to be considered by the organization's full membership at its November conference in Los Angeles to take marijuana off the federal list of Schedule I drugs. The resolution would also discuss allowing states that have legalized some form of marijuana to develop how it will be marketed, sold and taxed.
"States are doing it and it's going to happen now whether we like it or not," said Billy Phelps, a retired chief of police who is mayor of Morgantown, Ky., a city with about 2,500 people. "So let's make it legal for states to be able to funnel that money in the right direction."
Phelps said funding in his city and state for pension programs is lacking and he expects officials to consider looking at new ways to fund the program, with tax revenue from potential future marijuana sales being one option. This year the Kentucky Legislature has been considering medical-marijuana legislation.
That Public Safety committee also discussed the issue of recidivism rates in communities and what leads to parolees who reoffend.
"There's a lot of programs while someone is in jail to train them, but there's very little support after somebody comes out. There are barriers. Even federal programs for housing have barriers for individuals who are convicted of crimes.
"They cannot access affordable housing, loans or grants. So, is there something cities need to ask Congress considering these types of reforms?" Yucel Ors asked the group. Ors is the federal advocacy director for the National League of Cities.
Harry Brown, the mayor of Stephens, a south Arkansas city of nearly 1,000 residents in Ouachita County, said money being spent to build new prisons or expand prison space should be diverted to re-entry assistance.
"Not enough dollars are being spent to get these people back into the community," Brown said. "In Arkansas, they've got a program that the community corrections [department] is running. We have an old school building that would have been excellent for that, but then they wanted the community to pay for most of the housing of these people.
"The state is willing to pay the county jails to hold the prisoners, but they are not willing to pay for us to help these guys get back into the community. It's crazy. They'll pay the jail $40 a day to hold them, but then they don't want to pay us $25 a day to educate them and get them back in the community."
Committee Member Marty Simonoff, a council member in Brea, Calif., which has about 40,000 residents and is about 30 miles southeast of Los Angeles, said in contrast that, in California, sentencing guidelines have been reduced for so many crimes that many felons don't serve prison time.
Kandie Smith, a council member in Greenville, N.C., which is in a metropolitan region of about 175,000 people, wondered if communities could be created for people re-entering society from prison that have extra law enforcement so someone who has a record can still access safe and affordable housing but the community could be assured of safety at the same time.
Other members worried that that approach would be discriminating against released felons.
Brown said that ultimately cities need more money to train people coming out of jail and prison and provide temporary housing to get them "on their feet and back into society."
In the next room, in a Transportation and Infrastructure Services Committee meeting, other mayors and leaders discussed the need to update the nation's infrastructure. That includes bridges, roads, power lines, water pipes and other utility assets.
During the conversation, National League of Cities staff member Brittney Kohler -- program director, transportation and infrastructure -- listed a number of statistics on where the nation is with its infrastructure. She said research estimates that only 30 percent of the nation's needed water infrastructure is funded.
The next big discussion cities must have is what they will urge their congressional representatives for in regards to the Highway Trust Fund and how highway infrastructure is paid for, she said.
Elsewhere, leaders met in committees on finance, energy, communities, children and information technology.
Today the group will host a news conference at the Little Rock Technology Park with Federal Communications Commissioner Jessica Rosenworcel to unveil the League's research on the future of work. It analyzes how technology, trade and shifting demographics are shaping the workforce in the U.S.
Rosenworcel will talk about a federal-local partnership in deploying broadband across rural areas and cities.
Stodola led the League's board meeting Tuesday and hosted officials on a sightseeing tour of Little Rock, the state's largest city with nearly 200,000 residents and which is part of a six-county metropolitan area region of about 725,000 people.
He also touted what the summer leadership meeting is doing for Little Rock's economy. He said the convention of more than 300 people will have a $500,000 economic impact.
Other than the off-site tours and news conference, meetings are taking place at the Little Rock Marriott and Statehouse Convention Center downtown.
A Section on 06/27/2018