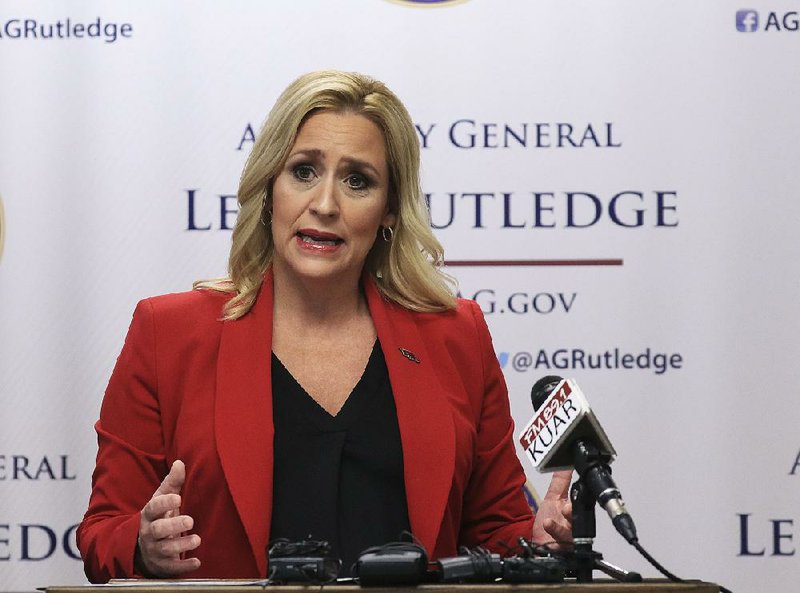 Arkansas Attorney General Leslie Rutledge is shown in this file photo. ( Arkansas Democrat-Gazette / Staton Breidenthal)
Pledging to help root out the kind of corruption that led to the convictions of five former lawmakers in recent months, Attorney General Leslie Rutledge on Wednesday said she will hire a pair of investigators to join a new Public Integrity Division within her office.
Rutledge, who is running for re-election, made the announcement in front of an assembly of state and federal law enforcement officials, including the U.S. attorney in Fort Smith and an FBI special agent who has worked on the investigation of abuses in lawmakers directing the spending of state General Improvement Funds.
But to what extent Rutledge's office would become involved in that probe remained unclear.
It will take a few months to hire the new investigators, Rutledge said, adding that she lacked a "crystal ball" to know how long the federal investigation would continue.
Federal officials declined to comment on the ongoing investigation into the expenditure of General Improvement Funds to nonprofits with ties to lobbyist Milton "Rusty" Cranford.
That investigation has brought convictions of four former lawmakers. Ex-Sen. Jake Files, R-Fort Smith, pleaded guilty to charges in a different case.
Rutledge defended herself against questions about the timing of her announcement, which comes in an election year and long after the first allegations surfaced.
Her opponent in the general election, Democrat Mike Lee, released a statement in response to Rutledge's news conference calling Rutledge "late to the game." Lee had issued his own release last week vowing to "hold public officials accountable."
"This is actually a project I have been working on for some time, since I became attorney general" in 2014, Rutledge said, adding "corruption is nothing new."
The attorney general's office has two unfilled investigator positions that will be used to create the Public Integrity Division, a spokesman said. Salaries for each position will max out at around $58,000 a year. The office now has 31 investigators.
The new division will operate as part of the attorney general's Special Investigations Department, which has units investigating cybercrimes and metal theft. It will also aid the ArkTrust Public Corruption Task Force, Rutledge said.
The task force, created in 2013, includes U.S. attorneys in Arkansas, the FBI, state and local police.
Diane Upchurch, the special agent in charge of the Little Rock FBI office, said the agency is "always looking for help from our partners," while the U.S. attorney for the Western District of Arkansas, Duane "Dak" Kees, dispelled any notion that Rutledge's investigators could interfere with federal investigations.
"There are certain cases that are just better suited for federal prosecution," Kees said, citing interstate wire fraud as an example. "Then there's those that are better suited for state prosecution," such as backroom bribe, Kees said.
The ongoing federal investigation into corruption at the state Capitol has taken aim at lawmakers' use of the General Improvement Fund grants and allegations that some lawmakers directed their share of the funds to entities in exchange for bribes or kickbacks.
The Arkansas Supreme Court last fall ruled unconstitutional the way lawmakers had been directing the excess state funds -- even in cases where no wrongdoing was alleged. As attorney general, Rutledge represented the state in defending lawmakers' method of spending the money.
At the news conference, Rutledge said she had "no regrets" defending the General Improvement Fund disbursements, saying that she felt obligated to do so because the expenditures had been made in the manner prescribed by state law.
Similarly, if asked by lawmakers to help rewrite the law in a way that allowed legislator-directed General Improvement Fund spending to continue in accordance with the Supreme Court's decision, Rutledge said she believed it would be her job to do. Still, she said she would offer her opinion first.
"I'd tell them I think it's a bad idea," Rutledge said.
Metro on 06/28/2018
Print Headline: AG to set up unit to investigate graft
Sponsor Content