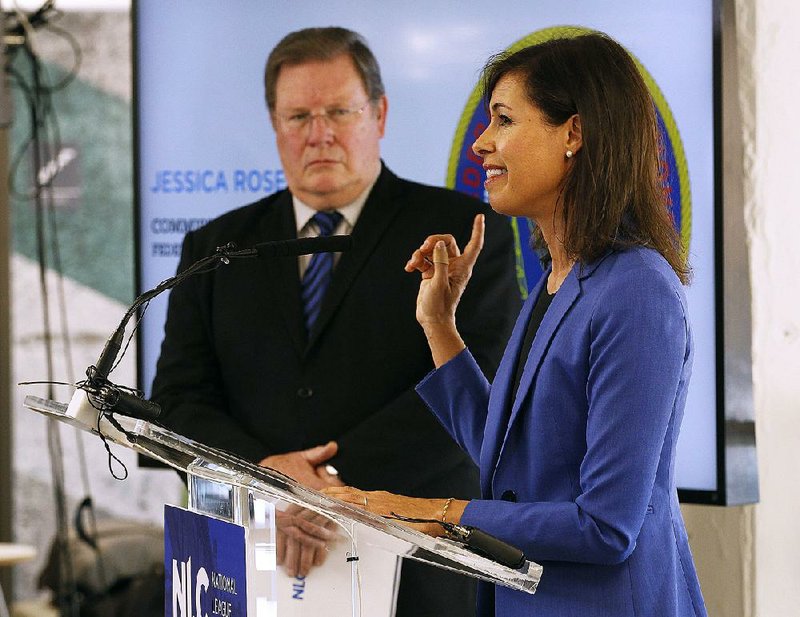 Little Rock Mayor Mark Stodola, president of the National League of Cities, stands by Wednesday as Jessica Rosenworcel with the Federal Communications Commission speaks to league members in Little Rock about preparing workers for technological change. ( Thomas Metthe)
With the Little Rock Technology Park as a backdrop, a national organization of city leaders released a report Tuesday detailing how cities can help residents deal with the increasing automation of jobs and transfer skill sets to jobs less likely to be overtaken by artificial intelligence.
Forty-seven percent of American jobs are expected to be automated within the next 20 years, according to an Oxford University study cited in the National League of Cities' Assessing the Future of Our Work report.
A different study by the Organization for Economic Co-operation and Development said 9 percent of American jobs are at risk.
Regardless of which is correct, the league said millions of Americans are at risk of losing their job in the coming years.
That combined with the fact that baby boomers will have all reached retirement age by 2050 creates a unique situation. Cities must work with universities and employers to make the workforce ready with the skills needed to fill jobs, said Brooks Rainwater, senior executive and director of the league's Center for City Solutions.
"No industry, job, or task is safe from automation. Displacement of existing jobs is a given, and the new kinds of jobs that will arise in their place remain unknown," the research report states.
Jobs most likely to be automated include accountants, freight laborers and movers, food preparers and servers, cooks, sales representatives, carpenters, receptionists and personal-care aides, according to the report.
Jobs less likely to be automated are first-line supervisors in the construction trade, first-line supervisors in the office/administrative and retail industries, electricians, licensed practical and vocational nurses, heavy tractor-trailer drivers, and preschool teachers.
Recommendations to plan ahead for the shifting workforce include partnerships with universities, which can help gauge local job needs and develop programs and training accordingly; more summer jobs and after-school programs; expanding Pell grant eligibility for financial aid to cover certifications needed when people are learning new skills to update or transition between jobs; and expanding portable benefits like paid leave, health insurance, workers' compensation and retirement fund matching.
Access to broadband is also an important factor when it comes to making sure people have the skills and opportunities to be relevant in a new workforce environment.
That's a current focus of the Federal Communications Commission. Commissioner Jessica Rosenworcel was on hand in Little Rock on Wednesday to talk about that.
"Work's not going away. Work is about solving problems, and last I checked, we have no shortage of them. What we need to do now is what this report is all about," she said.
"We need to prepare for the future workforces of technological change -- what does work look like? That means it's up to us to grapple with advancements and artificial intelligence and big data. It's up to us to address how automation will change not just repetitive tasks, but cognitive tasks," she said."We have to rethink education and workforce training to prepare for that challenge. We have to build the essential infrastructure to make that all possible."
Little Rock Mayor Mark Stodola gave a personal anecdote during the league's news conference.
"My dad had one job. I've probably had six jobs, and my kids are going to have six jobs at the same time. That gig economy is coming full force to us, and we've got to be ready for it," he said. "We know this workforce is changing and we've got to be adaptable and flexible with that."
Stodola is president of the National League of Cities. The organization's summer leadership conference has been taking place in Little Rock this week. It drew about 350 leaders from cities across the U.S.
Stodola gave his fellow board members a gift to demonstrate entrepreneurship. It was a wooden pen made and sold by an 11-year-old boy in Morrilton, who created his own business with birthday money given to him by his father and grandfather.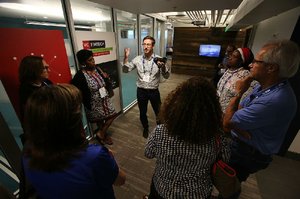 Photo by Thomas Metthe
Bryan Griffith, assistant to Little Rock Mayor Mark Stodola, tells members of the National League of Cities about the Little Rock Technology Park during a tour of the building Wednesday.
Metro on 06/28/2018