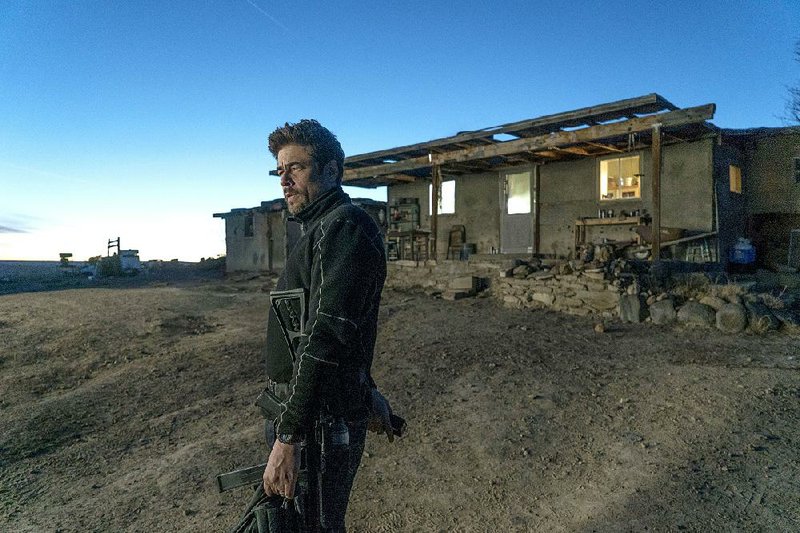 The enigmatic "prosecutor" Alejandro Gillick (Benecio Del Toro) returns in Stefano Sollima's Sicario: Day of the Soldado, the sequel to the 2015 crime drama Sicario.
When I think of all the movies that are begging for sequels, Denis Villeneuve's 2015 narcodrama Sicario isn't one of them.
Taken by itself, the original Sicario asks an ageless question: Can we successfully stop criminals by imitating their ruthlessness? Villeneuve and then-freshman screenwriter Taylor Sheridan found several ways to eloquently say "no" without making the film didactic.
Sicario: Day of the Soldado
78 Cast: Benicio Del Toro, Josh Brolin, Isabela Moner, Jeffrey Donovan, Catherine Keener, Manuel Garcia-Rulfo, Matthew Modine, Shea Whigham, Elijah Rodriguez, Howard Ferguson Jr., David Castaneda, Jacqueline Torres, Raoul Max Trujillo
Director: Stefano Sollima
Rating: R, for strong violence, bloody images, and language
Running time: 2 hours, 2 minutes
Featuring the terrific Emily Blunt as an idealistic FBI agent helped. Her desire to stop the drug trade and save lives conflicted with her disgust at rule-flaunting compatriots Matt Graver (Josh Brolin) and the enigmatic Alejandro (Benicio Del Toro).
Curiously, "getting dirty" didn't seem to stop the market in narcotics, nor the violence that came with it.
Nonetheless, one should never underestimate the desire producers have to reuse a great title ("sicario" is Mexican slang for "hit man") and to make money off it. Villeneuve and Blunt are otherwise occupied, and both are sadly missed.
It's hard to build on internal conflict when there isn't a central character who's not conflicted. This time around, Graver and Alejandro re-team because Middle Eastern terrorists have attacked a department store in Kansas City.
Believing that the bad guys got through via the U.S. border with Mexico, the two decide the best way to prevent bombings in Middle America is to neutralize the cartels to the south.
Graver proposes abducting Isabel Reyes (Isabela Moner), the daughter of a cartel kingpin. Her father may be making a lucrative and sordid fortune, but he sends the girl to an elite school where she taunts her classmates foolish enough to cross her.
You don't need to see Sicario again to know that the previous operation had, um, limited success. Graver bets that her father will blame his fellow drug dealers and human traffickers and that a civil war will stop them from enabling terrorists to cross the border.
One wonders if Graver has compromising photos on every official in Washington because they sign up for his plan eagerly despite his uninspiring track record.
Sheridan's ear for dialogue is still surgically sharp, but he has abandoned the careful plotting and believable characterizations in Sicario, Hell or High Water and Wind River for opportunities to blow things up. You don't have to be a doctor to roll your eyes when characters survive injuries that would be fatal or demonstrate previously unknown skills. Brolin and Del Toro are still commanding leads, but the material implies they wear capes instead of badges.
It's as if Graver and Alejandro have stopped being drug and illegal immigration fighters and are now auditioning to join the Marvel Universe.
When the situation gets more precarious, Graver and Alejandro's Washington benefactors (Matthew Modine and Catherine Keener) understandably get cold feet. The simpler moral universe in the latest movie actually makes it less involving because there's no sense of tension. The stakes seem even lighter when gunshot wounds become a minor irritant.
Italian-born director Stefano Sollima has Villeneuve's eye for action scenes and creates lots of impressive chases and shootouts. The eye candy is still tasty, but Sicario: Day of the Soldado would be far more nourishing if it gave the heart and the mind the same gratification it bestows on the eyes.
MovieStyle on 06/29/2018
Print Headline: Borderline bonkers
Sponsor Content