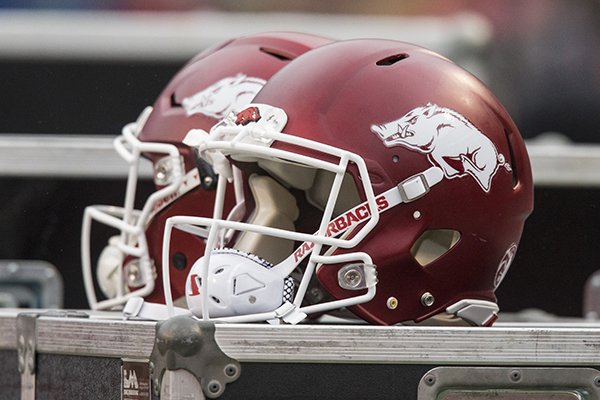 Arkansas football helmets sit atop storage bins during a game against Mississippi State on Saturday, Nov. 18, 2017, in Fayetteville. ( Ben Goff)
Often times an athlete focuses on one sport that doesn't necessarily fit their talent and while doing so, limit their scholarship opportunities.
Melvin McBride was one of those one-sport athletes, but thanks to Memphis Whitehaven football coach Rodney Saulsberry, McBride's now a highly sought after offensive lineman.
McBride, 6-4, 318 pounds, played basketball exclusively until Saulsberry convinced him to switch to football.
He's gone from no scholarship offers in basketball to 18 offers in football, including one from the University of Arkansas, Fayetteville after playing only one season.
"Coach Saulsberry got me out there, and I started, and it went from there," McBride said. "I thank him for everything. I wouldn't be here without him."
Saulsberry used one current and one former NBA player as examples to why athletes should give football a shot.
"There's not too many Paul Millsaps and Charles Barkley's types walking around," Saulsberry said. "Not many of those undersized power forward guys walking around in the NBA."
McBride encourages other athletes like him to try football.
"Just go out there and give it a shot and learn the technique because if they've been playing basketball, they already have the athleticism and the footwork," McBride said. "They'll already be ahead because of they're athletic from basketball."
Schools like Tennessee, Louisville, South Carolina, Florida are among the others that extended offers after his junior season.
"I started to see how big my recruitment was going," McBride said.
Saulsberry sold McBride on the educational opportunities and possibility of progressing to the next level.
"That's all I needed to hear," McBride said.
Like many other coaches, Saulsberry encourages athletes to play multiple sports.
"I tell them all the time, 'I'm not telling you [that you] can't play basketball, but you open up the door of many more opportunities by doing both," Saulsberry said.
The word tweener is often referred to an athlete that might be limited in a sport because size and ability.
"You can be a big fish in a small pond in football or small fish in the big pond of basketball," Saulsberry said.
McBride visited Fayetteville on Feb. 24 and has plans to make a return trip for a cookout July 27. The offer and visit have the Razorbacks in good shape.
"They're up there," said McBride, who received an offer from the Hogs on June 16. "They're in my top five. I plan on posting my top five in a couple of weeks."
He started working out with the football team in the spring of his sophomore year. He has a 350 pound bench press, 600 squat and a 305 power clean.
"I started lifting weights in the 10th grade," McBride said. "I was already naturally strong. I developed when I started lifting."
McBride has been communicating with Coach Chad Morris and offensive line coach Dustin Fry.
"They're very genuine, very cool guys," McBride said. "They're going to be upfront with you as a player and as a person. It looks like I'm a high priority. They said I have a chance to play early They said they like my game a lot. They want me to come for their little cookout for next month. I plan on going."
Saulsberry marvels at McBride's talent.
"The biggest thing is extreme upside and athleticism," Saulsberry said. "For a young man at that size, to be so athletic and physically fit, it's truly a sight to behold."
McBride is a "sponge for knowledge," Saulsberry said.
"Extremely coachable kid and you would never know by watching his film he only has one year experience of playing football," Saulsberry said.
NC lineman to announce
Offensive lineman Triston Miller is expected to announce his college decision from Arkansas, North Carolina State, North Carolina, Kentucky or Wake Forest today.
Miller, 6-6, 274 pounds, of Charlotte (N.C.) Country Day made an official visit to Fayetteville on April 20-22.
E-mail Richard Davenport at
rdavenport@arkansasonline.com
Sports on 06/29/2018
Print Headline: Switch to football nets more offers
Sponsor Content