• In her first visit to civil war-torn South Sudan, actress Ashley Judd had a message for survivors of sexual assault in a country where rape is a widespread weapon. "I see you, I love you and I'm here for you," she said in an interview. Seated on the floor and surrounded by women in a maternity hospital in a United Nations camp in the capital, Juba, the global ambassador for the U.N. Population Fund wiped tears from her eyes and told the mothers: "We're all women and we're all the same." Judd was among the first to come forward last year with allegations of sexual harassment against Hollywood mogul Harvey Weinstein. In the eight months since speaking out, Judd has become a prominent face of the #MeToo movement, helping women around the world combat sexual abuse and hold their perpetrators to account. "The healing I've done has very powerfully shaped my work. It's made me unafraid, it's made me incredibly driven," Judd said Thursday. While the #MeToo movement has gained global momentum, however, many women in conflict-affected countries such as South Sudan still suffer in silence. Sixty-five percent of women and girls in South Sudan experience physical or sexual abuse in their lifetime, with violence against women twice the global average, according to a study released last year by the International Rescue Committee and the Global Women's Institute. Judd told the head of the U.N. mission to South Sudan that the "impunity of men abusing women and girls must end, whether that be among citizens within South Sudan, within the U.N. system or back home in the USA."
• Cyndi Lauper's True Colors Fund released a report this week measuring how each state holds up on providing services such as housing and mental health for homeless youth. The study, a joint project between Lauper's fund and the National Law Center on Homelessness and Poverty, found that even the states with the best rankings -- Washington, Massachusetts, California and Connecticut -- scored less than 70 on a scale of 100 points. The lowest ranking states were South Carolina, Alabama, Arkansas and Wyoming. The report examined areas such as whether states have mental health counseling and services aimed at transgender youth, including hormone therapy. Lauper, 65, best known for her hit songs "Girls Just Wanna Have Fun" and "Time After Time," ended up living on the streets and in a shelter in Vermont in her late teens. Lauper said the report can be used as a tool for advocates to make a direct change in the way service providers across the country can assist and ultimately prevent youth homelessness, especially for lesbian, gay, transgender and bisexual youths. She also said she hopes the effort will inspire young people to contribute to the solution.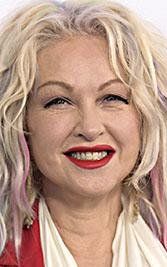 Photo by Invision/AP file photo
In a Thursday, April 19, 2018 file photo, Cyndi Lauper arrives at WE Day California at The Forum, in Inglewood, Calif.
A Section on 06/30/2018