The students in Cliff Plegge's meditation sessions are led in by guards, and it's generally up in the air whether they will march in on time or not.
Plegge introduces everyone and tries to make them feel comfortable before introducing the day's topic -- relaxation, contemplation or specific meditation techniques.
"I stress to them that you're not in control of your life," Plegge says. "None of us are, but you're in charge of how you're reacting."
Plegge, 51, has volunteered for almost a year with Compassion Works for All, a nonprofit that teaches meditation and provides support for incarcerated people. He has excelled as a volunteer, offering to write letters, lead classes and revamp the organization's resource list, says Morgan Leyenberger, executive director for the group.
Leyenberger says she usually starts volunteers off slowly with just letter writing, but Plegge wanted to come to prison with her for a session. They went to the Barbara Ester Unit in Jefferson County on a Friday.
"At the end of the group, I tested his temperature and said 'Oh what did you think?' and he says 'I love it, I want to do this all the time. Please let me stay involved,'" she says. "And so he just kept coming with me."
Now, Plegge leads the group's first meditation courses at the Pulaski County jail. They last four weeks, and because the population is more transient, Plegge says it can be more difficult to form relationships with jail inmates.
"The prison is different because it's a long-running group where they're once a month but a lot of guys; you develop the repartee more there," he says. "But at the jail, you see it in a microcosm in a four-week session."
Compassion Works for All, although not exclusively a Buddhist organization, operates on the religion's values and philosophies, Leyenberger says.
"Buddhism is a philosophy, and an important practice of that is watching the mind, understanding the ways that we contribute to our own suffering," she says. "And we just teach this concept of examining and teaching practices to examine our own reality."
In addition to meditation, volunteers lead conflict resolution classes for prisoners and write letters answering questions -- gardening tips, history about Marilyn Monroe's acting career or any other information that people outside prison walls can find online and print for inmates.
Plegge is updating the "resource list" of common questions the organization gets from incarcerated people around the country about things like resources for re-entry into society, Buddhism and yoga practices. This means calling every group listed on the 15 prisoner resource lists and 12 re-entry resource lists to make sure they still offer the same services.
Plegge says he became interested in working with prisoners because he grew up in Newport, near the Department of Correction's Grimes Unit and the McPherson Unit, making friends with children whose parents were in the system.
"Everybody has value and deserves respect," he says. "And I saw that very early on. Newport afforded me that opportunity because you had friends that were very rich and friends who literally didn't know where their next meal was coming from."
He also met the girl who would become his wife while he was in school at Newport. They met in second grade, and although they ran in different circles, they always had a crush on each other, wife Lori Plegge says.
They never dated in high school, and didn't talk for years afterward. They connected on Facebook at the suggestion of mutual friends when Lori was going through a divorce and living in Minnesota. She moved to Arkansas, and after dating for several years, they got engaged through Facebook.
She posed the question to him online while he was in the shower, and when he got out, asked him to look at it. By that time, the status had garnered comments and likes from several of their friends.
"And he said 'dot, dot, dot,'" Lori Plegge says with a laugh. "And then he said 'Yes.' But people still say 'I remember when you proposed on Facebook.'"
But before they got engaged, Cliff Plegge helped his wife accept the death of her oldest son, Anthony, Lori Plegge says.
"Cliff had noticed that I was talking about my son in present tense, and he said I had a choice I had to make," she says.
She was sitting at a desk at the end of the bed, and he knelt beside her and asked her to repeat after him.
"Anthony is dead. My son is dead."
He had to repeat himself four times before she would say it, but after that, she says, it was real. She later wrote a book, which she finished on their honeymoon, called When Tomorrow Starts Without Me about her son.
The couple likes to surprise each other with gifts and trips "just because." One was a weekend in Eureka Springs for the Paranormal Weekend, a conference with ghost tours, psychics and spirit communication.
"We'll go somewhere, and we'll say 'This is what you need to wear. One night you need to dress up, or it's casual,'" Lori Plegge says. "We'll get in the car and go."
It was at this conference in Eureka Springs that Cliff Plegge was introduced to Buddhism. A speaker came and talked about the practice, even though it had nothing to do with the paranormal, Plegge says.
That's where he connected with his longtime teacher in the Buddhist practice, Greg Bartlett. They talk via video chat about once per week for class.
Bartlett says Plegge talks often about his work in the prisons, sharing the ways he thinks differently about the world because of his interactions with inmates.
"Cliff has gone through a life that has been pretty intensely marked with a lot of physical challenges," Bartlett says. "He's been in and out of the hospital several times."
Plegge was diagnosed with avascular necrosis, the death of bone tissue because of a lack of blood supply, when he was 23. He has had 17 surgeries, including full hip replacements as a result of the disease, and became legally disabled a decade ago.
"Physically, things have a price tag on them for me," he says. "If I sit up for X amount of hours, or if I ride in a car for X amount of hours, or if I have to walk a bunch, you know I will make myself do that, but you pay for it on the back end."
With a worn brown cane hanging on the arm of the chair next to him, Plegge says the pain doesn't slow him down much in his volunteering work. Except when his hip replacements set off the metal detectors.
Anyone interested in donating to or volunteering with Compassion Works for All can visit compassionworksforall.org.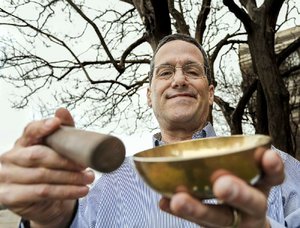 Photo by John Sykes Jr.
"Everybody has value and deserves respect. And I saw that very early on. Newport afforded me that opportunity because you had friends that were very rich and friends who literally didn't know where their next meal was coming from."
High Profile on 03/04/2018