Marathoners talk about goals, most of which revolve around the length of time it takes them to finish a race. Time is almost always first on their list of priorities.
Take Tia Stone. As of Sunday, Stone, 39, of Searcy, has won the women's division of the Little Rock Marathon the past three years. Winning is important, but even for winners, including Stone, times comes first.
Winning was a secondary goal. Mostly, she wanted to break three hours, so she focused her training on little else and won in 2 hours, 59 minutes, 13 seconds.
"If it came down to what I really wanted, sub-three or winning, I really wanted a sub-three right now," Stone said. "It's been such a big obstacle in my head."
Stone, 39, last broke three hours in 2015 when she completed the much flatter, faster Chicago Marathon course in 2:58:25.
Amy Natalina, 35, of Shreveport, finished second among women in 3:01:51. Amy Landes, 46, of Glendale, Mo., was third in 3:06:18.
Drew Mueller, 23, of St. Louis, finished first overall in 2:32:34. Ben Kopecky, 32, of St. Louis, finished second in 2:34:54. Jeremy Provence, 27, of Clarksville, was third in 2:36:42.
Mueller and Kopecky ran together near the lead early in the race, but Mueller watched as Kopecky ran ahead. Kopecky's lead was nearly a minute as they passed Little Rock Central High near the 12-mile mark. They turned east onto Daisy Gatson Bates Drive and approached halfway at 13 miles, 192.5 yards, near Philander Smith College, just past Mt. Pleasant Baptist Church and Church's Chicken.
"I was feeling good," Kopecky said.
"I definitely wanted to win, but he went out really hard," Mueller said. "I didn't trust that I'd be able to keep that pace."
Stone was first among women through halfway, though her lead mattered little to her. She was pleased foremost by her split time of 1:29:34 that confirmed her nearly sub-three-hour pace. Natalina passed the midpoint, across Chester Street from Philander Smith's Reynolds Library, in 1:31:02.
"I knew at the half that I was on pace," Stone said. "I didn't want to go out too fast, so I was right about where I wanted to be."
Mueller ran track and cross country for Arkansas State University. He graduated in 2016 and said he took time off from running for a while but decided last year to return to training. His experience in Jonesboro helped make him aware of the marathon in Little Rock, so he chose it as his first.
[2018 MARATHON: Photos, video, updates + more]
"I had a friend who signed up for the race," Mueller said. "I heard it was really scenic. I went to school in Arkansas, so I thought I'd come here. It's a great race."
Mueller passed Kopecky to take the lead near the 17-mile mark.
"In a marathon, you just kind of run your own pace," Kopecky said. "He was running faster than I wanted to, and I didn't want to do too much. I wished him good luck and said, 'I'll see you at the finish line.' ''
"Luckily, I was able to catch him, but he ran a really gutsy race," Mueller said. "He ran out front the whole time."
Though he was pleased by the result of his first attempt, Mueller said he struggled late.
"I was definitely hurting the last 6 miles," Mueller said. "It was awful. I almost walked up the hill at 25. From 21 to the finish was really tough."
Stone lives in Searcy with her husband John Stone and four children, Abi 13, Rocky 11, Anna 9, and Ashton 7. She is on staff at Harding University, where her husband is a faculty member. John Stone drives them all to and from Searcy for the race, and the kids across Little Rock to regular spots along the course as they follow their mom's progress. Tia Stone said she knows where to look for them along the route and that their encouragement helps.
"I always think, 'Let's just get to where I can see them the next time,' " Stone said.
"It was all about her breaking three hours this year," John Stone said. "It didn't really matter if she was going to win or not. She wanted to break the time. She really stepped up her training this year, ran more hills. She's healthy and really focused this year on this race and not other stuff, and that's helped."
Stone monitors her pace with a GPS wristwatch, and she has learned its nuances, particularly that its measurements deviate from mile marks on the marathon course. Officially certified race courses and their markings are along the shortest possible routes competitors can take to finish the precise designated distance, which for a marathon is, without exception, exactly 26 miles, 385 yards.
The precision of course measurements cannot take into account a variety of deviations from the actual course that runners take. Stone's watch, for instance, reported that she covered nearly one-fifth of a mile farther than a true marathon. Consequently, she has learned she must run at a slightly faster pace than required to finish the exact length of a marathon in a specific time.
A three-hour pace over an exact marathon requires an average mile time of 6:51.9. Stone has learned that pace is not adequate as measured by her watch.
"I know it's impossible to go an exact marathon," Stone said. "I know GPS is not a hundred percent. I use it as a tool, but I know I have to go under. I've run 6:51 over this course the last two years, and I've missed it. I knew my watch has to say 6:50 or under, or I'm not going to get it. I just kept saying, 'Under 6:50.' That was the focus."
Stone said her watch reported she was at a 6:48 pace with 6 miles to go.
"I knew I couldn't slow down," Stone said. "It was important to me. I've wanted to go three here, and I got it. This year I just wanted to break three so bad. If I won in the process, great. Doing both was a bonus."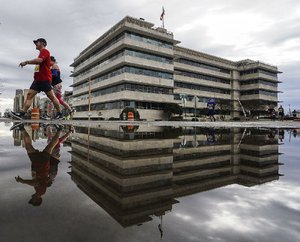 Photo by Mitchell PE Masilun
Runners head east on Woodlane Street near mile marker 14 Sunday during the Little Rock Marathon.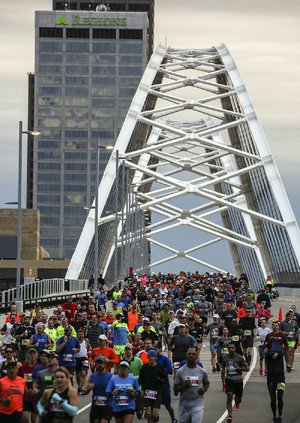 Photo by Mitchell PE Masilun
Little Rock Marathon runners head north across the Broadway Bridge on Sunday.
Sports on 03/05/2018