SEC WOMEN'S CHAMPIONSHIP
NO. 8 SOUTH CAROLINA 62,
NO. 2 MISSISSIPPI STATE 51
NASHVILLE, Tenn. -- A'ja Wilson screamed, waved four fingers in the air and danced in front of the South Carolina pep band.
Doing something nobody has ever done before deserves a mighty celebration.
Wilson scored 16 points as No. 8 South Carolina become the first SEC women's program to win four consecutive tournament championships Sunday, snapping the nation's longest winning streak at 32 with a 62-51 upset of No. 2 Mississippi State.
And Wilson was on the court for each tournament victory in an unprecedented run in the SEC. Tennessee with its 17 tournament titles won three in a row twice, the last between 2010 and 2012, but the Lady Vols never made the final with a chance at a four-peat.
"It's a blessing and an honor," said Wilson with a net around her neck. "The SEC is a great conference and to make history like that, to be a team that's gone four times in a row to the championship and won it, it's a great feeling. I really can't even put into words the feeling I know I have ... so this has been a great tournament."
The Gamecocks beat Mississippi State yet again with a title on the line. South Carolina beat the Bulldogs in April for the program's first national championship, and now the Gamecocks (26-6) have their third consecutive SEC tournament title at Mississippi State's expense.
Mississippi State (32-1) had not lost since that national title game, coming into the SEC Tournament final with the Bulldogs' first regular-season championship and hoping a third try at the tournament title would be the charm.
The SEC's best three-point shooters struggled outside the arc, and the Bulldogs couldn't overcome South Carolina's dominance in the paint with Teaira McCowan limited by foul trouble most of the first half. The Gamecocks held Mississippi State to its fewest points all season.
"Just wasn't our day offensively," Mississippi State Coach Vic Schaefer said. "And it just was really frustrating from an offensive standpoint because it didn't matter what string we pulled, it just didn't work."
Tyasha Harris added 14 points for South Carolina, Mikiah Herbert Harrigan had 13 and Bianca Jackson 11.
Victoria Vivians led Mississippi State with 17 points, and Morgan William had 10. McCowan, who came in averaging 18.1 points per game, was limited to six points.
"Our kids were engaged and locked into the game plan," South Carolina Coach Dawn Staley said. "They did not want to lose. I think they wanted to create their own history, which was to win four SEC Tournament championships. And they were determined to do it."
TOP 25 WOMEN
NO. 1 CONNECTICUT 82, TULANE 56
UNCASVILLE, Conn. -- Katie Lou Samuelson scored 21 points to lead No. 1 Connecticut to a rout of Tulane in the quarterfinals of the American Athletic Conference Tournament.
Napheesa Collier added 19 points and Azura Stevens chipped in with 15 points and 9 rebounds for Connecticut (30-0), which has won 30 games for the 13th consecutive season and 23rd overall.
Kolby Morgan had 21 points to lead Tulane, which finishes its season at 14-17.
NO. 3 BAYLOR 94, TCU 48
OKLAHOMA CITY -- Kalani Brown scored 28 points and No. 3 Baylor (30-1) rolled past TCU (19-12) in a record-setting Big 12 semifinal for its 27th consecutive victory.
Baylor's 46-point victory was the most-lopsided Big 12 Tournament game ever, topping Iowa State's 37-point victory over Nebraska in 2000.
Lauren Cox had 19 points and 11 rebounds, and Alexis Morris scored a season-high 18 points for Baylor. Jordan Moore and Amy Okonkwo each scored 12 points for TCU.
NO. 4 LOUISVILLE 74, NO. 5 NOTRE DAME 72
GREENSBORO, N.C. -- Asia Durr scored 17 points and Sam Fuehring converted a key three-point play in the final minute, helping No. 4 Louisville (32-2) beat No. 5 Notre Dame (29-3) to win its first Atlantic Coast Conference Tournament title.
Arica Carter finished with 16 points and hit four three-pointers, Fuehring and Myisha Hines-Allen each finished with 15, and Durr -- the ACC Player of the Year -- hit four free throws in the final seconds to help the top-seeded Cardinals win their first conference tournament since 1993.
Jessica Shepard had 23 points and 10 rebounds, and Arike Ogunbowale added 20 points for the second-seeded Fighting Irish (29-3), who failed to win the ACC Tournament for the first time since joining the league. They had won the previous four years.
NO. 6 OREGON 77, NO. 16 STANFORD 57
SEATTLE — Sabrina Ionescu scored a career-high 36 points and No. 6 Oregon (30-4) won its first Pac-12 Conference tournament title beating No. 16 Stanford (22-10).
Ionescu, who was the Pac-12 player of the year, was brilliant early, scoring 12 points in the first quarter. She took over late in the third quarter as Oregon held a double-digit lead most of the second half. Ionescu scored 19 points in the second half.
Alanna Smith led Stanford with 17 points, but Brittany McPhee struggled and finished with just 12 points.
NO. 7 TEXAS 68, WEST VIRGINIA 55
Jatarie White scored 11 points to help No. 7 Texas (26-5) beat West Virginia (21-11) in a Big 12 semifinal.
Ariel Atkins, Joyner Holmes and Alecia Sutton each scored 10 points for the Longhorns, who have won 12 of 13. Texas will play No. 3 Baylor for the title Monday night.
Naomi Davenport scored 17 points and Kristina King added 12 for West Virginia, which was the defending tournament champion.
NO. 13 OHIO STATE 79, NO. 17 MARYLAND 69
INDIANAPOLIS -- Kelsey Mitchell scored 25 points and No. 13 Ohio State (26-6) beat No. 17 Maryland (25-6) to win the Big Ten women's basketball tournament.
Maryland ended the third quarter on a 12-2 scoring run and continued to climb back into the game early in the fourth. The Terrapins pulled within two points with about four minutes left to play in the game but the Buckeyes were too much for Maryland.
Maryland shot an abysmal 23 percent while Ohio State shot 57 percent from the floor. Kaila Charles scored 20 points for Maryland and Kristen Confroy added 17 points for the Terrapins.
NO. 20 SOUTH FLORIDA 80, EAST CAROLINA 44
UNCASVILLE, Conn. -- Maria Jespersen scored 23 points to lead No. 20 South Florida (25-6) to a rout of East Carolina (16-15) in the quarterfinals of the American Athletic Conference Tournament.
Kitija Laksa added 21 points for the Bulls (25-6), who jumped out to a 9-2 lead were never threatened. USF led by 12 points at the half and used a 20-6 run to build that to 60-33 after three periods.
Freshman Lashonda Monk had 11 points to lead East Carolina, which beat SMU in the tournament's opening round and finishes its season at 16-15.
NO. 25 MERCER 68, EAST TENNESSEE STATE 53
ASHEVILLE, N.C. -- Three-time Southern Conference MVP Kahlia Lawrence added an NCAA Tournament berth to her resume, scoring 29 points and leading No. 25 Mercer (30-2) to a victory over East Tennessee State (20-11) in the championship game.
Alex Williams added 14 points and KeKe Calloway 11 for Mercer, whose only appearance in the NCAA Tournament was at the Division II level in 1985.
Second-seeded ETSU was led by SoCon freshman of the year Erica Haynes-Overton with 12 points. Tianna Tarter and Sadasia Tipps added 10 points apiece.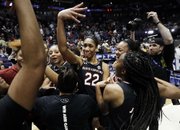 ittany McPhee struggled and finished with just 12 points.
Sports on 03/05/2018