NEW ORLEANS -- Smothering its opponent with defense and smoldering it with offense, the top-seeded University of Arkansas at Little Rock women's basketball team eliminated No. 9 Appalachian State in the Sun Belt Conference Tournament quarterfinals 66-34 on Thursday afternoon at Lakefront Arena.
It was the fewest points allowed in any Sun Belt Tournament game since UALR beat New Orleans 67-30 in the first round in 2007.
UALR (21-9) stretched its lead in a third quarter in which the Trojans shot 10 of 15 from the field, and senior guard Monique Townson finished with a game-high 14 points with 7 rebounds, 4 assists and 4 steals.
UALR kept Appalachian State's leading scorer, freshman guard LaPresha Stanley (11.5 points per game), from scoring until the second quarter, and the Trojans kept the Mountaineers' most dominant player, 6-4 sophomore center Bayley Plummer (9.2 points, 11.6 rebounds per game), from scoring until the fourth quarter.
"The key was stopping the Stanley kid," UALR Coach Joe Foley said. "We tried to make it as tough as possible for that kid to play one-on-one, and I think that paid dividends for us. [Plummer], we knew we had to concentrate on blocking her out."
UALR muffled Appalachian State's offense in the opening four minutes, holding the Mountaineers to two missed shot attempts and forcing five turnovers.
Trojans freshman guard Tori Lasker intercepted a Mountaineers pass, which turned into a layup by senior forward Keanna Keys to lead 4-0 with 7:50 left in the first quarter.
UALR built a 12-5 lead by the end of the first quarter by preventing Plummer from controlling the low post.
Trojans 6-2 junior forward Yanina Inkina matched up on Plummer, blocked her from entering the lane on offense and fronted her to prevent entry passes.
Plummer scored her only points on a layup with 6:11 left in the game, when the Trojans led 61-31. Those two points tied her season-low from a 79-48 loss to Wake Forest on Dec. 7.
"Every time we've played them, they've put [Inkina] on her," Appalachian State Coach Angel Elderkin said. "To her credit, she's really risen to the challenge of just disrupting Bayley and making those post feeds difficult."
With Plummer in check, UALR was then able to closely defend the perimeter.
Stanley, who scored a career-high 27 points in a first-round victory against Arkansas State, did not attempt a shot until the second quarter, which she made spinning and falling away near the basket to draw within 14-7 with 8:20 left in the half.
Stanley finished with a team-high nine points, and Townson was matched against her, one-on-one, for the 35 minutes in which Townson played.
"That's a great defensive effort on that kid," Foley said, listing off Stanley's stats. "I think that tells the tale itself."
Appalachian State needed other offensive options, and sophomore guard Nicola Mathews and freshman guard Lainey Gosnell combined for 17 points; but together, they shot 7 of 19 (36.8 percent) from the field.
"I thought their defense really limited what we wanted to do," Elderkin said.
UALR extended its lead to 21-9 with 4:54 left in the first half, while Inkina made jump shots in the gaps of Appalachian State's 2-3 zone defense. She made a midrange jumper from the right baseline, then from the free throw line. Then, after a block by freshman guard Terrion Moore, Inkina made a transition jump shot a few feet outside the lane.
Inkina finished with 12 points, and UALR led 26-11 at halftime.
By the half, Townson had two steals, three assists and had made the Trojans' first three-pointer. She altered two Stanley layups, as Appalachian State missed five consecutive shots during the middle of the second quarter.
Townson spurred the Trojans to a 19-4 run during the third quarter, when she turned a steal into a fastbreak layup, made another twisting layup and made a three from the top of the key to go up 54-22 with 54 seconds left in the third quarter.
Lasker made 3 three-pointers in a row during the run, and she finished with 11 points and shot 3 of 5 from three-point range
The Trojans led by as much as 37 points during the fourth quarter, when Foley subbed in bench players for the final three minutes.
UALR will next play Troy, which beat South Alabama 82-79, in the Sun Belt semifinals Saturday at 5 p.m.
Troy (18-12) was the only conference team to beat UALR during the regular season, when Troy won 76-70 in overtime at home on Feb. 10.
"They're not going to go down easy," Troy Coach Chanda Rigby said. "Right now, it's about our players managing their energy, getting legs back under us, following a very simple game plan against Little Rock, which involves a lot of rebounding, and building confidence."
Tournament glance
THURSDAY'S QUARTERFINALS
UALR 66, Appalachian State 34 Troy 82, South Alabama 79 Texas State 78, Coastal Carolina 69 La.-Lafayette 54, Texas-Arlington 48
SATURDAY'S SEMIFINALS
All times Central
UALR vs. Troy, 5 p.m. Texas State vs. La.-Lafayette, 7:30 p.m.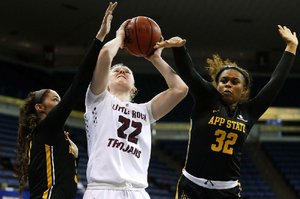 Photo by Special to the Democrat-Gazette/JONATHAN BACHMAN
UALR's Yanina Inkina (22) gets off a shot between Appalachian State' defenders during Thursday's game at Sun Belt Conference Tournament. Inkina finished with 12 points.
Sports on 03/09/2018