At least one Arkansas medical-marijuana commissioner missed the board's self-imposed deadline to grade applications for the state's first cannabis-growing facilities, and others tweaked their evaluations after submitting them, according to records obtained under the state's Freedom of Information Act on Thursday.
The text messages shed some light on the process that applicants and industry insiders have criticized for lacking structure and transparency.
Former Attorney General Dustin McDaniel, an investor, lobbyist and attorney for Natural State Wellness Enterprises, one of the successful cannabis-cultivation applicants, spoke at a Rotary Club gathering in Little Rock this week and complimented the commission for its hard work evaluating the stacks of applications. But he also noted that the commissioners rejected suggestions in 2017 to hire an outside contractor to evaluate the proposals in a "professional, uniform, standardized, objective, verifiable fashion."
"Well, the next thing you know they've got 75,000 pages of documents in their living room next to their easy chair," he said. "They've got a cup of coffee and a red pen, and they're just doing it."
[APPLICATIONS: Read the applications from each of the five firms]
Hopeful cultivators have feared from the start that the most deserving applicants may not be selected because of impropriety or poor grading, and the commissioners themselves said they were crunched to finish reviewing the bids in time.
One commissioner, Fayetteville attorney Travis Story, didn't receive the 95th cultivation facility application until the evening of Feb. 25 -- five days after the scoring deadline and two days before the commission's Feb. 27 meeting when the winning proposals were announced.
He told Mary Robin Casteel, director of the state Alcoholic Beverage Control Division, he may have failed to download it from the file-sharing service used by the commission.
"I'll do it real quick," he texted Casteel before she sent the application by email on Feb. 25.
Story returned the scored bid for Grady-based Carpenter Medical Group early on Feb. 26 about 45 minutes before Arkansas Department of Finance and Administration staff members met to review the scores, according to the text messages released under the state Freedom of Information Act. That application was ultimately deemed ineligible for unreleased reasons.
It also became public this week that Story and his law firm have represented the owners of one of the companies that won cannabis growing licenses -- Osage Creek Cultivation. The company was tied for the second-highest scoring among Story's evaluations, but it's unclear whether he knew the application belonged to his clients.
Other commissioners made changes to their proposals after turning them in to the finance department, mostly filling in blanks and clarifying scores, text messages between commission and finance department staff members show.
Only the five winning applications have been publicly released. They're heavily redacted, ranging from 500-1,600 pages.
The commission is now scoring the 227 applications for dispensaries. It plans to formally award all five cultivation licenses at its meeting Wednesday. Four of the five potential growers had paid the required $100,000 licensing fee and posted a $500,000 performance bond as of Wednesday, according to the Department of Finance and Administration.
Finance department staff members "depersonalized" each cultivation application, removing the names of owners and other associates, before sending them to the commission members for scoring.
Still, it was impossible to hide the identities of all individuals associated with each application because each company's articles of incorporation were publicly available through the secretary of state's office.
In the case of Osage Creek Cultivation, Jay Trulove is listed as the incorporator/organizer. He and his wife, Mary, own the company, which plans to grow medical marijuana in Berryville.
Story and his law firm have done legal work for the Truloves, representing them in court and helping them with business filings.
Two other commissioners gave Osage Creek higher scores than Story, although those commissioners tended to give higher scores across the board.
The Truloves used a different law firm to incorporate their cannabis-growing company, according to online business records.
Jay Trulove, reached by phone Thursday, declined to comment. Story didn't return phone calls and emails requesting comment on Wednesday and Thursday. The commissioners have avoided making public comments outside meetings while scoring applications.
The Arkansas Times first reported Story's work for the Truloves on Thursday.
State Rep. Bob Ballinger, R-Hindsville, is Story's law partner and has also represented the Truloves. On Thursday, he said that he and Story told the Truloves that the firm couldn't do any legal work for them on marijuana-related matters.
He added that he saw no problem if the firm continued representing them in unrelated matters.
Ballinger said Story has sequestered himself since medical-marijuana applications were submitted, avoiding news stories and other sources of information about the applicants.
He noted that other commissioners scored Osage Creek higher than his partner.
"If there was any undue influence, Travis [Story] would have rated them higher," he said.
The Truloves, Ballinger said, are "stalwarts of the community" and will responsibly operate their cultivation business.
Attorneys regularly help clients set up corporations. Story has been involved in at least 43 corporation filings, according to the secretary of state's website. Just two of those involved the Truloves, who also have operated a farm, construction company and embroidery shop.
Story is also listed as one of the attorneys who represented the Truloves in a land-use dispute in Benton County Circuit Court in 2016, but Ballinger was the attorney who signed all the pleadings, according to online court records.
A finance department spokesman said that any applicants who believe conflicts of interest influenced the scoring process could seek to have those concerns addressed through circuit court or the Arkansas Ethics Commission. The possibility of appealing to circuit court is in the Medical Marijuana Commission's regulations.
McDaniel, speaking to the Rotary Club on Tuesday, publicly voiced the concerns other industry insiders have complained about privately. Chiefly, the commission lacks predictability, McDaniel said.
For example, he said that several state legislators have said the commission was considering awarding three additional cultivation licenses this week.
Scott Hardin, a spokesman for the finance department, said in a statement that several unsuccessful applicants and their supporters have asked that additional licenses be issued, but Hardin said that's not in the commission's current plans.
Amendment 98 to the Arkansas Constitution, which voters approved in 2016 to legalize medical marijuana, allows for up to eight cultivation facilities. The commission elected to start with five.
"The plan has been and remains five total cultivation licenses at this point," Hardin said. "Considering three additional licenses is contrary to the rules and procedures established by the commission."
Melissa Fults, executive director of the Drug Policy Education Group, a patient advocacy organization, said adding more growers would be a positive step.
"The more product, the more dispensaries, the more competitive pricing, the better for the patients," she said.
McDaniel said awarding additional licenses would be a "terrible signal for the future of this business" because all the successful applicants based their business models and investment structure on there being four other growers.
A lawmaker also said the commission was considering regulating cultivators' transportation costs, according to McDaniel.
Asked about transportation regulations, Hardin said, "It is premature to speculate what type of regulations the commission will implement regarding transportation as this process is in its early stages."
None of the commissioners responded to emailed questions this week.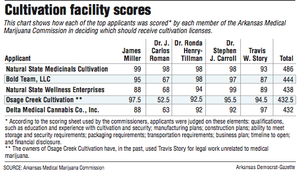 Photo by SOURCE: Arkansas Medical Marijuana Commission / Arkansas Democrat-Gazette
Cultivation facility scores
Metro on 03/09/2018