Tishman Speyer Properties has extended an invitation to workers at Rockefeller Center in Manhattan to find their Zo, welcoming them to an app-driven world of health, education and pampering -- and fighting off rival landlords in a battle to woo corporate tenants by appealing to their employees.
By next month, workers in eight of the 10 New York commercial properties Tishman manages, including the MetLife building, will be able to download the Zo app. It will let them book such amenities as a haircut or educational talk, backup child care, a yoga class or a nap room, all now available at Rock Center. The app will spread to most of Tishman Speyer's U.S. properties by the end of the year and eventually to its entire global portfolio, covering a quarter-million employees.
Companies such as Brookfield Property Partners, which operates Brookfield Place New York in lower Manhattan; Silverstein Properties, which runs office towers at the World Trade Center; SL Green Realty, Manhattan's largest office owner; and Tishman are working to hang on to tenants and lure new ones away from their foes. The competition is particularly intense in New York, where a surge of construction means tenants can flee to Hudson Yards, the World Trade Center or even across the river to Queens.
"It's all about making tenants happier, making buildings 'stickier' " to lower turnover, said Zach Aarons, a co-founder of MetaProp, which acts as a bridge between traditional real estate companies and the many "proptech" startups looking to make their fortunes automating the property business. With the threat of an office-space glut, Aarons said, landlords "start figuring out what can you do in your building to differentiate yourself and what do tenants really want."
Tishman's competitors are offering their own apps -- some, like Zo, created in-house, and others, like an app that workplace-services provider Convene is developing, part of a package landlords can buy. There's hOM, which sells an amenity package to both residential and office landlords and counts Brookfield and Silverstein among its customers. And there's SL Green's SL Living Green, which boasts a "suite of wellness amenities," including meditation, speakers and "health-food pop-ups."
It's too soon to say how great a role these apps and amenities will play in a company's decision on whether to renew a lease, Aarons said. At hOM, co-founder Ryan Freed cited a survey in which 69 percent of his users in multifamily buildings named the service as a factor in signing their leases. Each tenant who renews saves the landlord $5,000 to $7,000 in turnover costs, Freed said. Turnover is much less frequent in office buildings, but young employees now expect such services at work, he said.
Whether the technology turns out to be fundamental or a fad, killer amenities are the new currency of office real estate, with commercial property brokerages, such as Cushman and Wakefield Inc., getting in on the act, too. Cushman offers its clients an app called Workplace Edge, designed to help landlords "increase engagement and retention," that offers both wellness and concierge services.
"You're almost at parity with multifamily buildings," Aarons said, adding that five years ago it "would have seemed insane" to suggest that office buildings would someday have similar amenities.
With Zo -- from the Greek "zoi," or life -- many of the services aren't free, but Tishman has negotiated group rates for some. There are a few showboat features. A 7,700-square-foot lounge and outdoor terrace are to open this spring on the 33rd and 34th floors of 1 Rock Plaza.
Over at 30 Rock -- headquarters of NBC Universal, which broadcasts the Today and Tonight shows and Saturday Night Live -- signs in the lobby lead workers to a 2,300-square-foot mezzanine space where they enjoy the talks, naps, beauty treatments and, one recent day, recreational piglet petting. Although NBC owns most of its own space, its employees have full access to Zo, said E.B. Kelly, the Tishman managing director who is overseeing the app's global implementation.
"We are now viewing our real estate by the number of people who are in it," she said, "not by square footage."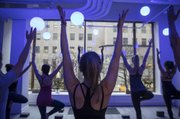 SundayMonday Business on 03/11/2018