The year 2016 opened a deep and divisive rift between two factions already prone to distrust each other. A battle for supremacy raged, insults flew and a long-simmering culture war reignited.
This rift had nothing to do with President Donald Trump or Hillary Clinton, with coastal elites or rural America. It had everything to do with breakfast tacos, and whether Austin, Texas, or San Antonio could properly claim credit for their creation.
IF YOU GO:
WHERE TO EAT
• Juan Pelota Cafe
400 Nueces St., Austin, Texas
(512) 473-0222
juanpelotacafe.com
Relaxed coffee shop attached to Lance Armstrong's bike shop, serving breakfast tacos daily. Tacos from $2.50.
• Lazarus Brewing
1902 E. Sixth St., Austin, Texas
(512) 394-7620
lazarusbrewing.com
Local brewery featuring 13 beers on tap, plus rotating specials, homemade root beer and Tex-Mex cuisine. Tacos from $3.
• Joe's Bakery
2305 East Seventh St., Austin, Texas
(512) 472-0017
joesbakery.com
A fourth-generation family diner that serves breakfast and lunch six days a week. Closed Mondays. Tacos from $1.99.
• El Arroyo
1624 West Fifth St., Austin, Texas
(512) 474-1222
elarroyo.com
Classic Tex-Mex restaurant featuring a clever sign and great happy hour specials. Taco plates from $8.95.
• Austin Taco Project
500 East Fourth St., Austin, Texas
(512) 682-2739
austintacoproject.com
Upscale cocktails and gourmet tacos inside the Hilton Austin. Taco plates from $7.95 for an order of two.
• Fresa's Chicken al Carbon
915 N. Lamar Blvd., Austin, Texas
(512) 428-5077
fresaschicken.com
Walk-up, authentic taco stand featuring homemade tortillas. Known for breakfast tacos, but also open late, until 10 p.m. Tacos from $2.80
• Torchy's Tacos
Multiple locations
torchystacos.com
An Austin-based, family-centric and local chain featuring a wide variety of tacos and beers on tap.
WHAT TO DO
• Lyndon Baines Johnson Presidential Library
2313 Red River St., Austin, Texas
(512) 721-0200
lbjlibrary.org
The 36th president's official library on the University of Texas's flagship campus. Open 9 a.m. to 5 p.m. daily. Admission: $10, seniors $7, former military with valid ID $5, ages 13 to 17 $3, younger free.
• Barton Springs Pool
2201 Barton Springs Road, Austin, Texas
(512) 974-6300
austintexas.gov/department/barton-springs-pool
A three-acre pool fed by natural springs in the heart of Austin's massive Zilker Park. Open daily year-round, except for select dates in late February. Hours vary by season. Summer admission fee for nonresidents: $8; seniors and children ages 12 to 17: $4; ages 1 to 11: $3; free for infants.
• Texas State Capitol
1100 Congress Ave., Austin, Texas
(512) 463-0063
www.tspb.state.tx.us/plan/tours/tours.html
Classical pink granite architecture in the heart of Austin. Free tours available 8:30 a.m. to 4:30 p.m. Monday through Friday, 9:30 a.m. to 3:30 p.m. Saturday and noon to 3:30 p.m. Sunday. Tours depart from South Foyer.
INFORMATION
• austintexas.org
Unlike Trump and Clinton, who continue to take shots at each other more than a year after Election Day, the leaders of the warring taco tribes -- Austin Mayor Steve Adler and San Antonio Mayor Ivy Taylor -- came together to pledge peace. The "I-35 Accords," named for the interstate that connects two of the fastest growing metropolises in America (they are about 80 miles apart), formally declared each city's tacos equally delicious.
"(T)here is more that unites our tacos than divides them," Adler said in March 2016 at the signing ceremony. "Let us break our fast with the tortilla of hope and the egg of peace."
Tell someone you're going to Austin and they will recommend barbecue joints such as Lambert's and Iron Works -- or Franklin, where the lines can stretch out the door for hours.
Instead of baking in the Texas heat while waiting for barbecue -- on a July visit, it did feel at times as if I was in an oven -- I decided to make a careful study of Austin's taco scene. What, I wondered, would the evolution of such a simple meal say about a city influenced by Mexican and American cultures, one that may be America's most proudly weird city?
Locals will tell you that the taco, in all its myriad forms, perfectly encompasses a city of hipsters and technologists, a city with centuries of history and a bright future of growth. It is the perfect marriage, they say, of the glory days of old and the possibilities ahead.
"It could easily be argued that the breakfast taco represents more than just probably the most wonderful breakfast meal, but the convergence of different cultures," Adler told me later. "It represents the innovation that you see in Austin."
My Tour de Taco, as I came to call it, took me from the humble taco truck and family establishments where English is not the first language, to hipster breweries and high-end establishments with expensive cocktails. It illustrated a single dish adored across ethnic and class lines, a delicious thread that keeps a growing city together.
My first stage began, appropriately, under the yellow jerseys once worn by a Tour de France champion, Austin's own Lance Armstrong. His bike shop, Mellow Johnny's, includes an in-store cafe where the 2017 edition of the world's most famous cycling race played on a big screen above a handful of industrial metal tables.
The cafe serves breakfast tacos made by Veracruz, one of the city's best-loved taco trucks. Refried beans, a light fluffy egg and cheese sit inside a perfect flour tortilla, wrapped to dip in a gentle, red salsa. It is light enough to be a good breakfast without slowing me down ahead of a busy day.
That evening, I meet a friend at Lazarus Brewery -- a modern throwback space with a lumpy, handmade wooden bar and 13 beers on tap. I have to keep adjusting where I set my Kolsch to avoid knots in the wood. We dive into homemade chips and a just-spicy-enough guacamole, beset on all sides by a hipster crowd in beards and glasses.
The next morning, I drive across town, under the interstate, to a local joint with quite the reputation. Joe's Bakery has been a draw since the Avila family opened a small grocery store on the site in 1935. Today, a fourth generation of Avilas runs a bustling diner where photos of famous guests -- President Bill Clinton, Vice President Joe Biden -- line the walls. The parking lot is full, and the line is out the door. Thanks to quick turnover, I'm seated in minutes on a red bar stool at the counter. The happy noise of a family breakfast joint envelopes me.
My morning iced tea is delivered in a glass the size of a small bucket. The tortillas, crisp off the grill, have a massive scoop of barbacoa -- never skip the recommended onion and cilantro -- and a zesty, green tomatillo sauce that adds moisture to dry eggs.
For lunch, I stop at El Arroyo, the internet's favorite taco bar. Positioned on a thoroughfare that guides traffic from Austin's northern and western neighborhoods into downtown, the restaurant is known for its low-tech, black-letter sign, which is decorated each day with another joke:
"Treat your mom to a margarita, you're probably the reason she drinks."
Inside on a Saturday afternoon, there are few diners. But El Arroyo is a happy-hour establishment, and generous drink specials await visitors later in the day. The bright yellow and blue walls, with green trim and orange accents, are obscured by the smoke wafting from passing platters of fajitas. The chef wears a shirt that reads "Body by Queso." My al pastor taco is full of smoky pork, set off with the sweet crunch of pineapple.
After just a few meals, I find myself becoming judgmental about tortillas.
Hours later -- after a suitable nap -- I brave the crowds on Sixth Street; its bars give Austin a reputation as a nightlife destination. I head to the Austin Taco Project, inside the Hilton Hotel, for my most upscale meal.
Here, executive chef Kevin Spencer -- a self-described "taco-logist" -- brings the fusion trend to tacos. The Good Morning Vietnam marries caramel barbecue chicken with Vietnamese vegetables and a spicy Fresno chile that stings a bit -- a banh mi on a flour tortilla. The Pineapple Express, the typical combination of pork and pineapple, comes on a chewy and substantive corn tortilla. The Oc-Thai-Pus is unexpectedly meaty, and not as chewy as some octopus dishes, thanks to the crunchy garlic cashews. Coconut curry sauce in a saffron tortilla makes this the unique dish of the trip.
On my final morning in Austin, I try Fresa's, a drive-through and walk-up. Disney show tunes float on the air outside the brightly painted building as I eat at one of the few outdoor seats in the hours before it will become too hot. The green salsa that comes with my breakfast tacos is unexpectedly spicy. The Tricky combines avocado and egg; the Margie, with steak, eggs and mild peppers, is a medley of textures.
Eager for one more stop, my brother-in-law takes me to Torchy's, a local chain that started as a fast-food truck and now boasts locations as far away as Denver. He chooses the Brush Fire, full of Jamaican jerk chicken, and a Tipsy Chick, with fajita chicken and a bacon-bourbon marmalade. I go bipartisan: The Democrat has another scoop of barbacoa, this time paired with avocado and cheese. The Republican has jalapeno sausage with cheese and tomatoes.
And so my Tour de Taco ends in flavorful victory. But after so many tacos -- I count 14 during my stages -- I am in no shape to think about pulling on the yellow jersey.
Photo by The Washington Post/PAIGE WINSTANLEY
Migas tacos — scrambled eggs, chopped onions and serranos, crushed tortilla chips and melted shredded cheese served on wheat tortillas with refried beans — are served up at El Arroyo in Austin, Texas. It's just one of the many must-eat places in this taco-loving town.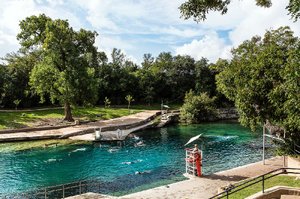 Photo by Visit Austin/Lauren Logan Photography
It's not just tacos in Austin, Texas. There's also fun and recreation to be found at spots like Barton Springs.
Travel on 03/11/2018