SPRINGFIELD, Mo. -- Henry "Hank" Wilkins IV, county judge of Jefferson County, took $100,000 in bribes from indicted lobbyist Milton Russell "Rusty" Cranford while serving in the Arkansas Legislature, an assistant U.S. attorney said Friday in federal court.
The money purportedly was given in the form of donations to the Pine Bluff church where Wilkins is pastor.
Assistant U.S. Attorney Steven Mohlhenrich made the statements during Cranford's arraignment on corruption charges Friday in Missouri. Mohlhenrich asked that Cranford, 56, of Bentonville, be denied bail, alleging that the lobbyist plotted to kill one witness and persuade others, including Wilkins, to lie to investigators.
Wilkins, a longtime state and county elected official and church pastor, has not been charged with any crime, according to available federal court records. He did not respond Friday afternoon to several telephone and email messages from the Arkansas Democrat-Gazette.
Wilkins made the bribery admission in a Feb. 22 statement to the FBI, according to government attorneys.
That was the day after Cranford's arrest on corruption charges in an alleged scheme in which executives for a Springfield, Mo.-based behavioral health care provider paid bribes through Cranford's lobbying firms to obtain state grants and other taxpayer money.
Mohlhenrich told U.S. Magistrate Judge David Rush that Wilkins told the FBI in his February statement that donations Cranford made to his church were in fact bribes for Wilkins' support as a state lawmaker from 2011 to 2015.
A plaque to honor Cranford's contributions hangs on a wall at Wilkins' church, St. James United Methodist in Pine Bluff, the prosecutor said.
At Friday's hearing, Cranford pleaded innocent to all charges. Rush took the government's motion to deny bail under advisement and will rule on it early next week, he said from the bench at the end of the hearing that took about an hour and a half.
Part of the government's detention request stems from an alleged murder-for-hire plot under investigation, according to federal prosecutors.
Cranford also has been mentioned by name in federal court proceedings involving two former state lawmakers in Arkansas accused of taking kickbacks from him, but he hasn't been charged in that case.
Cranford's attorney, Nathan Garrett of Kansas City, Mo., argued that the murder-for-hire accusation was a far, far stretch based on loose interpretations mixed with outright fiction.
The felon Cranford supposedly approached for the job has no car and has to hitchhike to a store to buy groceries, Garrett said. Yet he was supposed to travel to southern New Jersey, kill a prominent consultant there and escape without being detected, if the government's contention is to be believed.
The only purpose of denying bail, Garrett argued, would be to increase the pressure on an alleged conspirator the government has been trying to get to talk for years.
A federal grand jury in Springfield indicted Cranford on Feb. 20 on one count of conspiracy and eight counts of accepting bribes.
Cranford's indictment in the western district of Missouri "comes as part of a larger set of interconnected investigations and prosecutions involving public corruption and the misuse and embezzlement of public funds entrusted to tax-exempt charities, in the western district of Missouri, and in the eastern and western districts of Arkansas," federal prosecutors argued in the motion to deny his release.
The indictment against Cranford relates to alleged illegal lobbying for Preferred Family Healthcare of Springfield. Preferred Family operates substance-abuse and behavioral-health treatment centers in five states, including Arkansas. It has 47 sites in Arkansas alone, according to the company's website.
Preferred Family facilities in Arkansas received $33.4 million in Medicaid reimbursements in 2016, among other state and federal taxpayer funds, according to court documents in cases involving people accused of conspiring with Cranford.
Executives of Preferred Family embezzled at least $4 million from the nonprofit group between 2011 and January of 2017, according to federal prosecutors.
Most of the money went for illegal lobbying Cranford helped direct, the government alleges. The rest went to Cranford and his co-conspirators, according to Cranford's indictment and guilty pleas by two of his business associates in the case.
"Cranford is likely to face significant additional charges in more than one federal district, and advisory sentences of up to life imprisonment under the United States sentencing guidelines, should he be convicted," the government's motion to deny him bail says.
Cranford has been a registered lobbyist in Arkansas since at least 2005, secretary of state records show. His lobbying firms over the years include Cranford and Associates and the Cranford Coalition. Those firms' clients listed in his state reports consist largely of behavioral health care providers.
In 2007, Cranford became an employee and manager of Alternative Opportunities, a predecessor organization to Preferred Family Healthcare, according to a spokesman for Preferred Family. Preferred Family and Alternative Opportunities merged in 2015. The company has used the name Preferred Family since. Cranford's contract with the nonprofit company was terminated June 2.
LOBBYING, KICKBACKS
The purported illegal lobbying reached members of Congress from Missouri and elsewhere, according to documents related to the guilty plea of a person accused of conspiring with Cranford. Such lobbying isn't allowed for entities like Preferred Family because they receive Medicaid and other government money to provide health care services to Medicaid recipients.
Cranford's two business associates who have pleaded guilty since December to corruption charges related to Preferred Family Healthcare are Philadelphia-based political consultant D.A. Jones and former Arkansas state Rep. Eddie Cooper of Melbourne. Both guilty pleas describe a then-unidentified Arkansas lobbyist who participated in Jones' and Cooper's crimes. Bail hearing documents filed Monday identify that person as Cranford.
Jones pleaded guilty Dec. 18 to one count of conspiring to defraud Preferred Family. Cooper pleaded guilty Feb. 12 to one count of conspiracy to embezzle.
Cranford helped arrange the deal in 2011 between the nonprofit's executives and Jones, according to Cranford's indictment. The intent of the lobbying was to steer taxpayer money, including grants, to Preferred Family. Jones lobbied members of Congress while Cranford and Cooper lobbied Arkansas lawmakers, according to court records.
Executives of Preferred Family involved in the scheme also lobbied by making political contributions under the guise of reimbursement for business expenses, according to federal prosecutors.
The Preferred Family executives involved recorded the money taken from the nonprofit group as consulting and training costs, according to Cranford's indictment. In all, Cranford's lobbying firms were paid $3 million from Preferred Family over the course of six years, according to Cooper's guilty plea.
Cranford is accused of arranging $264,000 in kickbacks from Jones in return for Cranford and Cooper's help in securing an agreement between Jones and Preferred Family Healthcare. Under the agreement, Jones, 62, of Willingboro, N.J., was paid $973,807 between February 2011 until January 2017, according to Jones' guilty plea.
Cranford or companies he controlled received $219,000 in kickbacks from Jones, according to Cranford's indictment. Another $45,000 went to Cooper, according to Cooper's guilty plea.
Cooper was a manager employed at Health Resources of Arkansas, a Batesville subsidiary of Preferred Family, and a member of Preferred Family's board for several years while the arrangement with Jones was in effect, according to Cooper's plea. Cooper also worked for Cranford as a member of Cranford's lobbying firm, the Cranford Coalition, from 2011 to 2015. Cooper is no longer employed by Preferred Family.
Cranford's alleged murder-for-hire plot, under investigation in Arkansas, targeted Jones, according to the motion to deny bail. A month before pleading guilty, Jones had refused pleas by Cranford to lie to investigators, the detention motion says.
ARKANSAS CASES
In Arkansas, then-state Rep. Micah Neal of Springdale pleaded guilty Jan. 4, 2017, to accepting a kickback in 2013 from Cranford. The kickback was in return for Neal's help in obtaining $400,000 in General Improvement Fund grants for a company Cranford presided over and helped create called AmeriWorks.
Then-state Sen. Jon Woods, also from Springdale, faces trial April 9 over accusations he played a role in the same scheme.
Cranford has been mentioned by name in court proceedings in Woods' case, but hasn't been charged in that matter.
Cranford incorporated AmeriWorks along with "David Hayes," according to secretary of state records. The western Missouri U.S. attorney's office confirmed Friday that is accountant David Carl Hayes, 59, of Springfield. Hayes was found dead at his farm near Springfield in November in an apparent suicide after pleading guilty June 12 to embezzling almost $3 million, including almost $2 million from Preferred Family's predecessor organization, Alternative Opportunities, where he oversaw mergers.
Federal investigators for months asked for the working papers of as-yet unnamed Arkansas lawmakers in their investigation of General Improvement Fund grants. A recent court order on motions in the Woods case confirms that investigation is ongoing and far reaching.
The investigation isn't only looking into lawmakers who approved grants, but into recipients of those grants to make sure the money was spent as intended, according to the judge's order.
FINANCES, FIRINGS
Monday's detainment motion also says Preferred Family's "leadership" agreed to put three payments totaling $400,000 "to the trust fund account of Cranford's attorney, for Cranford's legal expenses" in connection with the federal investigation.
Paying Cranford's attorney was part of an agreement to terminate Cranford's August 2016 contract with Preferred Family, the motion says. That buyout agreement was reached between Cranford and unnamed Preferred Family executives on June 2, 2017 -- five months after Neal pleaded guilty in the Arkansas improvement fund kickback case and after Woods had been indicted.
Garrett took exception to the characterization Friday, saying the money was put in trust to pay for all of Cranford's expenses and shouldn't be interpreted as some sort of legal-defense fund.
The termination agreement also forgave a debt of $35,000 Cranford owed the nonprofit and a provision that Preferred Family would pay a $165,000 personal loan of Cranford's. The loan was secured with Preferred Family assets, according to the detainment motion.
Preferred Family's board placed three members of its executive team on administrative leave Nov. 9 and later fired them, according to Preferred Family and the detainment motion. The unanimous vote to place the three on leave came two weeks after government attorneys in Missouri briefed the nonprofit's legal team on its investigation, the motion says.
On Tuesday, Preferred Family issued a statement confirming the identities of the fired executives for the first time. They are: Tom Goss of Springfield, former chief financial officer; Bontiea Goss, former chief operating officer and Goss' wife; and Marilyn Nolan, also of Springfield, a longtime member of the nonprofit group's executive team.
Tom Goss' attorney, Christopher Plumlee of Little Rock, said in an email Tuesday that his client had no comment on the case.
Bontiea Goss' attorney, Melanie Morgan of Kansas City, Mo., works for a law firm that has a policy of not commenting on active cases, a spokesman for her office said Wednesday. Morgan confirmed later by email that she's representing Bontiea Goss but gave no further comment.
Attempts to find contact information for either Nolan or legal counsel for her have been unsuccessful since Tuesday. Preferred Family has said in earlier statements that it is not allowed to disclose Nolan's personal contact information.
WILKINS AND THE GRANT
While Wilkins couldn't be reached for comment Friday, the Arkansas Democrat-Gazette interviewed him in September, about a $50,000 General Improvement Fund grant he directed to AO Dayspring Behavioral Health Services of Arkansas at Monticello in late 2013, according to grant records.
The grant applicant was Rusty Cranford, who was listed as CEO of AO Dayspring, according to the application obtained by the newspaper under a Freedom of Information Act request.
The General Improvement Fund grant application requested $150,000. Wilkins approved $50,000.
The newspaper asked Wilkins whether anyone promised kickbacks in connection with the grant.
"Oh no," Wilkins said then. When a former legislator pleaded guilty in early 2017 to accepting kickbacks in connection with General Improvement Fund grants, Wilkins told the newspaper, he was "quite horrified."
"I'm not going to blame everything on being a pastor 85 percent of my life. But one would probably be less prone to approach me," he said.
Wilkins has been a well-known figure in Pine Bluff and the state for at least two decades.
A Democrat, Wilkins announced Feb. 14 that he wouldn't seek re-election after one term as Jefferson County judge, saying he had been "offered some opportunities in the private sector."
From 1999 to 2015, Wilkins served in the state House or Senate.
A biographical sketch of Wilkins prepared when he was assistant pro tempore for the Arkansas Senate, in 2009 to 2010, said he has pastored churches in Arkansas, Kansas, Missouri and Texas. He was pastor then of Saint James Church in Pine Bluff, which had "experienced a 20-fold growth in membership" and was then "the largest African-American United Methodist Church in Arkansas."
Information for this article was contributed by Lisa Hammersly of the Arkansas Democrat-Gazette.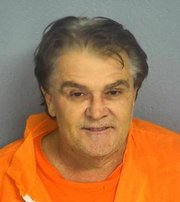 A Section on 03/17/2018
CORRECTION: An earlier version of this story listed the wrong city where the court hearing took place.