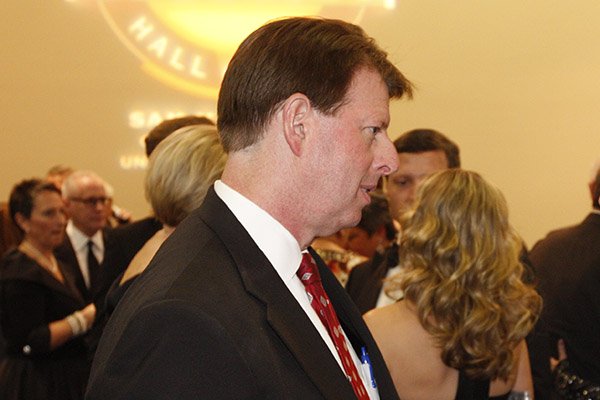 Razorback Foundation executive director Scott Varady is shown in a 2016 file photo. ( Bobby Ampezzan)
A University of Arkansas, Fayetteville athletics spokesman encouraged the nonprofit Razorback Foundation to sidestep a reporter's questions to avoid setting a "precedent," one of several instances found in emails of the nonprofit and the university coordinating on public messaging.
The foundation has blocked access to its records by saying it is a separate legal organization not subject to the Arkansas Freedom of Information Act. Emails obtained from the university through the open-records law show the two regularly give and take feedback on how to communicate with media, fans, trustees and donors.
Discussions ranged from minor edits on newsletters to strategy about what financial information to release, how and when.
The Arkansas Democrat-Gazette has reviewed nearly 22,000 pages of emails exchanged between three dozen UA employees and the Razorback Foundation as part of an effort to examine whether the nonprofit operates as the "functional equivalent" of UA. That is one of the legal standards that would determine whether the foundation is subject to the state's Freedom of Information Act, a lawyer said.
Donors hold different opinions on whether the Razorback Foundation's records should be publicly available. The foundation's contract last year with a search firm to help replace former head football Coach Bret Bielema is among the documents that the nonprofit has declined to provide.
Dick Latta of Lincoln, who said he has given more than $30,000 over more than 20 years, questioned the athletics program's spending in the wake of athletics department turnover and amid the ongoing $160 million project to expand and renovate Razorback Stadium.
Chris Fowler of Jonesboro, a booster from the highest foundation membership class who gives more than $20,000 per year, said open-records issues don't "melt my butter" and that he is "extremely happy" with the foundation's work.
Another called for more transparency.
Sonal Bhakta, who started donating about six years ago because it "was a gateway into getting season tickets," gave more than $10,000 last year, according to her membership class as listed in the Razorbacks' media guide. Bhakta, of Springdale, said she would like more information on how the money she donates to the nonprofit is spent.
"It's my hard-earned money. Especially now that they're wanting donations and there won't be any tax benefit to us, I think more so they should provide that information," Bhakta said.
Bhakta was referring to a federal tax law change, effective this year, that erased an 80 percent tax deduction people could claim for donations tied to seating at athletics events.
The Razorback Foundation, which serves as the athletics department's fundraising arm, generates income mostly from donations, including those required of fans who wish to purchase season tickets at sports venues. Roughly two-thirds of the football stadium's 72,000 seats require donations, for example.
Emails newly reviewed by the newspaper show the foundation and university have discussed not only what information they want to voluntarily release, but how to handle direct questions submitted to the nonprofit.
Democrat-Gazette reporter Jaime Adame on May 16, 2017, emailed a list of six questions to the Razorback Foundation's chief financial officer, Billye Veteto.
Among the questions -- which concerned the nonprofit's annual tax filing, or Form 990 -- were what the foundation credited for a spike in contributions and why the filing said the foundation didn't have a formal conflict-of-interest policy.
Shortly afterward, Veteto forwarded the questions to Scott Varady, the foundation's executive director, along with incomplete answers that she described as "MY first attempt at answering."
"How do you want to handle these from Jaime," Veteto wrote, noting that she preferred "the stance we used to take where we didn't respond."
Varady forwarded the email to athletics department spokesman Kevin Trainor without comment. About 20 minutes later, Trainor sent a reply saying the foundation "should not set a precedent to answering questions related to compensation, fundraising strategy etc."
Trainor advised the foundation to disclose that its board of directors had since adopted a formal conflict-of-interest policy, "so they don't blow it out of proportion." He also wrote a draft for how they could respond.
"As you are aware, the Razorback Foundation Inc., is a private not for profit organization and is not subject to the same requirements as a public entity," Trainor's draft said, adding that the foundation was only required to release the tax filing. "We have met those requirements and would respectfully decline to elaborate on the information we already provided."
Ultimately, Veteto sent the reporter a statement attributed to Razorback Foundation board Chairman Ken Mourton.
"Given that we have provided the required information to you, we respectfully decline to elaborate on the information we have already shared," Mourton wrote.
Arkansas Press Association general counsel John Tull, who specializes in open-records issues, said it "puzzled" him that the foundation requested input from a university employee.
"In terms of, 'Does this indicate, one way or the other, how closely aligned they are?' It certainly does," Tull said. "I don't know why a public employee paid with state money -- who is a spokesman for the athletic department -- why they're giving advice to a private entity or why they're being consulted. I find that curious and perhaps troubling, and I'd have to ask the question why that was done."
Varady did not answer specific questions about the emails. He released a statement that said the foundation receives no public money and that its boosters help the athletics department maintain self-sufficiency.
"Similar to any responsible organization, the Razorback Foundation strives to effectively communicate with all of our key stakeholders," Varady said.
Chris Freet, senior associate athletics director over strategic communications, said in an emailed response to questions that Trainor did not dissuade Veteto from responding because she never made the decision to respond. Mourton's statement was written without university input, Freet said.
Trainor did not respond to emailed questions, including what precedent answering a reporter's questions would set. He said Freet's response, which also did not answer that question, was made on behalf of the department.
In an another instance of coordination between the university and the foundation, ticket sales account executive Dylan Tolley forwarded an email he received from an upset season-ticket holder to the foundation's senior associate director, John Matsko. The donor reported working with the foundation and increasing the donation in order to secure better basketball seats but was instead "moved to an even less desirable location."
"PLEASE send them a 'version' of this," Matsko replied to Tolley. "Having worked with John the last few years, I'm sure he did everything he could to help and would not have moved your seats without your consent or misled you in anyway."
Tull, the press association attorney, said he didn't see this as an example of the university and nonprofit being intertwined because Tolley would need the foundation's input in order to answer the question submitted to him.
"I think the Internet has made us a society of poor writers," Tull said of the copy-and-paste job.
In at least two instances, officials discussed omitting fundraising amounts in communication to donors.
In January 2017, then-Athletics Director Jeff Long prepared to send a 2016 "Year in Review" to the university chancellor, the University of Arkansas System president and the board of trustees. He added that a second version "without some financials" would go out to foundation members and season ticket holders.
An email chain with a draft of a newsletter about the stadium renovation was circulated later that year, in September, between officials in the athletics department, ticket office and the foundation. The group exchanged edits, including one from Matsko.
"Unless you've been asked to include it and essentially announce it publicly, Billye and I strongly believe that we need to OMIT anything related to the $40 million that's been raised (and exceeded or reached) for the project," Matsko wrote. "That's going [to] tell our donor's that we don't need any more money or need their help. It's not a message we want to send or even insinuate."
Trainor later said he appreciated the perspective but that he "was given specific instruction" to include the $40 million because of "misinformation."
The athletics department and the foundation present athletics finances every year in an annual report, and that information is also publicly available in financial reporting documents, Freet said, adding that information is also routinely provided in letters from the athletics director, on social media and in public speaking appearances.
The 2016-17 Annual Report provides a snapshot of the athletics department's revenue and expenses -- including its $3 million contribution back to the university -- as well as a breakdown of ticket sales by sport, but it does not include a breakdown of the foundation's finances.
Copies of the foundation's public tax filings typically are not released until several months after a fiscal year ends. Veteto, for instance, said Tuesday that the foundation's tax filing for fiscal 2017, which ended June 30, was not yet available.
Varady did not respond to emailed questions regarding the foundation's communication about its own finances to donors.
Other, previously reported emails have shown that UA absolved the foundation from donating millions of dollars it publicly pledged to capital projects, that officials discussed an arrangement that would have shifted $4 million per year from athletics to the nonprofit, and that the university committed to better promoting a foundation program meant for students.
National legal experts also have questioned arrangements that give the foundation free use of university trademarks.
Metro on 03/21/2018
Print Headline: UA, foundation emails show messaging team-up
Sponsor Content