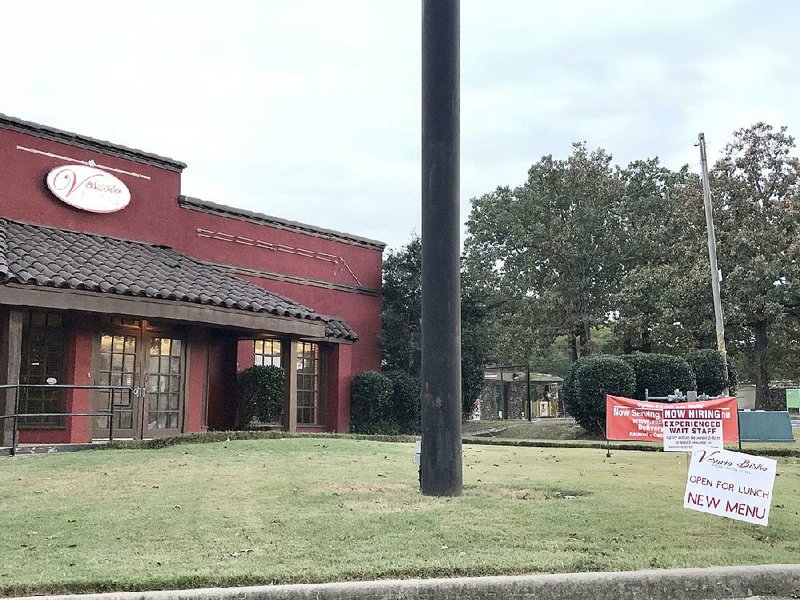 Vesuvio Bistro on Breckenridge Drive in Little Rock has "retired," according to a Facebook post and voicemail message.
Vesuvio Bistro, 1315 Breckenridge Drive, Little Rock, has "retired," posting on Facebook in the wee hours of Sunday morning: "What an amazing 10 years we have had ...! It's with a heavy heart that we announce the retirement of what has been a passion for the management and staff of Vesuvio for almost a decade. ... The time has come that we need to focus on our other businesses. We hope to see you around town as you continue to support the local restaurants of Little Rock." As of deadline, the phone number, (501) 225-0500, had not yet been disconnected, but once we penetrated the phone tree to the right place, a voicemail message informed us simply, "We have decided to retire Vesuvio Bistro. Thank you for your patronage."
Poke Hula, 419 E. Third St., Little Rock, is adding a second location in Little Rock's Pulaski Heights, with a target to open sometime in April in the former Red Mango space, 5621 Kavanaugh Blvd. The website, pokehulaar.com, where you will find the new location address neatly tucked at the bottom, indicates hours will be 10 a.m.-9 p.m. Monday-Friday, 11 a.m.-9 p.m. Saturday-Sunday, the same as they are downtown, where the phone number is (501) 246-3368.
Brewski's Pub & Grub, 315 Main St., Little Rock, is now open for lunch, extending its hours to 11 a.m.-midnight Tuesday-Thursday and Sunday, 11 a.m.-2 a.m. Friday-Saturday. The phone number is (501) 372-2739.
Look for a May opening for Flint's Just Like Mom's Home Cooking, moving into the ground-floor space in the Union Plaza Building, West Capitol Avenue and Louisiana Street, Little Rock. It formerly housed Sufficient Grounds Cafe, which closed Feb. 28. Business section reporter Noel Oman reports that Flint is Flint Fanoy, a 48-year-old Marianna native and 30-year veteran of the city's culinary scene, with credits that include stints at Ciao, Flint's Lucky 7, the Flight Deck and Regas Grill in Little Rock and GiGi's Soul Cafe & Lounge in Maumelle. The restaurant will serve breakfast and, at midday, hamburgers, sandwiches and daily plate lunch specials. Once a boutique hotel under construction across the street opens, a dinner menu and hours will be an option.
Meanwhile, Sufficient Grounds' former co-owners, Eric, Kim and Christian Tinner have shifted breakfast across the street to their Sports Page, 414 S. Louisiana St., 6-10:30 a.m., serving "all your [coffee and tea] favorites from Sufficient Grounds" and continental, "On the Go" and "Home Style" items. The phone number is (501) 372-1642.
Starting April 2, EJ's Eats & Drinks, 523 Center St., Little Rock, which was recently taken over by the folks who run Old Mill Bread & Flour Co., will also offer breakfast, "fast and hot," 6-10 a.m. weekdays. The phone number is (501) 666-3700; the website, ejslittlerock.com.
The Humble Crumb, "a tiny boutique community bakery," as the website, humblecrumbbakery.com, describes it, has opened at 110 Loop Road, Sherwood, offering quiche and baked goods, but on a very limited basis: 6 a.m.-noon Friday, 7 a.m.-noon Saturday. ("Orders can be made anytime during the week and picked up during open hours on Friday and Saturday," the website notes.) It's an outgrowth of several years of selling cinnamon rolls and blueberry muffins at farmers markets in Sherwood and Little Rock and commercial baking. Call (501) 766-5584, email thehumblecrumbers@gmail.com or visit the Facebook page, facebook.com/thehumblecrumb.
Thai Taste has closed 1516 W. Main St. North, Jacksonville, March 3 and hopes to reopen next week, a little bit longer than the original projection of two weeks, in the former Chopsticks Pho, 1400 John Harden Drive. Keep an eye on the Facebook page (facebook.com/ThaitasteAR) for updates. The hours will be the same: 11 a.m.-9 p.m. Monday-Friday, 4-9 p.m. Saturday. The phone number is (501) 985-1854.
One of our eagle-eyed colleagues has noted a "closed for maintenance" sign on the door of J. Gumbo's, in the Centre at Ten center, 12911 Cantrell Road, Little Rock. What that portends we have yet to discover -- a call to the listed phone number, (501) 916-9635, returns only a rapid busy signal.
Arkansas Online reports that Proof Bar + Lounge has opened at 2611 Kavanaugh Blvd. in Little Rock's Hillcrest in the space previously occupied by Next Bistro and Bar. Owner Gene Lee worked for eight years for Pantry owner Tomas Bohm. Right now, it's serving "beer, cocktails, wine and a little food to keep everyone happy," 4 p.m.-1 a.m. Tuesday-Thursday and Saturday, 4 a.m.-2 a.m. Friday, noon-10 p.m. Sunday, while, according to its Facebook page, working on hiring a full-time cook. The phone number is (501) 246-4138.
Italy in Town has opened at 120 N. Market St., Benton. Hours are 4-9 p.m. daily. The phone number is (501) 794-6499.
Add Uber Eats to the list of food delivery services in central Arkansas (along with Bite Squad and Waitr). Patrons can order from Little Rock area eateries via a separate app from its ride-centered counterpart. A check earlier this week of the website, ubereats.com/stores, turned up more than two dozen area restaurants, bakeries, shops and caterers (and helpfully indicated which ones weren't open on Mondays).
The Rail Yard, a craft beer garden and outdoor dining spot to be served by a rotating cast of food trucks, is in the works for a 15,000-square-foot warehouse at 1212 E. Sixth St., Little Rock. It will share space with Count Porkula BBQ, which Rock BBQ Catering Co. pitmasters Walt Todd and Kelly Lovell have been operating as a food truck (the name comes from the smoker, which Lovell describes as "a modified behemoth rescued from the scrapyard and repurposed to smoke what we believe is the best barbecue in the city"). Spearheading the $1.5 million renovation is Cromwell Architects Engineers, the chief backer in the area's transformation, and which this week moves its headquarters to neighboring 1300 E. Sixth St. That two-story Sterling Paint building will also house a 16-unit residential development called 12 Star Flats, named after a Sterling brand of paint; the Printshop; and a community room/public space called the Mixing Room -- and, with its entrance on the Shall Street side, Kelli Marks' and Donnie Ferneau Jr.'s Cathead's Diner, which, you will recall from last week's report, is tentatively targeted to open May 1.
For its latest Art & Wine Dinner, 7 p.m. Sunday, The Avenue, inside The Waters hotel, 340 Central Ave., Hot Springs, Spa City artist and gallery owner Dolores Justus will be the featured guest and will display several paintings at the restaurant through April. The chef has carefully paired wines with each of the five courses (including clam ceviche, smoked salmon mousse and juniper-and-cardamom wild boar tenderloin). Cost is $80. For more information and reservations, call (501) 625-3850.
The Little Rock location of Little Greek Fresh Grill, in the Pleasant Valley Town Center, 11525 Cantrell Road, is marking Little Greek Week, Sunday-March 31, offering $5 gyro chicken or vegetable pitas. On "Toga Tuesday," any customer wearing a toga gets a free gyro pita and the restaurant will donate $5 for each toga-clad guest to Autism Speaks. The phone number: (501) 223-5300; the website, littlegreekfreshgrill.com.
...
Eggshells Kitchen Co., 5501 Kavanaugh Blvd., Little Rock, is offering a bang-up lineup of April cooking classes. Except as noted, all classes are at 6 p.m., reservations are required and the fee to participate is $50. Call (501) 664-6900 or email info@eggshellskitchencompany.com.
• April 3: Abbi Siler of Abbi's Teas & Things, "Abbi's Tea House." Participants will taste a variety of teas (with scones and the trimmings), learn about the proper setting for tea, cooking with tea and constructing a tea cocktail.
• April 5: Donnie Ferneau Jr. and Kelli Marks of Cathead's Diner, "Cathead's Diner Brunch Class," dishes likely to be seen at the restaurant, plus "helpful tricks and hints to make your next brunch out-of-this-world."
• April 13: Little Rock-based dietitian Lauren Handloser, "Vegan Dinner Class," will prepare a menu that includes jackfruit barbecue sandwiches, cole slaw with a creamy cashew dressing and barbecue baked beans.
• April 17: 11 a.m.-1 p.m. and 6-8 p.m., "Hands-On Knife Skills Class." A "knife-skills professional" from Wusthof will teach "everything from peeling and dicing vegetables to deboning a chicken." Class size is limited. A light meal will be served.
• April 19: Chef Ben Brainard of Heights Taco & Tamale.
• April 30: Anthony Valinoti of Deluca's Pizzeria in Hot Springs. The menu will include bresaola, rigatoni Bolognese and, for dessert, dulce de leche pancakes. Includes a welcome glass of wine; water will be provided and participants can provide additional beverages of their choice.
Has a restaurant opened -- or closed -- near you in the last week or so? Does your favorite eatery have a new menu? Is there a new chef in charge? Drop us a line. Call (501) 399-3667 or (501) 378-3513, or send a note to Restaurants, Weekend Section, Arkansas Democrat-Gazette, P.O. Box 2221, Little Rock, Ark. 72203. Send email to:
eharrison@arkansasonline.com
Weekend on 03/22/2018
Print Headline: Italian bistro announces 'retirement'
Sponsor Content