Army Pvt. Rudolph "Rudy" Johnson is finally at rest in his native Arkansas, 73 years after his combat death in Italy during World War II.
Johnson received a hero's reception with military honors Friday. Family members and veterans were among those who attended a committal service before the burial of Johnson's remains at the Arkansas State Veterans Cemetery in North Little Rock.
A funeral service had been held in Hope on Thursday for the Howard County native. Johnson was living with relatives in Malvern when he was drafted into the Army in 1943, according to his obituary.
Johnson was 20 years old when he was listed as killed in action in February 1945 as a member of the 92nd Infantry Division's "Buffalo Soldiers," the only black infantry division to see combat in Europe during World War II, according to a U.S. Department of Defense news release.
Johnson's division was involved in heavy fighting at that time against the German army at Lama di Sotto in northern Italy.
At Friday's memorial in the cemetery's pavilion, Johnson's sisters Betty Jean Coulter of Mineral Springs, Howard County, and Mossie Shephard of Nashville, Howard County; and brothers Larry Johnson, also of Nashville and Jessie Johnson of Omaha, Neb., were presented with folded American flags. They also received medals, including a Bronze Star and a Purple Heart, awarded to Johnson posthumously.
Members of the U.S. Army Honor Guard from Camp Robinson escorted Johnson's casket into the service and conducted the military honors. Members of the Patriot Guard Riders motorcycle group, including a few in Buffalo Soldier jackets and cavalry hats, stood in a semi-circle outside the pavilion holding American flags. Patriot Guard members also made presentations to Johnson's siblings, among about two dozen or more people seated inside the pavilion.
"I'm just in awe of this and everything they have given to us to honor a fallen soldier," Coulter, Johnson's youngest sibling, said after the service. "Rudy is home. I feel good about it."
Coulter, 81, said she was "about 7 1/2" in 1945 when her brother was killed in combat.
"To me, he was Rudy," she remembered of her big brother, who was the oldest of six children. "We're so appreciative of it all. It was well deserved."
Johnson was reported missing in action on Feb. 6, 1945, before the Army changed his status 15 days later to killed in action, according to the Defense Department release. Speakers at Friday's service listed Feb. 6, 1945, as his date of death.
Johnson's remains were recovered in the area of Lama di Sotto in May 1947 and held in Italy, designated as unknown. They were first interred in a U.S. military cemetery at Castelfiorentino, Italy, then in the Florence American Cemetery and Memorial in Italy two years later, according to the Texarkana Gazette.
When researchers determined the remains could be identified, they were disinterred in June 2016 and sent for forensic analysis to compare with a DNA sample from his brother, Jessie, along with historical evidence, which led to a positive identification, the newspaper reported.
Johnson's remains were returned to the family, arriving at the Bill and Hillary Clinton National Airport-Adams Field in Little Rock on Tuesday evening. Hicks Funeral Home in Hope managed the funeral arrangements.
"We finally have you home," Hicks funeral director Marc McFadden said toward the end of Friday's memorial. "You can finally rest in peace. Well done, young man."
Michael Nuckolls, former state commander for the Arkansas chapter of the Veterans of Foreign Wars, said afterward that the service for Johnson "is another example that freedom isn't free."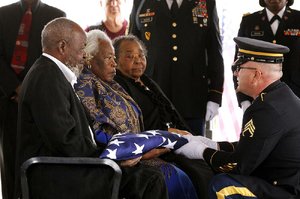 Photo by Thomas Metthe
Staff Sgt. William Harris presents flags to Leroy Johnson (from left), Mossie Shephard and Betty Jean Coulter, family members of Rudolph "Rudy" Johnson, during a committal service Friday for the Army private who died in World War II.
Metro on 03/24/2018