HIGHFILL -- The first refugee to move to Northwest Arkansas since last summer arrived Tuesday evening and rejoined 11 family members.
His flight's arrival was at once 23 minutes earlier and eight months later than expected.
John Feruzi's aunt and cousin strained to see from the barrier where nonpassengers must wait for arrivals at Northwest Arkansas Regional Airport in Highfill, practically vibrating with excitement as he disembarked from a solid day of flying from a refugee camp in southern Africa.
They enveloped him in gleeful shouts and a four-arm hug the instant Feruzi crossed the line.
"John!" his otherwise soft-spoken uncle, Watata Mwenda, called out in a booming voice, beaming as he moved through the entourage of family members, neighbors and volunteers to embrace the young man.
Feruzi said Friday that he was feeling good -- happy to be in a peaceful place after spending almost a decade in the camp and several months without most of his family. Mwenda and the others arrived in Northwest Arkansas in July and were the last new refugees to arrive in the area until Tuesday.
President Donald Trump's administration has slowed the U.S. refugee acceptance program to one-third of its 2016 pace, while adding multiple restrictions to the admissions process, including requiring more background information from applicants.
Feruzi's case appears to mark a restart for area arrivals. The nonprofit refugee assistance group Canopy Northwest Arkansas plans to welcome a mother and daughter this week and perhaps more in the next few months.
"We're hopeful that that is the case," said Lauren Snodgrass, Canopy's outreach coordinator. The nonprofit and its volunteers have helped Feruzi and 55 others find and furnish apartments, enroll in English classes and schools, and find jobs in the past two years or so.
Trump and other Republicans have said the U.S. refugee acceptance process needs to be safer to weed out potentially dangerous people. Groups like Canopy note that refugees are fleeing violence and political or religious persecution and regularly went through interviews and security checks for years before the current administration came into office.
Members of Canopy traveled to Washington, D.C., this month to discuss the matter with Sen. John Boozman and staff members for four of Arkansas' five other members of Congress. The group pressed the Republican officials to do what they could to hold the Trump administration to its cap of 45,000 refugees admitted this fiscal year.
Fewer than 9,000 have been admitted since October, less than half the pace needed to reach that cap and lower than in the aftermath of the Sept. 11, 2001, terror attack, according to U.S. State Department numbers.
"We're all ready to do our job," said Kay Bellor, acting chief executive officer of Lutheran Immigration and Refugee Service, a nationwide nonprofit that connects refugees admitted by the federal government to local groups like Canopy.
Bellor said security changes often lead to a dip in admissions, but this time admissions aren't returning to normal.
Spokesmen for Sens. Tom Cotton and Boozman said the senators support allowing in refugees. Cotton's proposal last year to sharply limit legal immigration overall would have set the refugee cap at 50,000. Both offices pointed to obstacles to that goal, such as the lack of a long-term federal budget and the need to carefully vet people fleeing conflicts.
Hannah Shea, spokesman for U.S. Rep. Steve Womack, wrote in an email, "Congressman Womack's primary concern is not with quantity, but rather ensuring that every refugee let in under this program is properly and thoroughly vetted."
Around 40 refugees have passed the admissions process to move to Northwest Arkansas but haven't had their travel scheduled, which Snodgrass and other Canopy members said is likely linked to the Trump administration changes. It's not clear whether the changes delayed the trip for Feruzi.
He fled with Mwenda's family from the Democratic Republic of Congo in central Africa, stayed at the same refugee camp for almost a decade and went through the refugee process at the same time as the others. He couldn't travel at the same time, because he was required to undergo another medical check for what Snodgrass said were unknown reasons.
Conflict among the Congolese government and an array of armed groups has plagued the country for decades and led to the deaths or displacement of millions of people, according to the CIA's World Factbook and other observers. Militia members in 2009 killed one of Mwenda's sons and the son's wife and briefly kidnapped Mwenda.
The family fled south to a camp in the small country of Malawi. Two of Mwenda's sons said the camp was loud from frequent fights among residents and often faced disease outbreaks. Feruzi said he was miserable after his family members traveled, asking himself every day why he was left behind.
"He was thinking maybe God does not love him," said Jules Mwenda, one of Watata Mwenda's sons, translating for Feruzi on Friday.
When describing Fayetteville in contrast, Jules Mwenda and others repeatedly mentioned the quiet. Jules Mwenda does janitorial work at the University of Arkansas, Fayetteville. His brother Asukulu, who goes by Jackson, has a housekeeping job at the Chancellor Hotel. They both hope for better jobs someday, perhaps as electricians or drivers.
Four family members are enrolled in public school. Musa Mwenda, an eighth-grader, said he enjoys math and English classes the best.
"It's a good city, a quiet place," Jules Mwenda said, adding that Canopy has helped with all aspects of their new lives. "I think it's good for me -- maybe better in the future."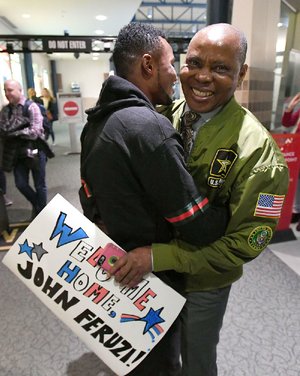 Photo by J.T. Wampler
John Feruzi (left) greets his uncle Watata Mwenda on Tuesday after Feruzi's arrival at Northwest Arkansas Regional Airport in Highfill.
Metro on 03/25/2018