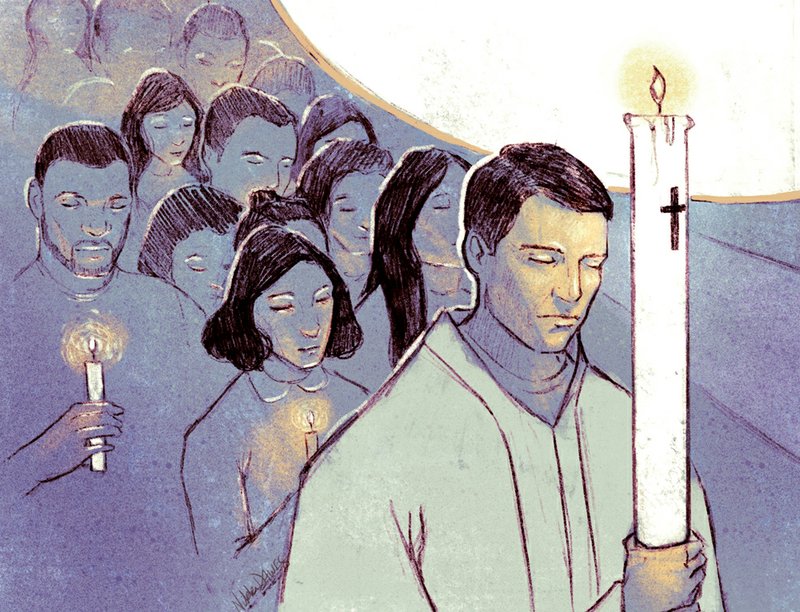 Arkansas Democrat-Gazette Easter vigil Illustration ( Nikki Dawes)
"Beloved in the Lord, on this most holy night, in which our Lord Jesus passed over from death to life, we are gathered here in vigil and prayer. This is the Passover of the Lord in which, by hearing His Word and celebrating His Sacraments, we share in His victory over death."
-- Excerpt from the Easter Vigil's Service of Light liturgy, Lutheran Service Book
The Easter vigil, a Christian service held the evening before Easter Sunday, marks the first recognition of Jesus' resurrection during Holy Week.
An ancient service dating to the 4th century A.D., the service traditionally begins outdoors in darkness and transitions into light, led in a procession by a candle bearer of the Paschal candle, which symbolizes the light of Christ. It's also a time when baptisms are held and people are accepted into the church.
Mark Filter, an elder at Shepherd of Peace Lutheran Church in Maumelle, described the vigil as a transition service that makes the connection between Good Friday -- the Friday before Easter during which the Lord's death on the cross is recognized -- with the service on Easter Sunday.
"It's a very unusual service, but it's a good link between the good Friday somberness and the celebration of Easter Sunday," Filter said. "The fact that we are in darkness waiting is kind of symbolic of how Christians view eternal life. We are waiting and we want to wait. We don't want to quit waiting.
"We want to be ready when that time [of eternal life] comes."
Despite its significance in commemorating the death and resurrection of Jesus, it's a service that hadn't been held in recent memory in a central Arkansas Lutheran church until last year, when pastor David Vandercook of Maumelle led an Easter vigil at Shepherd of Peace.
Vandercook, a Maumelle resident, shuttles between Shepherd of Peace and Trinity Lutheran Church in North Little Rock. On Sundays, he leads the 9 a.m. service at Shepherd of Peace in Maumelle, which his wife and children primarily attend, before heading out to Trinity. He arrives in North Little Rock as Trinity's Sunday School is winding down in time to give the 11 a.m. sermon.
"I kind of liken it to serving one church that has two services every Sunday morning," Vandercook said. "At the same time they're both very unique congregations [with] totally different groups of people."
Before leading the two Lutheran churches, Vandercook was an assistant pastor at Our Savior Lutheran Church in Houston, and witnessed his first Easter vigil at another Lutheran church there.
Shepherd of Peace and Trinity entered into a parish agreement in 2015, and each was without a permanent pastor for several years until Vandercook stepped in to head both in the summer of 2016, according to Filter. Once Shepherd of Peace was without a permanent pastor, membership dropped off from 210 members to about 60, Filter said. Trinity currently has around 40 members.
Paul Koehler, a deacon whose father and grandfather were charter members of Trinity Lutheran Church, said that although it's not uncommon for parishes to share a pastor, the bond between Trinity and Shepherd of Peace is a special one.
"Anytime you have two congregations ... even if they don't have the [Lutheran] affiliation that we have, and you see fellowship and the worship between the two congregations, I think it is special," Koehler said. "You know you're sharing that common bond of common faith, and with Easter vigil that sense of joy. You celebrate together."
ANCIENT VIGIL NEW AGAIN
Will Weedon, director of worship for the Lutheran Church-Missouri Synod, said that although the Easter vigil is an ancient service, the church didn't include the liturgy in its official hymnal until the mid-1980s. Even then, many Lutherans didn't celebrate the Easter vigil, either by choice or because their churches were using an older hymnal.
Filter said the church was on its third hymnal in his lifetime, the Lutheran Service Book, which includes the liturgy in its altar book. Lutheran churches typically have at least three major readings from the Old Testament during the service, including Genesis in its entirety, and Weedon said the church he attends in Missouri uses "the entire enchilada," which can make for a vigil service that lasts up to two and a half hours.
Vandercook said that while the Easter vigil fell away from the church's traditions at least 100 years ago, he believes the main reason the vigil isn't widely celebrated these days is that it's an additional service for people to attend when they may have already been to several services during Holy Week.
He proposed having the Easter vigil last year because he thought it would be something that would enhance the worship life of both congregations, and his suggestion received a positive response.
"I think just the history of the service in itself and its usage over the centuries makes it worthwhile to celebrate," Vandercook said. "And certainly we as Christians, we never want to say that we can have too much of God's gifts. This is just another opportunity for us to receive what Christ has won for us on the cross."
"It sounded like a really unique idea, because none of the Lutheran churches in central Arkansas were [having Easter vigils]," Koehler said. "Back [in its early years] the vigil was a very serious business as it is now ... and it was so fresh. I think that's what we're celebrating now, that we have that connection -- to keep it viable and present."
Margaret Waters, a member of Trinity and chairman of the joint parish committee, said the suggestion was "heartily approved" by its 10 members, as was the idea of alternating the vigil's location each year. And although Waters wasn't able to attend last year's vigil, she plans to be at Trinity at 6:30 p.m. on Saturday and experience what she believes will deepen the meaning that Easter holds for her in commemorating "the impact of what Christ went through."
"I feel like we're pioneers, like we're doing something that will enrich all of the Lutheran churches in the area," Waters said. "A lot of Lutheran churches are really traditional ... and to bring in 'new' ideas which are really old, but to us it's a new kind of service."
Vandercook said the Easter vigil requires a lot of preparation: rehearsing the chanting that takes place, setting up for the Communion service, decorating the church and making preparations for the open fire around which the service begins -- with members holding unlit candles in the darkness -- all while making sure everything is in place for the next morning's Easter Sunday service.
Weedon said it's crucial for the church to have a renewed experience, and that although the service is joyous and solemn, the two aspects are not in competition at a celebration such as the Easter vigil, where the community can fully engage in the story of Christ.
"When anyone comes to the [Easter] vigil, the point is not that you're just remembering what happened a long time ago," Weedon said. "It is the church's faith that you actually do meet the same risen one at this vigil. You meet him in the waters of baptism, and you meet him especially at the table where we really believe he puts his body and his blood into our mouths, that we might have life in him. That we meet the risen one, and then we go out as witnesses to that.
"That's the joy that we come back to. That's the joy that is the Easter vigil."
Religion on 03/31/2018
Print Headline: Waiting on the Son: Easter vigils are ancient services that are returning to Lutheran churches
Sponsor Content