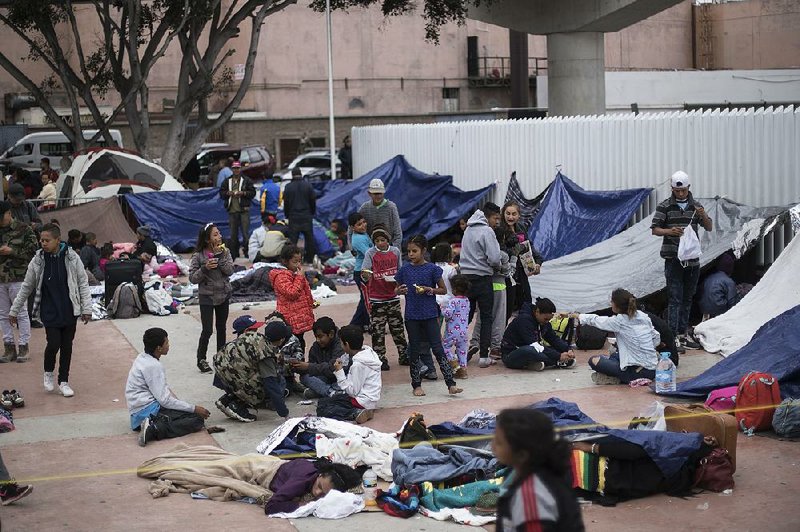 People who plan to seek asylum in the U.S. wait Monday on the Tijuana, Mexico, side of the border crossing.
U.S. admits first travelers from caravan
TIJUANA, Mexico — About 200 people in a caravan of Central American asylum seekers waited on the Mexican border with San Diego for a second-straight day on Monday to surrender to U.S. border inspectors, who said the nation's busiest crossing facility did not have enough space to accommodate them.
Late Monday, however, they were allowed to begin turning themselves in and applying for protection.
U.S. Customs and Border Protection didn't say how many were allowed in, but project organizer Alex Mensing of the group Pueblo Sin Fronteras said there were eight.
About 50 asylum seekers had been allowed past a gate controlled by Mexican officials and walked across a long bridge Sunday, but they were stopped at the entrance to the U.S. inspection facility at the other end. They were allowed to wait outside the building, technically on Mexican soil.
Another 50 or so camped on blankets and backpacks in Tijuana.
President Donald Trump has repeatedly criticized the caravan. He tweeted Monday that "the migrant 'caravan' that is openly defying our border shows how weak & ineffective U.S. immigration laws are."
S. Sudan captors release 10 aid workers
JUBA, South Sudan — Ten workers providing aid in South Sudan have been released after being abducted almost a week ago, the United Nations said Monday.
Three U.N. staff members and seven aid workers, all South Sudanese nationals, disappeared last week when their convoy traveling in Central Equatoria province was hijacked.
The aid workers, employed by a variety of organizations, were flown back to the capital, Juba, by the International Committee of the Red Cross.
It was the second kidnapping of aid workers in less than a month. Seven aid workers were abducted earlier in April and later released in the same area.
The U.N. said it's "outraged" at the deteriorating situation for aid workers in the country. Last week, a humanitarian was killed in Leer County, bringing to 100 the number of aid workers killed in South Sudan's five-year civil war.
Opposition forces loyal to former Vice President Riek Machar have claimed responsibility for the most recent abductions, saying the U.N. is sending humanitarians into rebel-controlled areas without clearance.
Human-trafficking raids free 350 people
PARIS — A police operation across the Caribbean and South America has freed nearly 350 people from human-trafficking networks and led to the arrests of 22 people.
Those rescued included children and adults working in nightclubs, gold mines, factories, open-air markets and on farms, the international police agency Interpol said Monday.
Some were forced to work without pay, or in spaces no bigger than coffins. Interpol said the traffickers took advantage of vulnerable populations seeking jobs across borders.
About 500 police officers were involved in the coordinated raids last month in Brazil, Venezuela, Jamaica and 10 other countries in the Caribbean. The officers seized computer equipment, mobile phones and cash.
"In Guyana, young women were found working as prostitutes next to extremely remote gold mines, from which they could not escape," Interpol said in a statement.
In St. Vincent and the Grenadines, "Asian 'employees' at a factory had been stripped of their passports and made to be completely dependent on handlers" for food and lodging — and were receiving no wages, it said.
Malaysia sentences Dane for 'fake news'
KUALA LUMPUR, Malaysia — A Malaysian court on Monday sentenced a Danish citizen to a week in jail after he pleaded guilty to maliciously publishing false information, the first person to be punished under an anti-fake news law.
The legislation was approved by parliament last month despite criticism that it was aimed at silencing dissent ahead of a May 9 general election.
Salah Salem Saleh Sulaiman was detained April 23, two days after he claimed in a YouTube video that he was with a Hamas scientist who was gunned down in Malaysia by two assailants on a motorcycle.
Local media said Salah didn't know the victim, Fadi al-Batsh, a Palestinian electrical engineering lecturer who was a member of Hamas, Gaza's ruling group.
The court sentenced Salah, who is in Malaysia on a holiday, to a week in jail starting from the day of his arrest. It also fined him $2,550.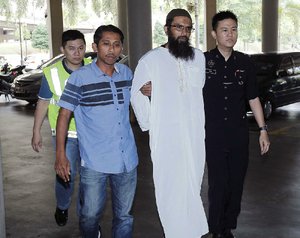 Photo by AP
Salah Salem Saleh Sulaiman, a Danish citizen, is escorted by police to a courthouse in Kuala Lumpur, Malaysia, before his sentencing Monday.
A Section on 05/01/2018
Print Headline: The World in Brief
Sponsor Content